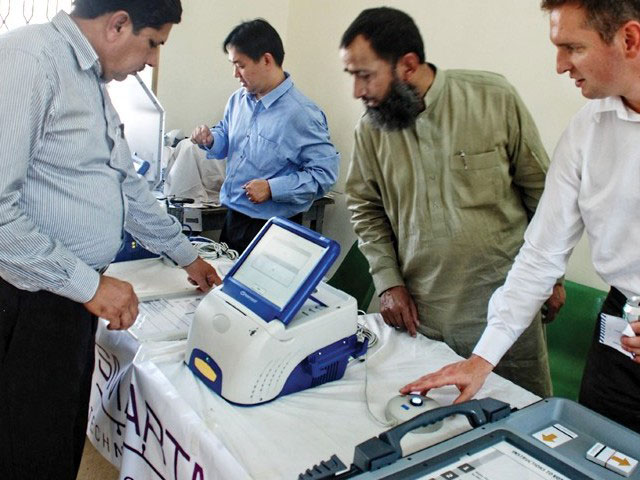 ---
ISLAMABAD:
Federal Minister for Science and Technology Shibli Faraz said on Thursday that the government would have no objections if the Election Commission of Pakistan (ECP) insisted on using the imported electronic machines in place of the ones manufactured locally by the ministry.
The minister expressed these views while addressing a press conference regarding the disagreement between the federal government and the Election Commission of Pakistan over the use of EVMs.
Faraz said that the EVMs were only a "concept" and did not necessarily entail using the specific prototype prepared by his ministry as "we only want technology-driven elections to ensure transparency in results".
"Rumours are circulating that the government is insisting on the use of EVMs in the elections that it had developed itself," said Faraz, adding that such misinformation is not beneficial in any way and is just confusing people.
"Therefore, the government will not object to any EVM chosen by the ECP."
'Old system benefits political parties'
Lashing out at the opposition parties, the science minister said political parties that were accustomed to winning elections through rigging were resisting the proposed electoral reforms to protect their own vested interests.
Read Govt snubs ECP objections over EVMs
"The opposition has an advantage in sticking to the old system as they can rig the elections through it," he maintained.
He said that the opposition had rejected EVMs without even using them and insisted that the opposition parties must test the machines themselves.
"Find out its flaws and the government would address those accordingly," he said, urging the opposition political parties to set aside their "personal interests" and work for the coming generations.
He suggested that the ECP should hold meetings with the technical committee on a daily basis and further the process of electoral reforms without wasting time.
"We request the election commission of Pakistan to arrange day to day meetings of the technical committee set up to review EVMs developed by the Ministry of Science and Technology," he added.
The federal minister said the formation of a joint parliamentary committee on electoral reforms by the Speaker National Assembly Asad Qaiser a day earlier was a welcoming sign.
Reiterating the government's stance on electoral reforms, Faraz said: "PM Khan wishes to introduce the same neutral empire in the country's electoral system that he had introduced in cricket to resolve any dispute amicably."
COMMENTS
Comments are moderated and generally will be posted if they are on-topic and not abusive.
For more information, please see our Comments FAQ