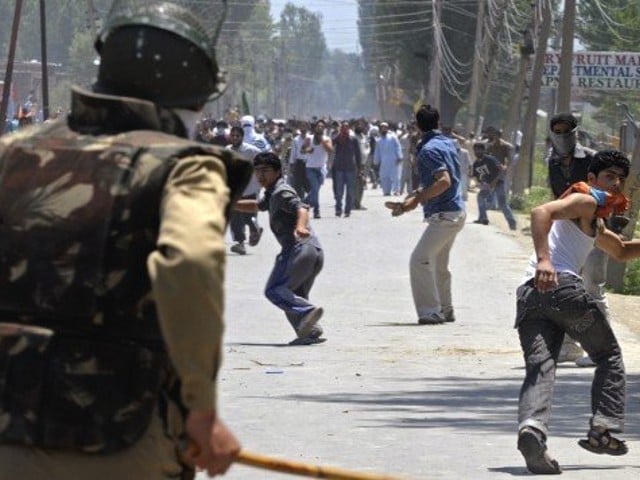 ---
NEW YORK:
The Organisation of Islamic Cooperation's (OIC) Contact Group on Jammu and Kashmir, which held a meeting in New York on Thursday, reaffirmed its support to their "just" struggle for the exercise of their right to self-determination, emphasising that settlement of the Kashmir dispute under UN Security Council resolutions was "indispensable" for durable peace and stability in South Asia.
The meeting, in which Foreign ministers of Pakistan, Turkey, Saudi Arabia and Azerbaijan as well as a senior Niger diplomat took part, was presided over by OIC Secretary-General Dr. Yousef Al-Othaimeen.
At the outset, Pakistan's Foreign Minister Shah Mehmood Qureshi apprised members of the Contact Group about the grave situation in the Indian Illegally Occupied Jammu and Kashmir (IIOJK), saying that New Delhi's prolonged siege of the disputed territory had exacerbated the already dire humanitarian conditions for the people.
Read Pakistan to observe mourning day over demise of Ali Geelani
A joint communique issued after the meeting underscored that Jammu and Kashmir is an internationally recognised dispute that has been and continues to be on the agenda of the United Nations Security Council (UNSC) since 1948 and reaffirmed by the relevant UNSC resolutions granting the Kashmiri people their inalienable right to self-determination.
It calls for reversing all illegal and unilateral measures taken on or after 5 August 2019, stop the gross, systematic and widespread human rights abuses in the IIOJK, halt and reverse the illegal demographic changes in the occupied territory, allow unrestricted access to UN Special procedures, international media and independent observers to visit IIOJK, and take concrete and meaningful steps for the full implementation of UNSC resolutions on Jammu and Kashmir.
Qureshi urged the member countries to raise the issue at relevant UN foras, including the General Assembly and the Human Rights Council.
The foreign minister censured the Indian forces for using pellet guns, incarcerating Kashmiri political leaders, taking into custody children and women and staging fake encounters in IIOJK.
He told the meeting that the Pakistan government had released a comprehensive dossier detailing the violations of human rights carried out by the Indian forces in the occupied valley.
He requested the OIC secretary general to circulate the dossier among all members of the organisation and have it widely disseminated.
The foreign minister stressed that peace in South Asia was not possible until a just and equitable resolution to the Jammu and Kashmir dispute in accordance with the resolutions of UN and aspirations of the Kashmiri people was found.
He rebuked the Indian government for not offering a proper funeral to veteran Kashmiri leader Syed Ali Shah Geelani. He criticised New Delhi for intensifying repression despite a ceasefire agreement in February this year.
Qureshi lauded the OIC's Contact Group for making an "invaluable contribution in galvanising global attention to the worsening situation".
COMMENTS
Comments are moderated and generally will be posted if they are on-topic and not abusive.
For more information, please see our Comments FAQ