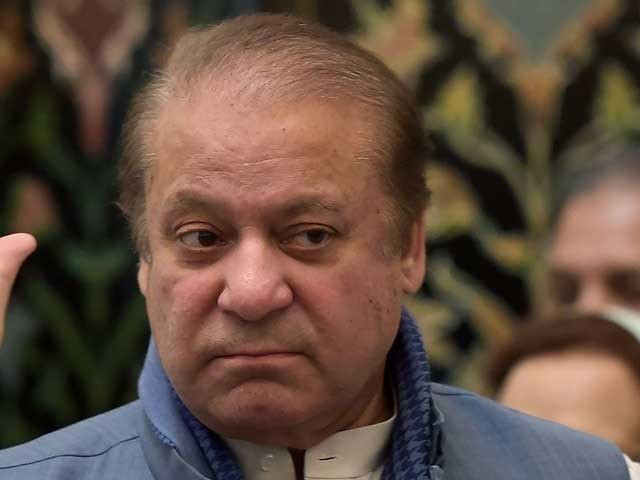 ---
Nawaz Sharif 'received first Covid-19 shot' in Lahore
Punjab health department orders inquiry into 'fake entry' of former prime minister in official portal
---
LAHORE:
Former prime minister and Pakistan Muslim League-Nawaz (PML-N) supremo Nawaz Sharif, who has been living in London since 2019, received the first dose of Sinovac Covid-19 vaccine at a medical facility in Lahore, according to his "fake vaccine" certificate available with The Express Tribune.
The Punjab Health Department on Thursday while taking notice of the fake vaccine certificate ordered an inquiry into the matter. According to the Primary and Secondary Healthcare Department's letter sent to the Federal Investigation Agency (FIA), the bogus entry in the National Immunisation
Management System was made from Government Kot Khawaja Saeed Hospital in the provincial capital.
Also read: Vaccine fraud: Fake certificates put inoculation drive in jeopardy
As per the letter, which also contains the name of the vaccinator, the former premier was inoculated with the first jab on Wednesday (September 22) at 4pm. "It is hereby requested to kindly investigate and take necessary action against the fake entry on the name of Muhammad Nawaz Sharif in the National Immunisation Management System," the letter read.
Last month, The Express Tribune had reported that the reports of fake vaccination certificates were surfacing across the country. Experts fear that, if left unattended, this could be the hole that ultimately sinks the ship of Pakistan's fight against Covid-
19. In view of said reports, authorities have taken action against more than four health department employees in Lahore and Shahdara, while also cancelling certificates found to be illegally issued.
Sources had claimed that those apprehended in Lahore may face legal charges under the Punjab Employee Efficiency, Discipline and Accountability (PEDA) Act. According to whistleblowers on microblogging site Twitter, immunisation certificates can be forged for anywhere between Rs2,000 and Rs10,000 at major government hospitals, depending on the value of the vaccine.
Some forgers, allegedly associated with the vaccination drive, have also taken to WhatsApp and other social media platforms to market their business. "Without any dose [sic.] Corona vaccination registration available verified by 1166," advertised one such service in a screenshot circulating on the internet.
Explaining the protocols of fake vaccination, a source privy to the matter said that dubious vaccinators have citizens fill a standard form that one would fill at any authentic vaccination centre. "Quite like the actual vaccination process, they also note the patient's vitals and conduct necessary checkups. However, the final phase of vaccine administration is skipped, while the data is fictitiously fed in the record system," he said.