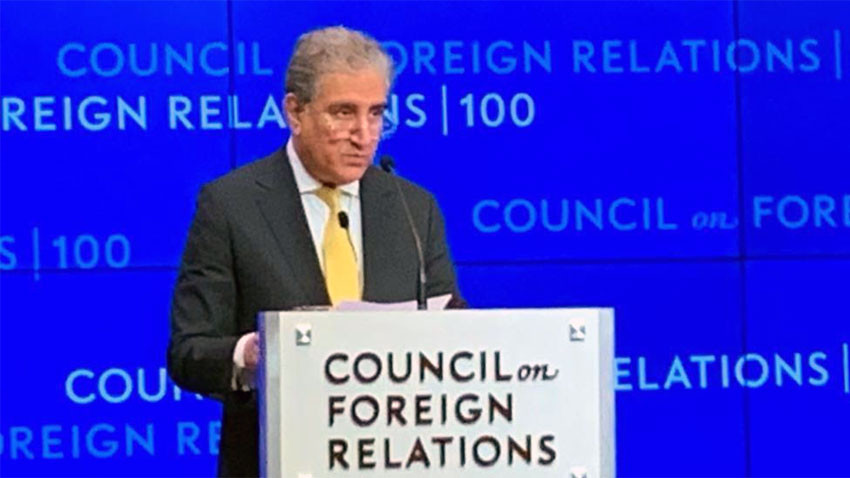 ---
Foreign Minister Shah Mahmood Qureshi has said Pakistan wants a strong relationship with the US beyond counter-terrorism and Afghanistan after the withdrawal of US troops from the war-torn country.
The foreign minister was addressing a session of the Council on Foreign Relations in New York and stated that both the countries have mutual areas of interest to build a more substantive and broad-based relationship.
"Pakistan wants to leverage its connectivity infrastructure including the China-Pakistan Economic Corridor to enhance regional trade and economic integration," Qureshi said.
He maintained that the US will be an important partner in this regard.
"Pakistan's climate-friendly energy policy offers tremendous opportunities for US companies specialised in clean and renewable energy," the minister stated and added that Pakistan sits at the crossroads of South and Central Asia and is a market of over 220 million people.
According to Qureshi, Pakistan and the US came together to decimate al Qaida's core leadership and infrastructure.
"Pakistan has shifted its focus from geo-politics to geo-economics and can work with the US from development finance cooperation to general economic activity on the Pakistan and Afghanistan border which will help the Afghans," he said.
Islamabad's top envoy also said that an economically strong Pakistan can play a vital role for prosperity in the region which has suffered due to 40 years of war in Afghanistan.
Read Qureshi, Khalilzad for inclusive Afghan settlement
"Pakistan and India should fight poverty instead of each other," he stated, adding that Prime Minister Imran Khan has warned the world that illegal actions by India in Indian Illegally Occupied Jammu and Kashmir (IIOJK) would not silence Kashmiris from their struggle for self-determination.
While talking to the US Special Representative for Afghanistan Zalmay Khalilzad, on the sidelines of the 76th session of the UN General Assembly, the FM reiterated Pakistan's continued support for the establishment of an inclusive government in Kabul.
Discussing the evolving situation in Afghanistan, the two leaders agreed to work together for a peaceful and inclusive political settlement in the country.
Expressing deep concern over the growing humanitarian crisis in Afghanistan, Qureshi urged the international community to take effective steps to protect Afghans and ensure the provision of assistance to them.
COMMENTS
Comments are moderated and generally will be posted if they are on-topic and not abusive.
For more information, please see our Comments FAQ