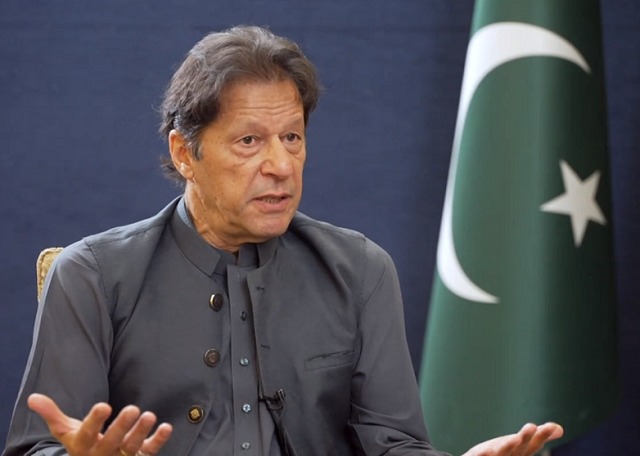 ---
ISLAMABAD:
Pakistani Prime Minister Imran Khan has ruled out any unilateral recognition of the Taliban government, saying in an interview with a foreign media outlet that such a decision will be taken collectively in consultation with all the neighbours of the war-torn nation.
In the interview with the BBC published on Tuesday, the prime minister expressed his confidence that girls would be able to return to schools in Afghanistan soon, stressing that preventing women from pursuing education would be an un-Islamic act.
Talking to BBC's John Simpson, the prime minister laid out the conditions to formally recognise the new Taliban government. First, Imran said, the new leadership should be inclusive, they respect human rights and that Afghanistan should not be used to house terrorists who could threaten Pakistan's security.
When asked if the Taliban accepted the three conditions, would Pakistan formally recognise the Taliban government, Imran replied that Pakistan would take a decision to formally recognise the Taliban government together with the neighbouring countries.
"All neighbours will get together and see how they progress. Whether to recognise them or not will be a collective decision," he said. Asked further whether the Taliban would meet his criteria for formal recognition, he repeatedly called on the international community to give the group more time.
Girls' education
The prime minister expressed his optimism that the girls would be able to return to their schools soon. "I think they will allow women to go to school," he said. "It's just too early to say anything," he continued, adding that he expected Afghan women would eventually "assert their rights".
Read Pakistan confident Taliban will meet promises: DG ISPR
"The statements they [the Taliban leadership] have made since they came to power have been very encouraging," he said. "The idea that women should not be educated is just not Islamic. It has nothing to do with religion."
The Prime Minister once again cautioned that Afghanistan could descend into a civil war if all factions were not included in an inclusive government. "If they do not include all the factions, sooner or later they will gradually descend into a civil war," he said, adding that it would again impact Pakistan.
"That would mean an unstable, a chaotic Afghanistan and an ideal place for terrorists. That is a worry," the prime minister observed. He said that in case, there had been fighting on Afghan soil, it would lead to a humanitarian crises and refugees issue for Pakistan.
The prime minister urged the international community to be patient with the latest change on the Afghan landscape. After twenty years of civil war, Imran said, the Taliban had come into power. It had been few months since they had been in power."
COMMENTS
Comments are moderated and generally will be posted if they are on-topic and not abusive.
For more information, please see our Comments FAQ