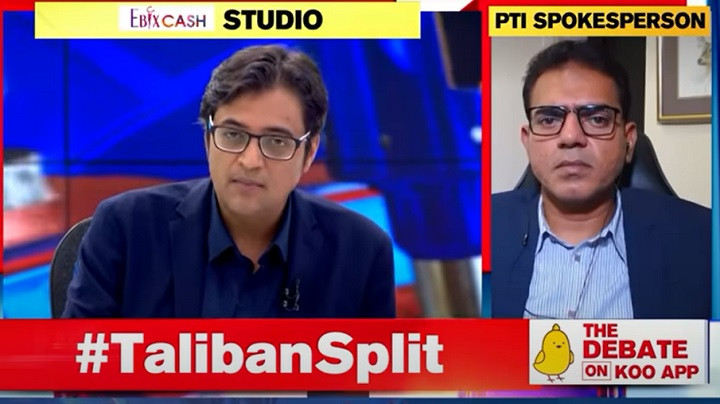 ---
ISLAMABAD:
The rabble-rouser Indian anchor Arnab Goswami was left embarrassed in a recent television show when his claims regarding the presence of Inter Services Intelligence (ISI) officials at Kabul's Serena Hotel backfired.
In the programme 'The Debate' aired on Republic World on September 15, Goswami discussed with Pakistan Tehreek-e-Insaf (PTI) spokesperson Abdul Samad Yaqoob as well as an Indian analyst the 'split' within the Taliban following the takeover.
The Indian anchor went on to claim that Pakistan Army officers were staying at the Serena Hotel's 'fifth floor', apparently to help Taliban win over the Panjshir valley.
However, much to Goswami's 'intelligence gathering', the hotel turned out to only have two floors.
When Yaqoob questioned Goswami's claims, he went on to say that his information was correct, saying the fighters were still resisting Taliban and Pakistan's forces were retreating from the valley.
The anchor even went as far as to tell the PTI spokesperson to "go and check today ... on the fifth floor of the Serena Hotel, I am telling you, please check, fifth floor of the Serena Hotel in Kabul, how many Pakistani army officers are there?"
"I can also maybe tell you what they ordered for dinner so don't question my intelligence sources. We've got all our aerial surveillance on you people."
However, a day later, Yaqoob returned to the show and responded to the claims, saying, "What I got to know from my sources [is that] Serena has only two floors. There are no third, fourth or fifth floors."
What followed was a sheepish look on the firebrand anchor's face underneath a forced laughter.
Shortly after, Twitter users from Pakistan and India shared countless memes, laughing off the absurd claims.
COMMENTS
Comments are moderated and generally will be posted if they are on-topic and not abusive.
For more information, please see our Comments FAQ