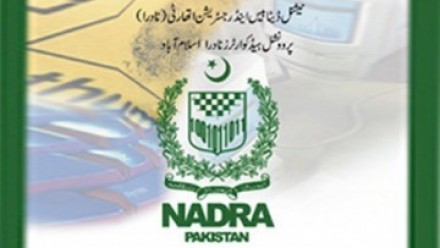 ---
ISLAMABAD:
The National Database and Registration Authority (NADRA) Chairman Tariq Malik on Saturday ordered an inquiry into who had approved writing a letter to the Election Commission of Pakistan (ECP) on the issue of a new electoral process.
Malik also reprimanded the authorities concerned on writing the letter using a 'harsh' tone.
On Thursday, the ECP had reminded NADRA that coming up with a new process for holding of polls was its domain only and lamented the tone adopted by the "authority's chairman" in his letter to the body.
It has been learnt that the NADRA Project Directorate had written a letter to the ECP secretary on August 20 instead of the chairman.
Sources said on August 2, the NADRA chairman had briefed the chief election commissioner on the new e-voting system.
The meeting was also attended by the information technology director general and other senior officials of the ECP.
The NADRA chairman said during the briefing that according to a report of independent auditors, a period of 1.5 years was required to rectify the deficiencies in the old system.
According to the IT experts, the new system would take three years to build. However, the NADRA chairman offered to complete the system in just a year.
Under the new system, NADRA would prepare for the ECP an integrated e-voting system for overseas Pakistanis, consisting of the commission's own data centre, servers and a third party software.
The system would be administratively and technically controlled by the ECP itself. Through it, the commission would be self-sufficient in all arrangements for e-voting. The new system would have nothing to do with NADRA computers or servers.
The CEC appreciated the new e-voting system for overseas Pakistanis proposed by the NADRA chairman and verbally instructed the authority to move ahead with it.
In this context, the NADRA Project Directorate wrote a letter to the ECP secretary on August 20, asking him to present in writing the verbal orders given in the August 2 meeting so that the work on the new system could be completed within a year.
According to NADRA officials, the new e-voting system was based on accountability and transparency.
Under this system, every voter would know whether their vote had been counted in the final count or not, they added.
In its letter, the EPC had said it was disappointed with the tone of the NADRA chairman.
"His tone gives the impression that the ECP operates under the NADRA," it wrote.
The commission further noted that NADRA wanted a new agreement of Rs2.4 billion for e-voting with the ECP.
"NADRA should first explain why it abandoned the previous e-voting scheme on which Rs66.5 million had already been spent."
COMMENTS
Comments are moderated and generally will be posted if they are on-topic and not abusive.
For more information, please see our Comments FAQ