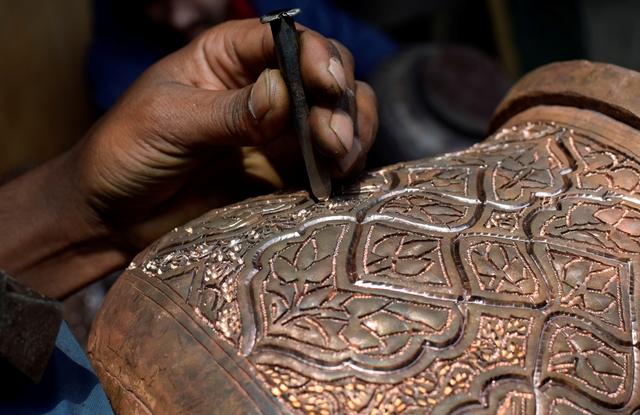 ---
LAHORE:
While the once popular art of copper carving has found itself fading in the shifting sands of time, Rana Muhammad Jamil, a Lahore-based artist, has endeavored to keep the practice alive in the Mughal city. His medium is a humble studio, located a stone's throw from Lahore's Mochi Gate area.
Past the bustling streets of the old city, the studio called Art Rattan, home to a variety of intricately carved copper pots, offers a gateway to a different world— one where creativity is king and knowledge is shared.
The studio where Jamil practices is a startup by local artist Mohsin Faraz, who is keen to bring back the art form from the forgotten pages of history and establish it within the contemporary art scene.
"The art of drawing and carvings on the copper pots dates back to centuries. The craft once flourished in this part of the world during the Muslim period in India. During that time, designs and motifs made by Kashmiri and Iranian artisans started to appear on pottery, and grace the houses of the rich," narrated the artist.
According to Faraz, until a few years ago there were dozens of artists in old Lahore who would contribute to the craft. However, with time, most of them dispersed and disappeared, leaving only a few in the city who can still masterfully translate Kashmiri and Iranian motifs on copper and brass utensils.
Read Roadside artisan keeps a 'cane-do' attitude
One among them is Jamil, who has been associated with the craft for the past 35 years. "I have no professional or school training, all that I know I have learned working under my paternal cousin, who himself was extraordinary craftsman and mentor and now I work here [at Art Rattan] alongside a group of artisans and offer workshops for all looking to try their hand at the art from," he told.
Some of the Jamil and his fellows' best works include beautiful copper pots with Kashmiri and Iranian carvings and sketches of historical figures, finely carved into copperware, which are often times specifically brought by clients looking to get their own utensils decorated.
"It is a very elaborate process," said Jamil explaining his craft. "It can take two to three days to make a carving on an average copper pot," said Jamil, adding that labour charges for the job can go up to Rs1,500 because the entire process, except polishing is done by hand. Another pocket where the art form still flourishes is a store called Heritage, located in the pottery market of Rung Mahal in Lahore. Its huge door is a portal into the days of yore, when Mughal opulence gleamed from every corner of what's now called the old city. "This shop was started by my parents, in whose time these artisanal utensils were a customary gift item, especially on weddings, but the practice has since died with the growing popularity of silver and plastic," said Heritage owner Haroon Hayat.
Today however, Hayat tells, his major clients are art directors and production designers from the film industry, who turn to his store when sourcing props for heritage sets. According to the store owner, the price of copper utensils for general use is usually determined by its weight while the value of the decoration piece is determined by the type and size of the carvings and the skilled work done on it. "The copper utensils with artwork are priced between Rs2,000-Rs3,000 but some of the masterpieces may costs hundreds of thousands of rupees," Hayat told The Express Tribune.
Published in The Express Tribune, September 19th, 2021.
COMMENTS
Comments are moderated and generally will be posted if they are on-topic and not abusive.
For more information, please see our Comments FAQ