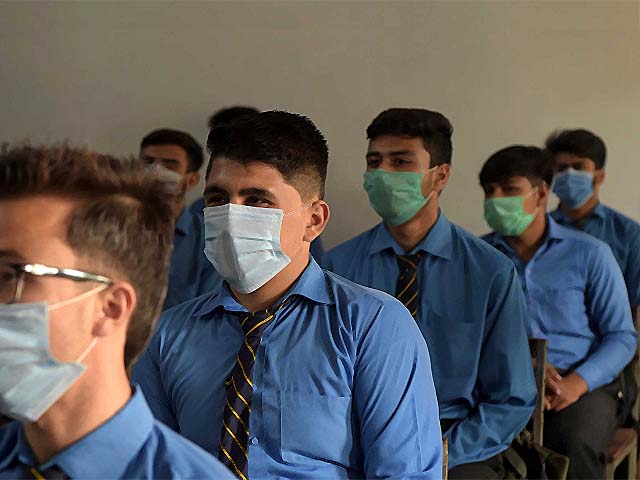 ---
Schools reopen in Covid-hit dists also
Low attendance reported amid strict implementation of SOPs
---
LAHORE:
Teachers have expressed concerns over reopening of schools in districts facing a high risk of the spread of coronavirus, while the attendance of students also remained low on the first day after resumption of academic activities in the province.
The provincial government has reopened schools in all areas, including the high-risk districts of Lahore, Rawalpindi, Multan, Sargodha, Faisalabad and Gujrat.
Government and private schools across the province opened on Thursday after vacations of two weeks. However, low attendance of students was observed on the first day.
Colleges and universities, including private institutions, also resumed classes.
On the other hand, Punjab Public Service Commission ( PPSC) also announced beginning of interviews and exams on Saturday. The commission had cancelled the exams and interviews scheduled earlier due to the risk of Covid-19.
The commission announced its new schedule of exams and interviews.
The educational institutions in Punjab were closed from September 6 to 11 and the period was later extended till September 16.
Read Are 66 schools enough for 300k children?
Provincial School Education Minister Sardar Murad Raas announced the decision to resume the educational activities a couple of days ago.
The minister took the decision in accordance with the advice of the National Command and Operation Centre (NCOC) to resume teaching while following the old policy of maintaining attendance of 50 per cent students each day with strict implementation of the coronavirus safety standard operating procedures (SOPs).
The school administrations strictly implemented the SOPs on the first day of the students' return, but the attendance reportedly remained low in most institutions.
"Academic activities started as per the instructions of the government and we are trying our best to implement the SOPs. However, the government should think about the high risk districts. It is our suggestion that the schools in those districts should be closed to avoid the risk to the students as well as teachers," said
Punjab Teachers Union (PTU) Secretary General Rana Liaqat Ali while speaking to The Express Tribune.
Meanwhile, a coronavirus diagnostic test positivity rate of 11% was recorded in the provincial capital on Thursday, with 676 new cases and 14 deaths caused by the disease recorded.
A positivity ratio of 11% was also recorded in Faisalabad. There was no respite in the number of new patients in other districts considered to be at a higher risk of spread of the virus, leaving the parents apprehensive of sending their children to schools.
Published in The Express Tribune, September 17th, 2021.