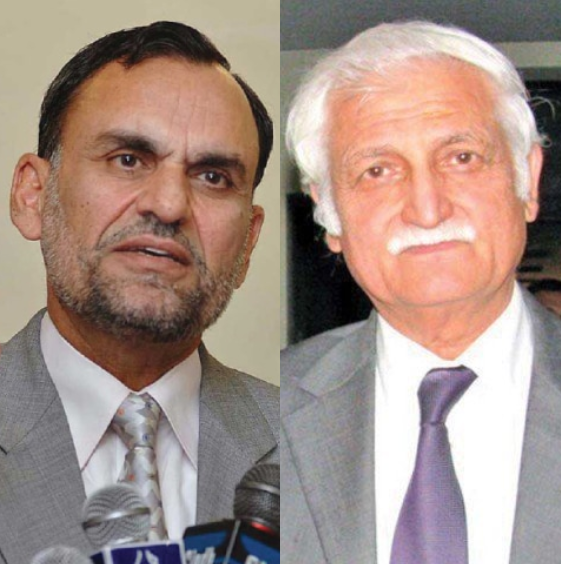 ---
ISLAMABAD:
As the collision between government and the Election Commission of Pakistan (ECP) plunged into an acrimonious chapter over the week, members of Pakistan Peoples Party (PPP) and Awami National Party (ANP) came to the body's defence against what they termed "outright threats".
In a meeting with the Chief Election Commissioner (CEC) Sikandar Sultan Raja, the delegations of the two opposition parties expressed solidarity with the body.
The delegation comprised parliamentary leader of the PPP in the upper house of parliament Senator Sherry Rehman, former chairman of Senate Syed Nayyer Hussain Bokhari, PPP leader Farhatullah Babar and ANP's Khyber Pakhtunkhwa chapter President Aimal Wali Khan.
Addressing a press conference after the meeting, PPP Secretary General Nayyar Hussain Bukhari said that the objections raised by the ECP against the government's plan to introduce voting machines for the next general elections were completely within the constitutional mandate of the body.
He censured the government for hurling unfounded allegations against the ECP. "The public outbursts against the body by the government ministers were unbecoming and inappropriate. We will support the ECP at every forum," he added
Read PML-N, govt continue to battle over EVMs
Echoing the shared concerns of the opposition parties about the controversial bill, PPP's Sherry Rehman said the government's electoral reform bill was unconstitutional. She said the government was subjecting institutions to a barrage of "insults" for not falling in line with its orders.
The PPP leader said, "A voting machine is being imposed which cannot work in a country with such a large population. The EVMs will not be able to provide secrecy or trail. The government does not want to provide a level playing field.
The widening of the gulf between the institution and the federal government has allowed the opposition to take on the government for what it said "attempts to pressurise and control the ECP".
The meeting comes on the heels of blistering allegations from the government ministers.
On Friday, Railways Minister Azam Khan Swati hit out at the institution during a meeting of the Senate Standing Committee on Parliamentary Affairs and accused it of taking bribes to rig polls, adding that such institutions should be "set on fire".
Later in the day, the railways minister termed the chief election commissioner a "mouthpiece for the opposition".
In a press release issued on Tuesday after a meeting presided over by CEC Sikander Sultan Raja and attended by senior ECP officials, the institution said it "objected to and rejected" the accusations against itself and the CEC. It demanded evidence from Swati for the comments he made about the ECP in the standing committee meeting.
COMMENTS
Comments are moderated and generally will be posted if they are on-topic and not abusive.
For more information, please see our Comments FAQ