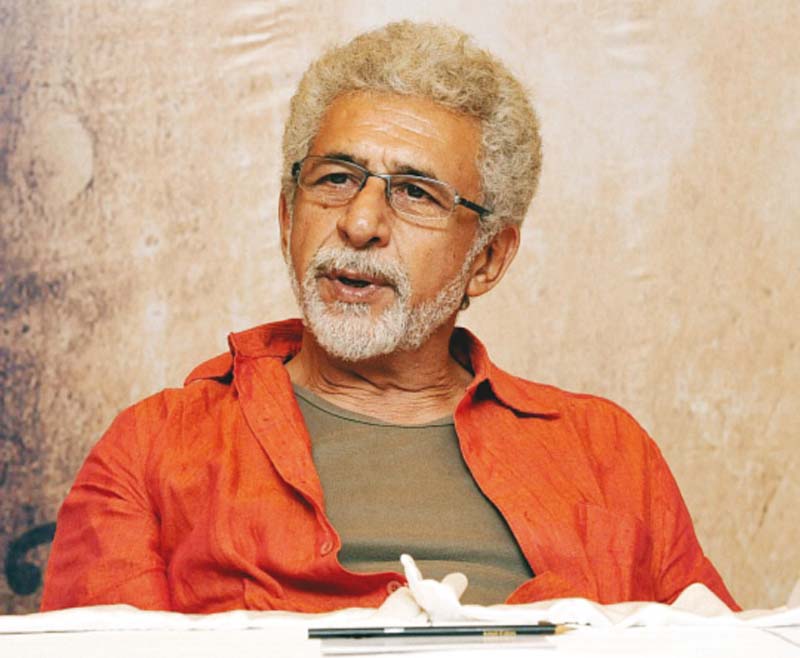 ---
Bollywood veteran actor Naseeruddin Shah previously made headlines when he shared his two cents on the Indian Muslims who lent support to the Taliban. While his statement sparked outrage, the A Wednesday actor stayed firm on the matter as he recently talked about the fallout of intimidation and pressure on the industry and major filmmakers.
Speaking about how big names in filmmaking cash in on the notion of promoting jingoism, Shah, in an interview with NDTV, commented, "They [Indian filmmakers] are being encouraged by the government to make pro-government films, to make films lauding the efforts of our beloved leader. They also being financed, also promised a clean chit if they make movies which are propaganda, to put it bluntly."
He added, "You will find the biggest guys giving in to this. In Nazi Germany also this was attempted. Filmmakers who were outstanding, world-class, were rounded up and asked to make films propagating the Nazi philosophy." The actor went on, "The kind of big-budget films that are coming. The big ones - cannot disguise the jingoistic agenda."
Shah also asserted that he has never faced discrimination in the industry, however, has always been varied about being subjected to harassment. The 71-year-old actor said though there is no outright bigotry in the industry, actors faced harassment if they dare to speak out - the reason that the biggest Khans chose silence.
"They (the Khans) are worried because of the harassment they face. They have so much to lose. It's a question of their entire establishments getting harassed," he said. Talking about the discrimination in the industry, Shah continued, "I don't know if the Muslim community is facing any discrimination now in the film industry. I think our contribution is far too important." He went on, "The amount of revenue you can generate makes for the amount of respect that you receive in this industry. The three Khans are still at the very top, they are unchallenged and still delivering. I have never felt any discrimination. I was advised early in my career to change my name. I kept it and I don't know that it would have made any difference."
Comments on the Taliban
Recently, the Jaane Tu Ya Jaane Na actor received flak over his comments on the Taliban and Indian Muslims. "Even as the Taliban's return to power in Afghanistan is a cause for concern for the whole world, celebrations of the barbarians by some sections of Indian Muslims is no less dangerous," he had said in a video. He had also differentiated between what he called "Hindustani Islam" and what is actually practised in other parts of the world.
"Celebration may not have been the right word to use," Shah clarified. "I was referring to those who openly made a statement in favour of the Taliban. The past history of the Taliban should make us pretty anxious. What saddened me was that there are sections of the Muslim community who are in agreement. I also received pats on the back from the rightwing. I don't need any such congratulations or label."
Shah also addressed comments about referring to the "Go to Pakistan" slogans often hurled by the rightwing, the actor joked that he had once been offered a fully refundable ticket to Pakistan - "Bombay to Colombo, Colombo to Karachi"
On his Taliban comments, he asserted that what he said was "perfectly reasonable" and that he felt sorry for those getting "rabidly angry" at what he had said.
"It's not an ordinary time. There is an atmosphere of bottled hate just waiting to be released. People are waiting to take offence to anything. If they had heard my statement they would have realised there is nothing to get their knickers in a twist about," the actor remarked. "It doesn't take time for a wildfire to spread. It doesn't take time for thoughts like this to penetrate into people's minds. A majority of people were upset about reforms and that bothered me even more. They are against the idea of modernism."
He finally shared, "By Indian Islam, I meant tolerant, Sufi-influenced practice of Islam in this country. I was referring to the Islam represented by people like Salim Chishti and Nizamuddin Aulia. Indian Islam is a religion that does not believe in the fundamental execution of the word of the law."
COMMENTS
Comments are moderated and generally will be posted if they are on-topic and not abusive.
For more information, please see our Comments FAQ