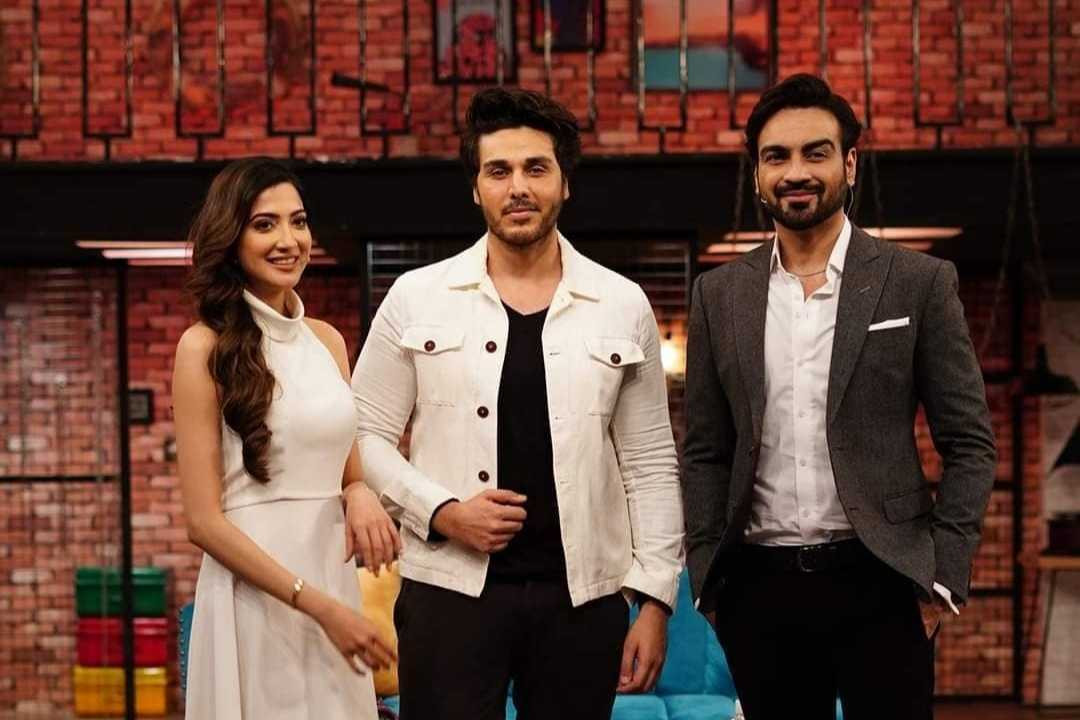 ---
On-screen couple actors Arslan Naseer and Aymen Saleem of Chupke Chupke fame recently made an appearance on Time Out with Ahsan Khan, dishing out the details of their leap into the world of television, as well as their lives outside of the industry.
Former banker Aymen, who made her acting debut in the hit comedy series Chupke Chupke alongside seasoned actors Ayeza Khan and Osman Khalid Butt, recently made headlines for the announcement to step away from showbiz. However, the starlet clarified that while she did indeed take a break to think through her career switch, she had not stepped away from acting altogether. When questioned by Ahsan over why she chose to make the announcement, Aymen shared, "I am from a corporate background. Coming into the industry, I wasn't fully prepared. Our industry is very different from other industries. I've done investment banking in New York and I've done consulting. Coming into showbiz is a completely different ball game altogether. I wasn't entirely sure whether I wanted to do this or not."
The actor went on the explain that the success of her TV debut caught her off-guard, saying, "Chupke Chupke was such a huge hit, and we were given so much love and support by our fans and wellwishers, but if I'm being completely honest, I was a little overwhelmed. It was just so much, and I was very grateful for it, and I was really humbled, but I wasn't sure if I was ready for this. So I wanted to make sure I take a step back, reevaluate what I want to do, and that if I come back then I should come back to stay."
Sharing how she made the announcement to solidify the decision in her own mind, as well as give the message to the industry that she was not interested in pursuing any new projects at the moment, Aymen elaborated further, "I wanted a break. I needed to reassess whether I even want to do this or not, and I find it a little bit hard to say no. I was reconnecting with my mentors in the industry who really helped me during this time. It wasn't just me switching jobs, it wasn't like going from one bank to another. That's a 9 to 5 career and it doesn't change much."
Reflecting on the demands of celebrity life, Aymen said, "You need to always be in your character when you're in the public eye. Glam life was not for me. So I needed to make sure I'm ready for it."
Arslan, who first cemented his place in the world of entertainment through YouTube, explained that his new life as an actor doesn't allow him to commit enough time to the social media platform. When questioned by the host about whether he has taken it easy on the videos, which often involved making jokes about people in the industry and the work that comes out of it, due to his new celebrity status, the actor explained that such was not the case. He asserted, "Even the people I made videos on, they really enjoyed them. Mazaak uraane aur mazaak karne mein farq hota hai [Making fun of someone and making a joke are different things]. They could see that a line wasn't being crossed. This is the kind of comedy we grew up with, watching Anwar Maqsood sahab and Moin Akhtar sahab. The comedy they did wouldn't offend but it was also funny."
The actor went on to speak about the responsibility of social media influencers, sharing, "You have a responsibility if you're in an influential position. You call them social media influencers for a reason. If the youth follows you and you use foul language or promote negativity, then you need to understand that you're sending a certain message to them."
Adding to the discussion, Aymen shared that she believes celebrities should be more mindful of the content they put out there. She explained, "When you're in the public eye, people look up to you and are inspired by you. Some people will consider you a role model so you should always be wary of public sentiments. However you behave, people will judge you based on that."
On his switch from YouTube to TV, Arslan revealed that he never really had any aspirations to be an actor and that the offers he received prior to Chupke Chupke failed to make an impact on him. He shared, "I had been working on YouTube for a while, so I would get offers from television every now and then. I wasn't too interested, since I used to work in the corporate sector."
Speaking about stepping out of his comfort zone, the actor added further, "I never thought I would work in the acting business. That's also one of the reasons why I got into the field. I figured it's a new experience. I was in my comfort zone on social media, so this was a learning experience. On social media, one person does the scriptwriting, shooting and editing. In television, there's teamwork involved and you get to meet people like yourself."
On her entry into the industry, Aymen shared that she was scouted at a wedding in Dubai. "I was in Dubai at my cousin's wedding, and Sultana apa was there as well." She added that similar to Arslan, she wasn't particularly interested in acting at first, but "enjoyed being in front of the camera".
Reflecting on his YouTube career and the pitfalls of the platform, Arslan shared, "If you're only on YouTube to make money, then your thinking gets compromised at some level. Due to that, unfortunately, negativity goes viral."
He added further, "Even if people end up making some money off a video for a month, they start getting desperate for more, or to at least maintain that steady stream of income since it fluctuates a lot, which also depends on who and where your audience is."
COMMENTS
Comments are moderated and generally will be posted if they are on-topic and not abusive.
For more information, please see our Comments FAQ