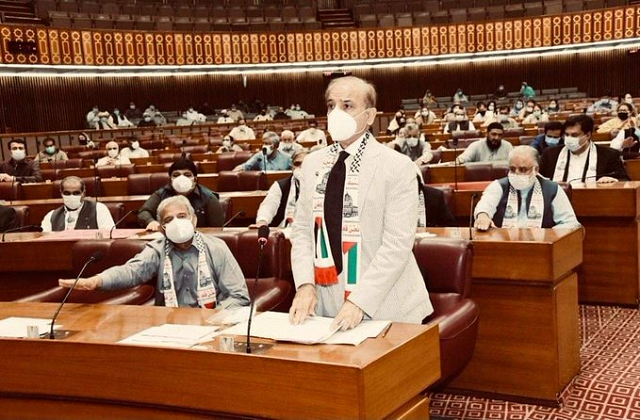 ---
LAHORE:
Pakistan Muslim League-Nawaz (PML-N) President and National Assembly Opposition Leader Shehbaz Sharif on Saturday slammed the PTI-led government for rising inflation and hike in the prices of everyday essentials witnessed over the past week.
In a statement, the PML-N leader hit out the government and said the costs of edible commodities had shot up by 24 per cent within a period of just one week. He said it was "an utter cruelty towards the people of Pakistan and the most brutal exploitation of the masses".
He said the "persistently soaring inflation" at the rate of 13.64 over the past week and an increase of Rs58 in 20kg bag of flour had laid bare the "total absence" of the government. The inflation has pushed a large chunk of the populace below the poverty line, he added.
"The increase in the price of ghee by 41 per cent; cooking oil by 37 per cent; chicken by 39; electricity by 47 per cent; and LNG by 46 per cent as compared with last year is proof of the corruption by the PTI government. Even shoes have become 33 per cent more expensive."
The opposition leader went on to say that the government that was operating with "cruelty and despotism" cannot carry the day for too long, especially when the "already impoverished people are unable to afford even a single meal".
The government has done nothing for the people other than crushing them under inflation, poverty and unemployment, Shehbaz added.
COMMENTS
Comments are moderated and generally will be posted if they are on-topic and not abusive.
For more information, please see our Comments FAQ