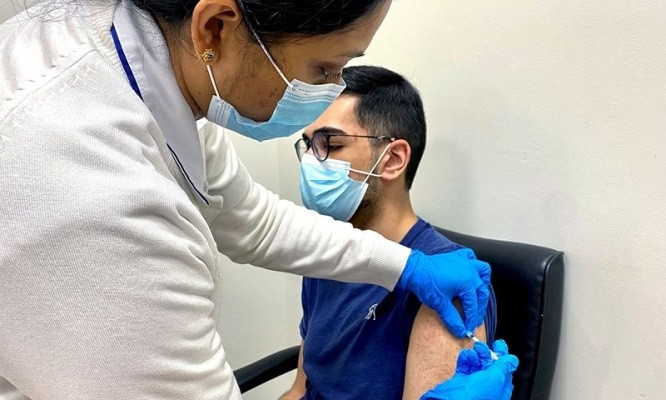 ---
Vaccination drive expanded to 15-year-olds
Forum says NADRA's Form B will be required for registration purpose
---
The government expanded the nationwide inoculation campaign against the Covid-19 pandemic, including the youngsters in the age groups of 15 to 18 years, a day after it was announced that the country was placed comfortably on the way to achieve the target of vaccinating 70 million people this year.
The National Command and Operation Centre (NCOC) decided that only the Pfizer vaccine would be given free of the charge to citizens between 15 and 18 years of age. For the registration, the forum decided that Form B of the National Database and Registration Authority (NADRA) would be required.
"Pfizer vaccine will be available for 15- to 18-years-old at all mass vaccination centres," the NCOC, which serves as the nerve centre of the government's unified anti-Covid strategy, said. "Mobile vaccination teams will also visit schools and colleges for vaccinating students aged 15-18 years," it added.
The NCOC further announced that the partially vaccinated individuals could get their second jab throughout the week without waiting for their scheduling message. "All people who have had their second dose scheduled can get their second dose from any vaccination centre, seven days a week."
Read NCOC extends curbs in Covid hotspots for another week
The government intends to vaccinate 70 million population by the end of this year. On Friday, the country crossed a welcome milestone in the vaccination, as the number of fully vaccinated people topped 20 million, while those having received the first jab, crossed 50 million mark.
Meanwhile, the NCOC said in its daily update of the disease that the national tally of active Covid cases inched up to 91,799, as 3,480 more people tested positive for the virus while 3,121 people recovered from the disease during the last 24 hours.
The national positivity ratio came down significantly from 6.03% ON Friday to 5.51% on Saturday, the update said. it added that at present, more than 5,500 patients were admitted to various Covid-dedicated health facilities across the country, while 5,373 of them were still in critical condition.
The NCOC said that 82 patients died during the past 24 hours, increasing the nationwide death toll to 26,662. As of Thursday, the national caseload of the disease, since the pandemic outbreak in February 2020, rose to 1,201,367, including 1,082,988 recoveries.
(WITH INPUT FROM APP)