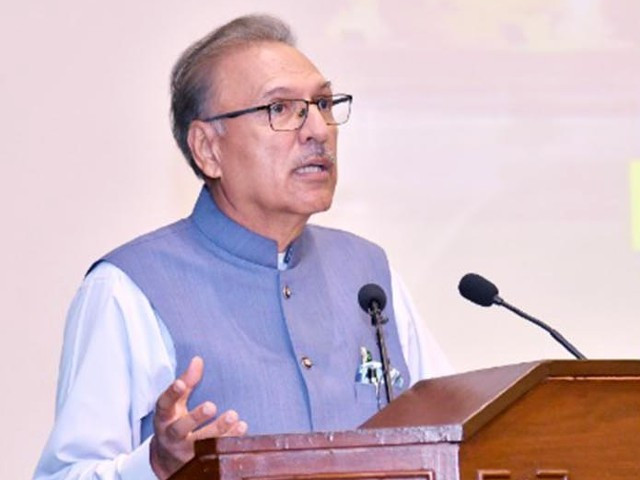 ---
ISLAMABAD:
President Dr Arif Alvi said on Friday the Afghan Taliban had assured that their land would not be used for terrorism against any other country and indicated that the government would consider an amnesty for those who were willing to accept the Constitution of Pakistan and shun terrorism.
In an interview to a private television, he said if Afghanistan remained peaceful and without Indian interference it would be bonanza for Pakistan. He added peace in Afghanistan would set the region on the path to economic prosperity and especially Pakistan would attract more investment.
Responding to a question, he said that the Taliban had assured that their land would not be used for terrorism against any other country. Taliban, he added had also expressed their support to the Kashmir cause.
Alvi hinted at a conditional amnesty for the members of the outlawed Tehreek-e-Taliban Pakistan (TTP) provided they were not involved in any criminal activity and that they surrendered their arms and accepted the Constitution of Pakistan.
The president emphasised that the TTP still posed a threat to Pakistan. In response to a question, he clarified that he would not be taking any names, rather he was "talking about the people who, before anything, have not remained involved in criminal activities".
The president stated that uncertainty in Afghanistan suited India. He added that India had been trying to creating chaos in Pakistan by interfering in the matters of Balochistan. "India is doing politics of hate and causing regional instability and in the process is also weakening itself," he said.
He said that Pakistan benefited from the fence put up at the Afghan border and stressed that Pakistan would benefit if Afghanistan was made part of the China Pakistan Economic Corridor (CPEC). He added that the Central Asian countries were eager for opportunities for trade and investment in Pakistan.
The president said he could see that Pakistan Tehreek-e-Insaf (PTI) would form the next government. "The focus of the government should be on development, fulfilling needs of the people and keeping inflation and price hikes under control," he said.
Dr Alvi said that the economy of the country was moving in the right direction and all the economic indicators were trending positive. He supported the use of electronic voting machines in the elections and said opposition was acting irresponsibly by opposing the use of voting machines.
(WITH INPUT FROM NEWS DESK)
COMMENTS
Comments are moderated and generally will be posted if they are on-topic and not abusive.
For more information, please see our Comments FAQ