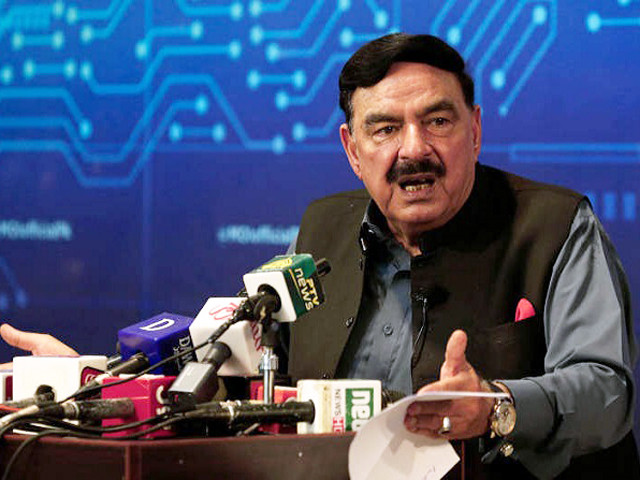 ---
Interior Minister Sheikh Rashid welcomed on Monday Taliban's desire to become part of multi-billion-dollar China-Pakistan Economic Corridor (CPEC) project, stating that the progress of Pakistan and Afghanistan was interlinked.
Addressing a press conference in Islamabad, the minister described CPEC as the economic lifeline of Pakistan and appreciated the Afghan Taliban's views regarding China. "It's encouraging," Rashid said about Taliban's desire to include Afghanistan in the CPEC.
In an interview with foreign media last week, Taliban Spokesperson Zabihullah Mujahid had expressed the hope that Pakistan's help to Afghanistan would continue and added that the extension of CPEC by linking it with Afghanistan was very important.
Rashid said that Pakistan was proud of its friendship with China, adding that if the Taliban "hold the similar views, then it is really good". He stressed that Pakistan desired peace and stability in Afghanistan, saying that progress of Pakistan and Afghanistan was interlinked.
Italy praises Pakistan's efforts for Afghan, regional peace
The minister said that the perpetrators of the recent suicide attacks in Gwadar on August 20 and in Mastung on Sunday had come from Afghanistan. He also said that India had 68 training camps in Afghanistan, which were now dysfunctional.
The minister told reporters that there were terrorist organisations in Afghanistan. "The Afghans have assured that they will not allow their land to be used against Pakistan," he said and added: "Our Army has the capacity to deal with them effectively."
Rashid said Pakistan would take decisions about its side of the Torkham and Chaman border crossings, while the Taliban would make decisions on their side. Therefore, he said, Pakistan would decide about those who were coming into the country without documents.
(WITH INPUT FROM NEWS DESK)
COMMENTS
Comments are moderated and generally will be posted if they are on-topic and not abusive.
For more information, please see our Comments FAQ