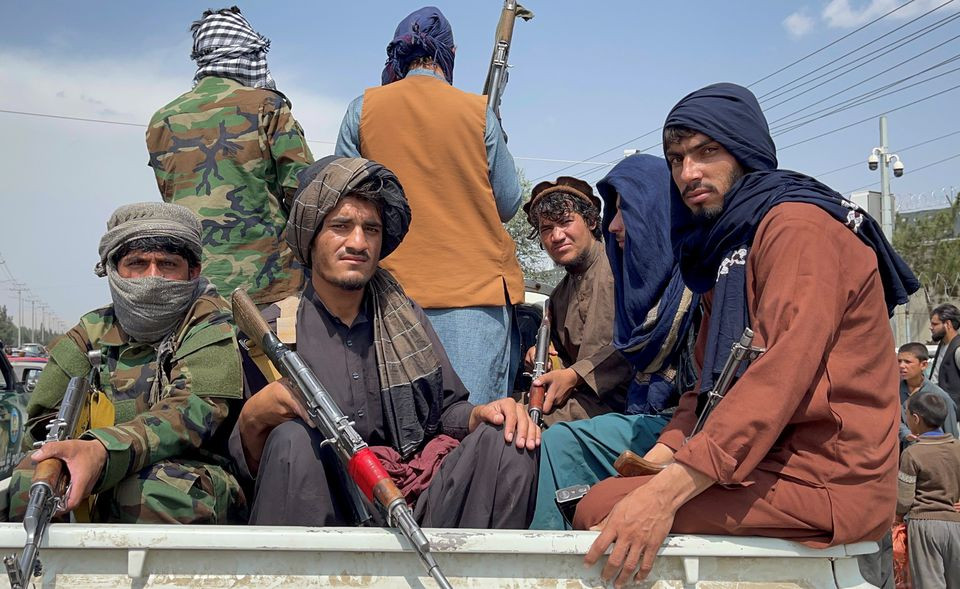 ---
KABUL:
As Taliban seized the last opposition redoubt in Afghanistan on Monday, completing their blitz through the country, their spokesperson reiterated that Pakistan's concerns on various issues were justified and the group would address those concerns.
Addressing a press conference, spokesperson Zabihullah Mujahid assured residents of Panjshir that they would be safe but warned them to refrain themselves from launching any insurgency. He also said that the new government would be announced as soon as some technical issues were resolved.
The Taliban's assurance to Pakistan came after Interior Minister Shiekh Rashid said in Islamabad that the suicide bombers in the recent Gwadar and Quetta terrorist incidents had been identified and added that they had come from Afghanistan.
At the press conference in Kabul, Mujahid said that as a neighbour Pakistan's concerns on various issues were justified and stressed: "The issues on which Pakistan is concerned will be resolved. Our land will not be used against Pakistan."
He urged Pakistan to keep its borders open for the Afghans. "A Pakistani delegation came to Afghanistan to discuss law and order situation. The delegation talked to us about security and other issues. Pakistan is requested to keep the borders open for the Afghans," he said.
'War has ended'
Announcing that the fall of Panjshir to the Taliban, Mujahid said that "our country is completely taken out of the quagmire of war" but warned that anyone who picked up arms and started another resistance, "will be hit [back] hard".
Read Taliban provincial governor vows to fight Da'ish
The Taliban embarked a stunning two-week offensive across Afghanistan, taking the capital, Kabul, without a fight on August 15. Remnants of the Afghan army then retreated to the Panjshir Valley, north of Kabul, to create the National Resistance Front (NRF).
The 115-kilometre-long valley surrounded by jagged snow-capped peaks offers defenders a natural military advantage, allowing them to use the high positions to ambush attacking forces below. But they faced internet shutdowns by the Taliban and supply roads were blocked.
On the other hand, the Taliban were emboldened by their sweeping victories across the rest of the country, where they seized an enormous arsenal of weapons and military kit that the now-departed US provided to the defeated Afghan army.
The NRF is led by Ahmad Massoud—the son of Ahmad Shah Massoud—as well as ex-officials who fled to the valley from the toppled government, including former vice-president Amrullah Saleh, a fierce Taliban critic.
"We tried our best to solve the problem through negotiations, and they rejected talks and then we had to send our forces to fight," Mujahid said. The Taliban stepped up their assault on Panjshir on Sunday, tweeting that their forces overran Rokha district, one of the largest in the province.
On the other side overnight, the NRF said its spokesperson Fahim Dashty and a top commander, Gen Abdul Wudod Zara, had been killed. Later, the anti-Taliban alliance admitted it had suffered heavy losses, and called for a ceasefire.
Under Massoud, the Panjshir fighters earned a legendary reputation for resistance, defending their mountain homes first from the Soviet military for a decade, then throughout a civil war and then the last Taliban regime from 1996-2001.
On Monday, Taliban fighters broke out into prayers as their banner fluttered from a flagpole in Panjshir. In videos circulating on pro-Taliban social media, fighters passed underneath portraits venerating their old enemy, the late Panjshir resistance commander Ahmad Shah Massoud.
But in a photograph released by Taliban official Bilal Karimi later, the same picture of Massoud was seen with his face ripped out. Taliban gunmen then stand posing in front of the ragged portrait. It was unclear where those senior Panjshir leaders were now based.
At the Kabul press conference, the Taliban spokesperson assured residents of Panjshir that they would be safe — even as scores of families reportedly fled into the mountains ahead of the Taliban's arrival. "There is no need for any more fighting. All Panjshir people… are our brothers," he said.
There has been no statement from Saleh, but Massoud's son Ahmad had called for an end to the fighting on Sunday. The young British-schooled Massoud said his forces were ready to lay down their weapons but only if the Taliban agreed to end their assault.
But in a second statement on Monday, a now-defiant Massoud accused the Taliban of attacking even as they were ready to agree to a ceasefire. He vowed to fight on, urged Afghans to join in their battle against the Taliban.
However, the Taliban spokesperson warned that any insurgency against their rule would be "hit hard". He said: "The Islamic Emirate is very sensitive about insurgencies. Anyone who tries to start an insurgency will be hit hard. We will not allow another," Mujahid added.
"Anyone who picks up arms and start another resistance, without any doubts, will be our enemy. The war has ended, the country is getting out of the crisis. It is now time for peace and reconstruction. We need the people to support us."
Read more Taliban claim complete control of Afghan province of Panjshir
The spokesperson called on former members of the Afghan forces to integrate with the new rulers. "The Afghan forces who were trained in the past 20 years will be asked to rejoin the security departments alongside Taliban members," he said.
New govt
Mujahid also told reporters that the Taliban would announce a new government "within days" — one that would be inclusive. "Final decisions have been taken, we are now working on the technical issues," he said. "We will announce the new government as soon as the technical issues are resolved."
The spokesperson said that the Afghan people do not want any more war in Afghanistan. He appealed to the world to provide financial support for the construction and development of Afghanistan, as well as restore confidence in all investors as soon as they come into government.
Mujahid said that the group was working to repair Kabul's airport, where only domestic flights had resumed and just during the day for now. He accused the American soldiers of destroying equipment before departing, including the critical radar system.
However, the US said that its troops destroyed military equipment but left equipment useful for running a civilian airport, like fire trucks. Technical experts from Qatar and Turkey had begun repairs, though it's not clear when the airport will be up and running.
Mujahid said "serious efforts" were under way to restore the airport operations. "Technical teams from Qatar, Turkey and the UAE are working hard to repair the equipment," he said, adding international flights would resume "soon".
Asked what rights women would have under the Taliban, Mujahid promised all women would eventually be "asked to return" to their jobs. He also said: "Afghanistan has the right to be recognised. The international community should open their embassies in Kabul."
Mujahid added that China had assured "us of support" and reiterated the desire Afghanistan be made a part of China's economic plans. "We want to be part of CPEC [the China-Pakistan Economic Corridor], the spokesperson added.
COMMENTS
Comments are moderated and generally will be posted if they are on-topic and not abusive.
For more information, please see our Comments FAQ