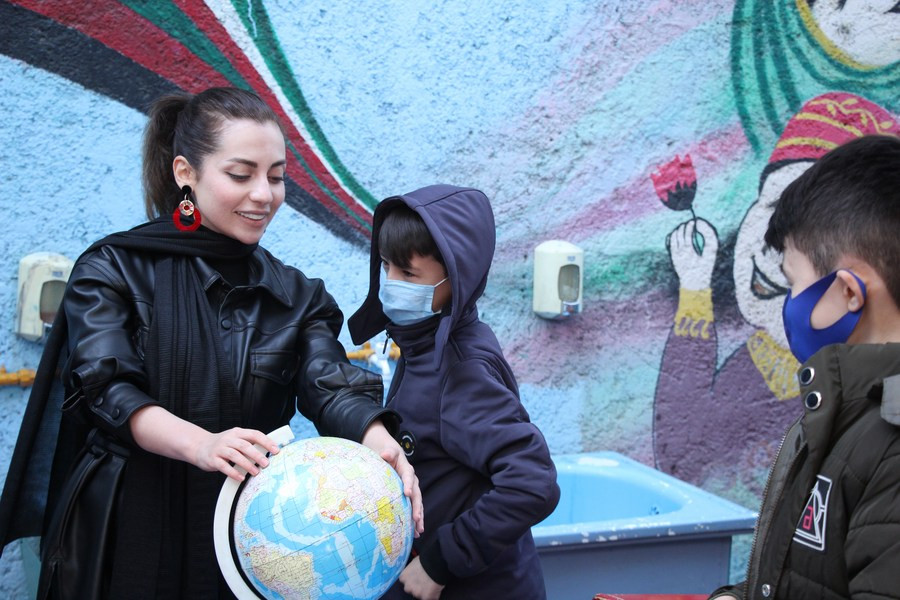 ---
TEHRAN:
Arezou Shah Mohammadi, an Iranian blogger on China's social media, conveyed a "message of love" from China to a special group -- children of Afghan immigrants in Iran.
In the southwestern district of Iran's capital Tehran, there is a compact school named Farhang, or culture in Persian, for Afghan children.
Nader Mousavi, the school's principal, who is also an Afghan immigrant, established this school with his friends two decades ago as many Afghan immigrant students were denied education in Iranian public schools.
Read more: 'Withdrawing US forces damage planes, leave garbage at Kabul airport'
Iran has been one of the largest recipient countries of Afghan refugees due to the connected border, close culture, mature social network and other factors, analysts say. More than three million Afghans are living in Iran, including some 780,000 Afghan refugees, over 2 million undocumented Afghans, and another 600,000 Afghan passport-holders with Iranian visas, according to Iranian media.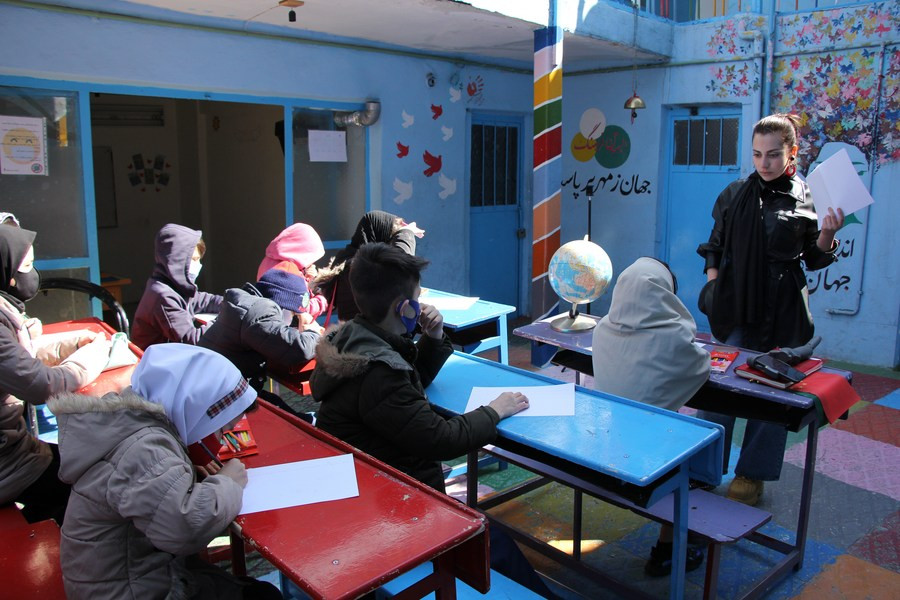 Mousavi then recruited teachers for the new school, most of whom were also asylum seekers and fortunately received education in Iran.
"We were all from the same race and came together. We understood each other and knew what problems we had. Being together was a great encouragement that made both us and the students love the school," Mousavi recalled, adding that many of the children who started schooling at the Farhang School later continued their education and eventually returned here become teachers.
Last year, when Mohammadi planned to produce a video about Afghan refugees living in Iran on her social media page, the Farhang School came to her mind.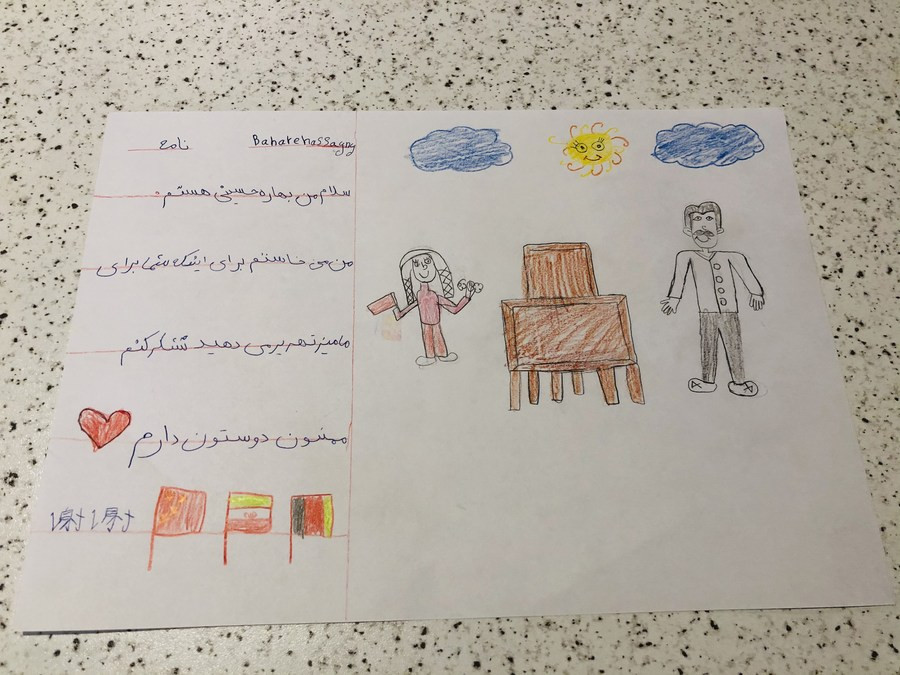 Also read: Abandoning Afghanistan will give space to chaos, terrorism: FM Qureshi
After a phone conversation with Mousavi, she learned that most of the 251 students are taking online classes at home due to the COVID-19 pandemic, and many of them do not even own a separate desk to write homework at home who have to sit on the floor with their backs bent, reading and writing.
Also, the school's operation has been restricted by the lack of funds and life is not easy for educators too. The income of each full-time teacher is only about 30 US dollars per month, barely enough to maintain a minimum standard of living, while part-time teachers are free of charge.
Mohammadi then decided to donate all the proceeds from this video to the school and equip these Afghan kids' family with study desks.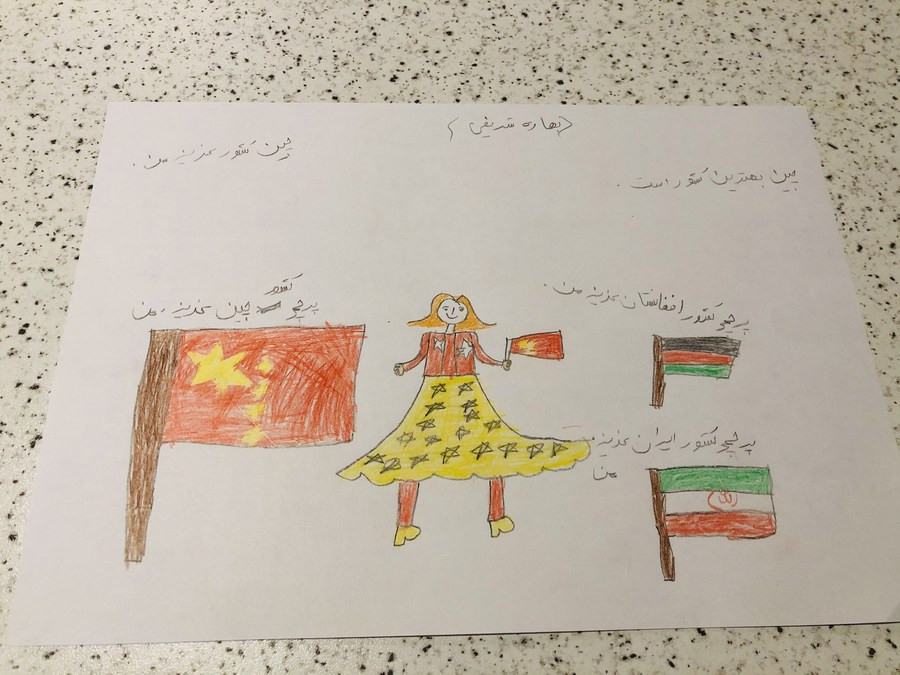 In addition to the video's broadcast revenue on China's social media platforms, she received as many as 356 donations from her Chinese followers, totalling 9,189.6 yuan (around 1,422 US dollars).
In February this year, Mohammadi visited the Farhang School again, gave gifts to the teachers "as a little encouragement for their hard work," and held class activities with the children.
The Afghan students did not know much about China, so she introduced China to them, showing them the map and national flag of China, and guiding them to learn about the Great Wall, pandas and Kung Fu.
Children drew pictures to show the China in their mind. Some drew the national flags of China, Afghanistan and Iran, depicting friendly relations among the three countries in their young hearts. The small desk that the children were looking forward to was also drawn in, with "Thank you" written in newly learned Chinese beside it.
"I wanted to thank you for giving us the desk. Thank you. I love you," Bahareh Hosseini, a Farhang kid, wrote in her drawing.
"These gifts represent Chinese friends' donation of their love to the children in school. That's why I call it China's goodwill," Mohammadi said.
Recent developments in Afghanistan have also stirred up concerns in Iran over a possible surge in refugees as videos on social media show that large groups of Afghans, carrying simple baggage on their backs and holding their children's hands, crossed the Afghanistan-Iran border to seek asylum.
"With almost one million Afghan refugee cardholders already in country, the government of Iran has consistently welcomed Afghans fleeing protracted conflict and violence for over 40 years, including through exemplary inclusion of Afghans in national health and education systems," the United Nations High Commissioner for Refugees said last month, appealing to the government to "continue this tradition of hospitality and lifesaving protection."
Nowadays, what concerned Mohammadi most is that due to the Covid-19 resurge and other factors, it is not easy to find suitable woodworking processors for her promised desks in Iran. She said she will follow up this process and send customized desks to the children at the earliest possible date.
"Unfortunately, the building where the Farhang School locates is going to be torn down soon, and they are looking around for a new site," she said, adding that there are many other schools like Farhang in Iran that are struggling.
"I hope to continue to help more such schools and children through more efforts and engagements of benevolent Chinese netizens in my social network," Mohammadi said.
COMMENTS
Comments are moderated and generally will be posted if they are on-topic and not abusive.
For more information, please see our Comments FAQ