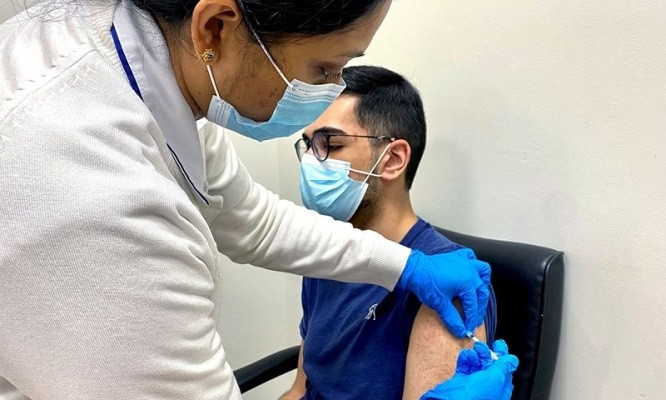 ---
Citizens below 18 years to be administered Pfizer shots: NCOC
New guidelines allow immunocompromised individuals aged between 12 and 17 to receive the Pfizer shot
---
ISLAMABAD:
National Command and Operation Center (NCOC) on Wednesday announced the revised guidelines for vaccination for age groups below 18 years.
"The general public age group for vaccination has been lowered to 17 years," the NCOC said, adding that the Pfizer vaccine will be administered to those who are below 18 years of age.
Furthermore, the new guidelines allow Immunocompromised individuals aged between 12 and 17 to be inoculated with the Pfizer vaccine.
However, they will be required to show medical documents as proof of being immunocompromised.As for those below 18 years of age, the B-form number will be used for registration in National Immunisation Management System (NIMS).
'35% of eligible population vaccinated'
Minister for Planning and Development Asad Umar on Wednesday said that 35 per cent of the eligible population in the country has received at least one dose of the anti-Covid-19 vaccine.
Read PIA airlifts 12m doses of Covid vaccine
Giving the province-wise breakdown in his tweets, Umar said 69 per cent of Islamabad's population, 51 per cent of Azad Kashmir's, 39 per cent of Gilgit Baltistan's, 37 per cent of Punjab's population, 35 per cent of Khyber Pakhtunkhwa's, 32 per cent of Sindh and 12 per cent of Balochistan population had received at least one vaccine dose till today.
The planning minister, who also heads the country's response to the pandemic, said that single day vaccination crossed the 1.5 million mark for the first time on August 31.
"Both first dose and second dose vaccinations yesterday were highest ever with 1 million 71 thousand and 519 thousand respectively," the minister added.Umar said that the federal government had set a minimum target of at least partially vaccinating 40 per cent of the population above the age of 18 by the end of August for 24 large cities.
"Out of these 20 met the target. Only cities to miss the target were Hyderabad, Mardan, Nowshera and Quetta," Umar said.
The NCOC head said that vaccination targets have been set for 24 large cities by the end of September.The country on Wednesday recorded the national tally of total deaths due to coronavirus at 101 with 3,559 more people testing positive for the deadly virus during the last 24 hours.
Out of the 101 patients, 92 of whom were under treatment in hospitals and nine out of the hospital in their respective quarantines or homes, according to the latest update issued by the NCOC.
With input from APP