 ---
Singer and politician Abrarul Haq's recent jibe at "aj kal ki maaen (mothers of today)" is not sitting well with social media users and certain celebrities, who are calling him out for his low blow. A recent video that surfaced on the internet sees Abrar's speech from a PTI celebratory convention in Islamabad on August 26. It shows him crooning Baby Shark as he makes fun of the way mothers choose to raise their children today.
In the clip, Abrar, who has joined PTI after a successful run as a singer and songwriter of the 90s, says, "When we were kids, our mothers chose to recite the Kalima while holding us their embrace, today's mothers, however, play Baby Shark and hand their cellphones over to their kids…" Now, model Nadia Hussain and actor Yasir Hussain have trolled the singer for his controversial statement, while actor Zarnish Khan and singer Shafqat Amanat Ali have raised their voice in his defence.
"Not sure how you went from being raised with the sound of the Kalima in your mother's embrace to belting out songs like Nach Punjaban and Billo De Ghar," quipped Nadia, in a tweet referring to Abrar's questionable tracks.
While Abrar's Nach Punjaban celebrates a Punjabi woman dancing, his Billo De Ghar glorifies a man who wants to take other men along to visit the house of a girl he likes, and the song ensures that it's not for backup. He says, "Ticket Katao Naale Line Banaao, Jine Jine Jana Ae Billo De Ghar (Buy a ticket and get in line, whoever wants to go to Billo's house)," as if it's a free-for-all.
Yasir also shared Nadia's take on Abrar's condescending remark and wrote, "You literally grabbed him by the neck. Good one!"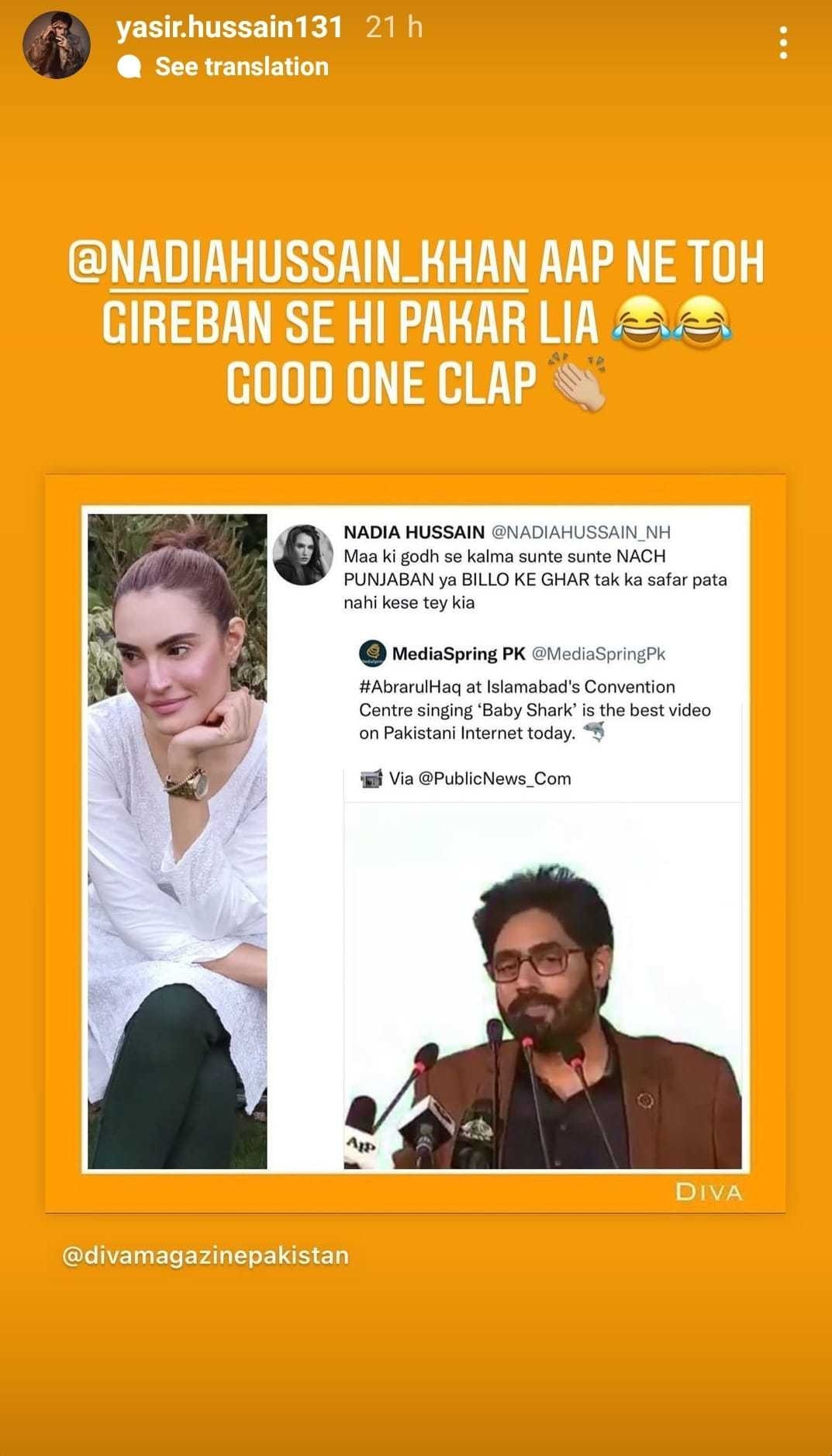 When a PTI fan account pointed out, "He [Abrarul Haq] has also recited Naats, do you only remember these [his controversial tracks]?" Nadia responded saying, "I remember everything! But he [Abrarul Haq] has no right to talk down the mothers of today when he has grown up the way everyone else did! Aside from his naats, what does he think the youngsters of today learnt from his songs?"
Sab yaad Hai!!!!!
But he has no right to talk down AAJ KAL ki mothers when he himself has grown up the way everyone else did!!!!! Naaton ke ilawa gaanay jo gaye, does he think ke uss se naujawaan nasl ne bauhat seekha???? https://t.co/bp9UnBBxyd

— NADIA HUSSAIN (@NADIAHUSSAIN_NH) August 28, 2021
Zarnish, on the other hand, did not appreciate the backlash Abrar was getting. She wrote, "If someone says something good, then give the devil his due. Let's not dismiss what he said by dragging his entire life into the picture. If this continues, we'll have to practice becoming deaf [to good advice]."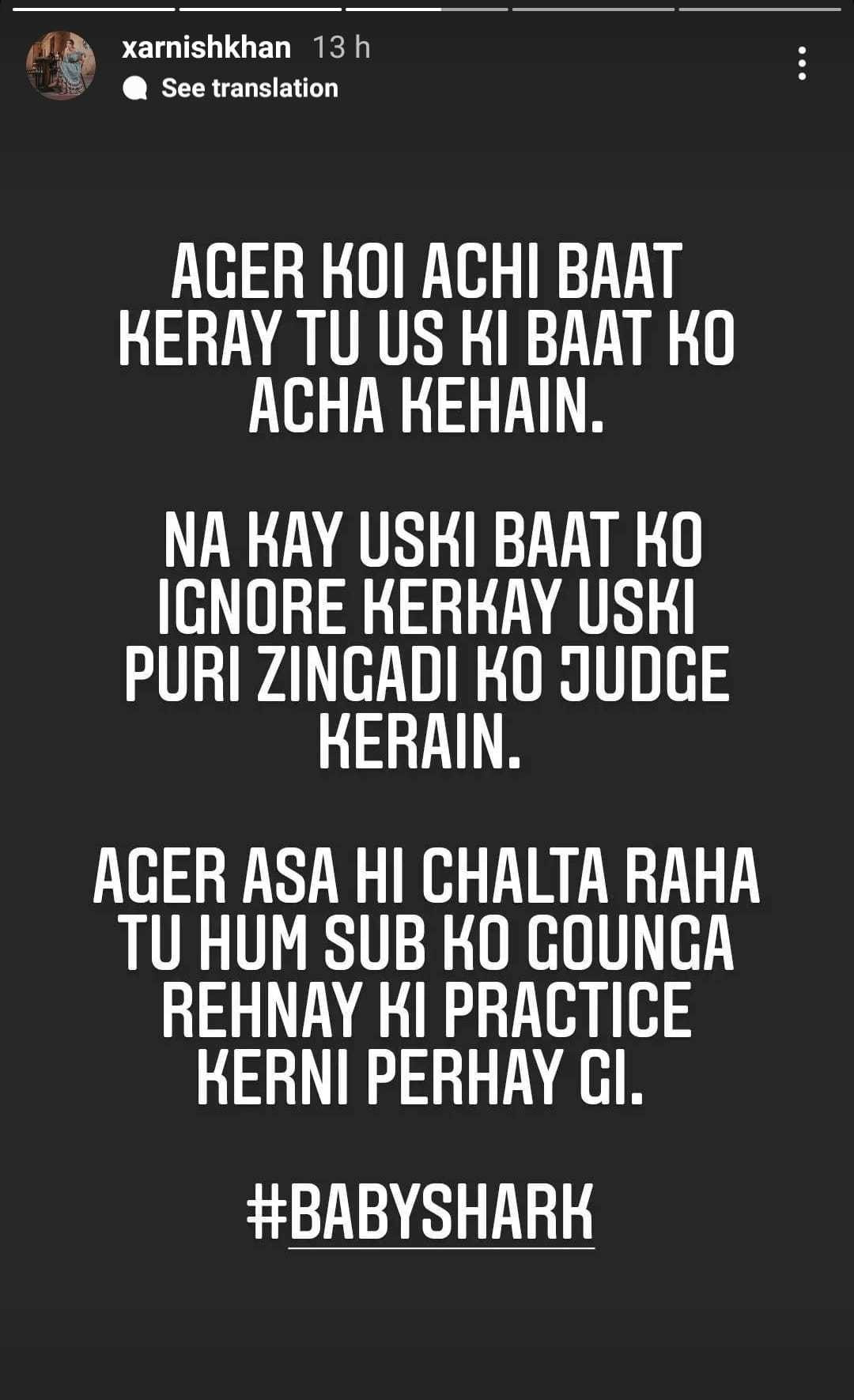 Fellow singer Shafqat, also commented in Abrar's favour under a post by Galaxy Lollywood. "Abrar ul Haq did not say anything wrong. He didn't shame mothers here. He just spoke the truth which includes all of us! It should be an eye opener, [not something we] throw a fit at him [for]. We do not have to criticise everything."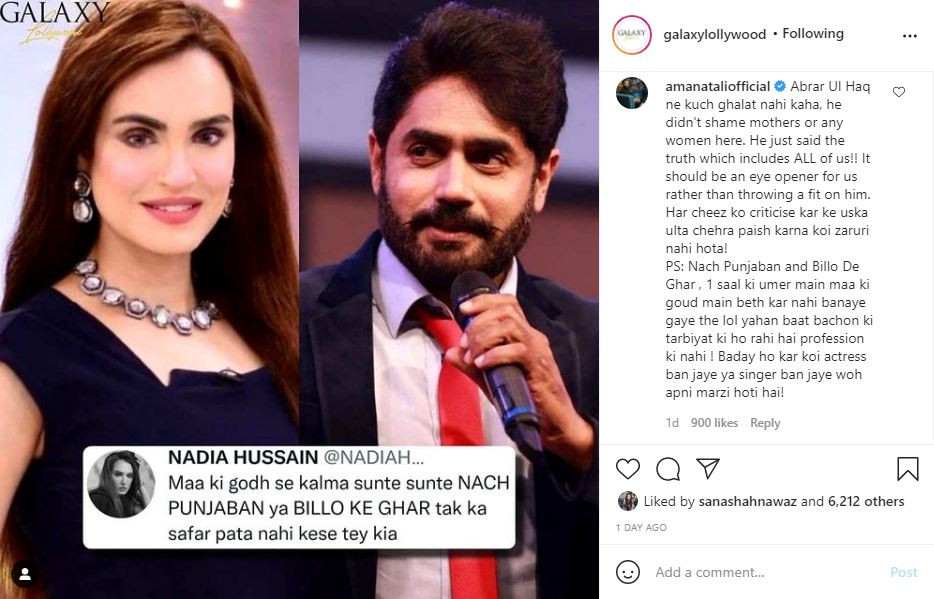 Defending Abrar's work, Shafqat added, "The songs Nach Punjaban and Billo De Ghar were not [what the] singer [heard] in the lap of his mother at the age of one. He's talking about raising kids here, not someone's profession. It is a person's choice whether they want to be a singer or an actor when they grow up."
Have something to add to the story? Share it in the comments below.
COMMENTS
Comments are moderated and generally will be posted if they are on-topic and not abusive.
For more information, please see our Comments FAQ