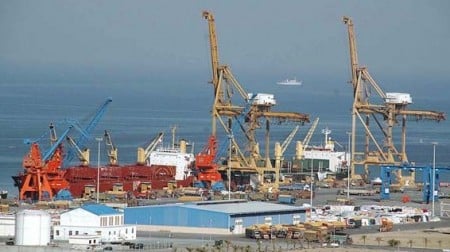 ---
ISLAMABAD:
The Parliamentary Committee on China-Pakistan Economic Corridor (CPEC) was informed that the progress on New Gwadar International Airport (NGIA) was on track and it would be fully operational by September 2023.
In a meeting of the committee presided over by Sher Ali Arbab, the Aviation Division secretary told the panel that the project, which was originally expected to be completed by next year, has been postponed till October 2023.
The China Airport Construction Group informed the Pakistan Civil Aviation Authority (PCAA) about the new time limit for the project, deferring the project funded by the Chinese company.
According to the document obtained by The Express Tribune, the passenger terminal building of the project will be completed by June 2023; work related to air traffic control will be completed by March 2023 while the overall construction of the airport will finish by October 2023.
However, sources said that the parliamentary committee working on the project was pushing for further rationalisation of the project's timeline so that the airport could be completed as soon as possible.
"We have to place it at high priority therefore no effort should be spared in resolving all the outstanding issues of clean water, electricity, infrastructure and livelihood faced by the people of Gwadar," the chairman of the committee remarked.
The Gwadar Port Authority chairman informed the panel that all the efforts regarding the completion of Pak-China Technical and Vocational Institute are on track and the project would be completed in December 2021.
Read More: Gwadar gateway of rapid growth
Gwadar Port Authority is also consulting with NAVTTC, TEVTA and Chinese to devise a broad curriculum for the institute.
The committee remarked that while keeping the requirement of present and future skills in view, the curriculum for the institute should be devised in a way that there must not be any gap between the skills required and those offered in the institute.
The committee also directed the concerned departments to expedite the process of payments to be disbursed among the affected people of damaged houses and land acquisitions so that people of Gwadar, who are already agitating for basic amenities of life, could be compensated.
On the agenda of Chashma Right Bank Canal (CRBC), DI Khan, the Wapda chairman apprised the committee that the feasibility study and the detailed engineering design of the project would be completed by March next year.
The chairman said that the project was pivotal for the agriculture sector in Khyber-Pakhtunkhwa and decided that the committee will convene a special follow-up meeting on the said project in February next year to ensure that the given timelines are met in letter and spirit.
The committee observed that the $1 billion grant given by China for socio-economic development projects under the CPEC framework should be utilised effectively by including the projects having high social impacts and visibility.
COMMENTS
Comments are moderated and generally will be posted if they are on-topic and not abusive.
For more information, please see our Comments FAQ