 ---
Nominations for the 20th Lux Style Awards (LSAs) were announced three days ago. And while there was no Film category this year since there were no releases, the nominations for fashion, music and television drew both gratitude and ire.
Provided that there were some prominent snubs, actor Sonya Hussyn and Hadiqa Kiani were quick to point them out. The prior publicly accused the Awards of 'double standards', while the latter left a hopeful message.
Now actor and writer Yasra Rizvi has shared her two cents on the yearly awards that create so much stir each time. Taking to her Instagram stories, she pointed out how the purpose of the branded show – like any other branded show – 'must be' to use art to serve its own incentives and not serve art, or by default, artists.
"A beauty soap brand like any other business, their [LSAs'] primary focus must be to sell more products and maximize profit, no?" she asked rhetorically. "Hence, just like any other business, they can use art to serve this very purpose. But to serve art is probably not the purpose. Fair enough!" she added.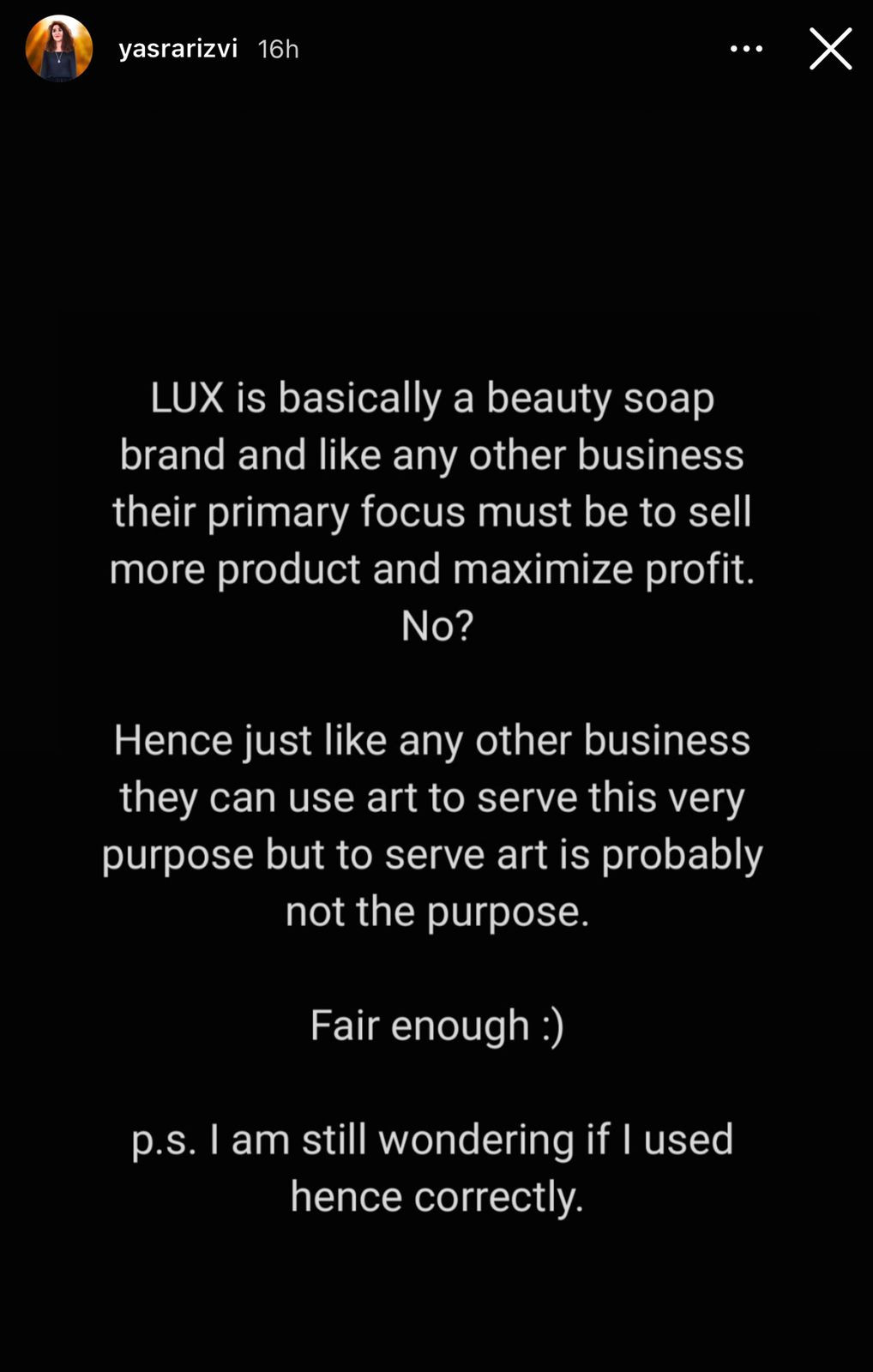 Her post, on the other hand, serves as a reminder as to why most branded shows would need to use renowned faces to market their products rather than promote new faces, with the exception of those required to fill the emerging talent brackets.
Hussyn had called out the LSAs for not giving a single nod to her latest TV serial, Mohabbat Tujhe Alvida, after previously snubbing her "Aisi Hai Tanhai (based on social media abuse), Nazo (based on child abuse), Ishq Zahe Naseeb (based on dual personality disorder), Shikwa (based on societal pressures that widows face) and Meri Guriya (based on child abuse)."
While Kiani had pointed out how her debut TV serial Raqeeb Se didn't get any acknowledgement from the show either but was hopeful that "it may qualify" for an award next year.
The Awards Office of the LSAs had announced nominations for 22 leading categories across critics and viewer's choice awards, celebrating talents across genres and setting trends with performances from renowned stars.
Have something to add to the story? Share it in the comments below.
COMMENTS
Comments are moderated and generally will be posted if they are on-topic and not abusive.
For more information, please see our Comments FAQ