PUBLISHED August 29, 2021
SUKKUR:
Nothing captures people's imagination like the unexplainable. Perhaps that is why despite the fear they evoke, stories of paranormal encounters continue to captivate many.
In a country like Pakistan, where superstition and folklore is still gospel truth to a majority, everyone knows at least one person who has a tale or two to tell. Inhabited for millennia, Sukkur and the rest of Upper Sindh are full of such stories.
A paranormal geography
Be it the absolute belief among those who live around Sukkur's Hindu Dharamshala that a woman in black patrols the rooftop of a nearby building. Or the numerous claims of hearing shrill shrieks at night while passing across many a deserted house. Almost every town and city in Upper Sindh is full of such stories that many residents will swear actually happened. Some swear they saw a beheaded man walk along the road next to the Eid Gah, while others speak with fear of demonic encounters that have given certain buildings and spots a frightening reputation.
As a result, even today, there are many properties in Sindh that are deserted because people believe they are occupied by supernatural entities. Take for instance an age-old building in Old Sukkur that has gained the name of 'Jinnat Building'. Those who live nearby narrate stories of horrific encounters that range from seeing lights in the building flick on and off by themselves to witnessing actual jinns or demons on its rooftop. As these stories passed on, for years people would avoid going near the building for fear of being possessed or hurt by 'supernatural forces'. However, two years ago, a property developer purchased and demolished the property, replacing it with a residential plaza. For now, at least, the spooky stories seem to have gone away with the building itself.
Similarly, a four-storey pre-partition era building at Bunder Road in Sukkur is believed to be a dwelling place for paranormal beings. During a visit to the building, it was found that two floors of the building were occupied by three families, but the third and fourth floor were lying vacant. When the occupants of the building were asked why this was so, their answer was that these two floors are occupied by supernatural entities. They further said that neither we interfere in their area nor do they bother us thus we live in harmony.
Back in the 70s, Sukkur's Stadium Road, especially the stretch near the Eid Gah, was said to be very dangerous because people had sighted a beheaded man walking on the road late at night. Abdul Qadir, a resident of Queens Road Sukkur, claims that he was visiting an ailing friend at the civil hospital and on his way back home, as he drove by the Eid Gah on Stadium Road, a beheaded man erupted out of thin air all of a sudden like a tornado and then vanished in a matter of seconds. "It was the most horrifying experience of my life and since then I never drive on that road during nighttime," he said.
Another street in Sukkur, situated between the post office and mission hospital which connects Neem Ki Chari to Lucas Park (now renamed as Mohammad Bin Qasim Park), was said to be occupied by demons. Abdul Shakoor Rajput, resident of Neem Ki Chari, narrating his experience with the demons, said that back in 1979 he had a habit of going to the park after dinner and one day he sat there till around midnight before returning home. "On the way back I saw two cows heading towards me. I was shocked at this unusual activity at night and out of fear I started reciting verses from the Quran and kept on walking," he continued, "when I approached the cows they disappeared and then I ran home."
In Ghotki there are some houses that have been lying vacant since long near the historic Mathelo Moomal Ji Mari. People avoid passing by them at night as they are said to be occupied by the supernatural. Ahmed Bux Ghoto, a resident of Ghotki, confirming the story of these haunted houses said, "people living in the vicinity often hear screaming sounds from the houses, but I have been seeing these deserted houses since my childhood and have not seen any demons."
Similarly, in Rohri Town, Massan Road where Hindus cremate their dead is said to be home for paranormal forces. Arbab Shaikh, a resident of the area, affirming their presence says, "there are many people, who have seen supernatural beings roaming on the road during night." However, Shaikh added that since Massan road is near Rohri railway station due to the increase of hustle and bustle of traffic the incidents of encountering the supernatural has decreased.
Pir Sar Katio Road, in Larkana, one of the roads between Jinnah Bagh and Government Girls College which leads to the shrine of Pir Sar Katio situated near the railway track also has a fear inducing tale behind its name. An elderly resident of Larkana, Gul Mohammad Gaad, a retired municipal officer, said that the particular road is not officially named after the Pir, but as it leads to the shrine, people call it Pir Sar Katio road. Narrating the story of the Pir Sar Katio, Gaad said that, back in the 70s there used to be a homeless drug addict who used to sit near the railway track and also slept there. According to Gaad, one day the drug addict either committed suicide or was part of an accident but was crushed under the moving train and beheaded. "Taking advantage of this, some people with vested interests buried him near the railway track and named him as Sar Katio Pir, to occupy the railway land," Gaad narrates. He added that these people constructed a boundary wall around the grave and started laying floral wreaths to attract people. "This is how crooks play with the sentiments of less educated people and deprive them of their hard earned money. Today a large number of drug addicts are seen sitting in the premises of the shrine and therefore it would be safe to say that the place has become a safe haven for homeless drug addicts," Gaad said.
Similarly, in Jacobabad, people believe that the road behind the civil hospital is occupied by a beheaded man who is often seen on the road during nights. The mortuary and postmortem section of the civil hospital is situated behind the hospital and therefore people are afraid of driving on the road during nighttime. One of the residents of the area, Asad Shah, said, "since childhood I have heard the story of a beheaded man roaming around on the road behind the civil hospital at night. I drive on that road multiple times a day but have never seen anything like a beheaded man."
Chased away?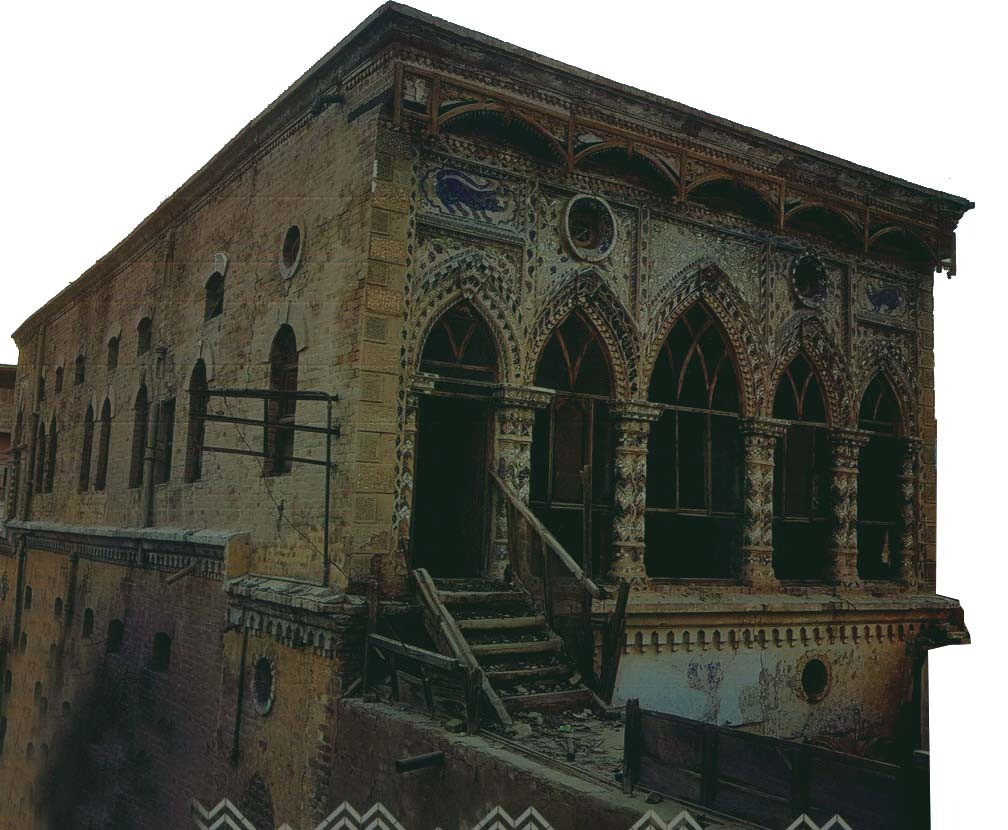 Elderly Haji Mohammad Ali, when asked about the presence of the supernatural, affirmed their presence as he had encountered them coming out of the premises of Masoom Shah Minar and disappearing soon after crossing its gate. "The other day, I deliberately went there at midnight and stood near a shop situated outside the wall of the Minar. After waiting for around an hour I saw a woman with long hair and dirty clothes appear from inside and disappear near the gate," Ali claimed. He added that after gathering courage he went towards the gate of the Minar but there was nothing.
"Gone are the days when the jinn used to occupy certain buildings, roads and parks," he claimed. "Now with the ever rising population and scarcity of the space, such beings too must have migrated to some other place." Ali recalled that there would have been no more than 300,000 people in the city in the 70s and residents seldom lingered outside their homes after sunset. "Now, people go to different eateries after midnight, enjoy food and return back to their homes till early morning."
Daulat Ram, who is in his mid 70s and goes by Daula, strongly believes that paranormal activity exists in places of Sukkur city like the Old Meat Market Road, Wallace Road, Stadium Road, Station Road, and Regent Cinema Road. "Once I was returning from the Regent Cinema after watching a movie and when I reached the Old Meat Market, I saw a beheaded man standing in the middle of the road," he narrated, "I was horrified and started running without looking back."
He claimed he has encountered supernatural entities many times but they have never harmed him. "One night my mother had a headache and I went out to purchase medicine for her. As soon as I reached the Old Meat Market, I saw a man in white clothes standing by the roadside. When I neared the man he started growing in height and I took to my heels" he said.
Healthy dose of skepticism
Not everyone in the region has conviction in such tales, however. Mohammad Qasim, for instance, doesn't believe in such hauntings. "I think it is just our intuition and instinct, nothing more. I am 55 and have never encountered anything paranormal throughout these years," he said. "I am not saying the people are lying about this, but as far as I am concerned, I have neither seen any such thing and nor have heard about it from my parents," he added.
Others find other means to beat their fear. Ghulam Ali who goes by Ghulamoo is a drug addict who has nowhere to live and therefore sleeps in the park near Masoom Shah Minar. "Demons cannot cause any harm to me," he claimed proudly. "Once I had a fight with a paranormal being and I made him flee. The entity might have mistaken me as a bigger demon and therefore accepted defeat and fled," Ghulamoo he asserted.
Mundane explanations
Senior journalist, writer, poet and historian Mumtaz Bukhari offered some nuance when asked about the numerous stories told by the people. He himself claims to believe in nothing apart from the creations of Allah mentioned in the Holy Quran. Talking about the Jinnat Building of Old Sukkur, he said the passage of time showed all tales surrounding it were myth. "In my 40 years living in Sukkur, I have come across no incident that could be truly paranormal," he said. He offered another explanation: "I think these stories are often spread by people with vested interests to scare others from a certain place."
Senior psychiatrist Dr Hafeez Mushtaq agreed with Bukhari somewhat. "As a psychiatrist, I do listen to patients who claim to have been visited by or experienced something supernatural or paranormal," he said. But there is usually another underlying explanation that makes people prone to believing in these things. "Some parents in our society like to use these tales to get their children to behave or stay away from certain otherwise dangerous places."
While borne out of good intentions, Dr Mushtaq condemned this practice. "It harms the mental health of children and as they take these cautions for truth, they start believing or seeing things themselves," he said. "Some people, for instance, can be easily be made to believe that something spooky goes on at night if they already have a fear of the dark."
Former police officer Shoukat Abbasi, who at the time of retirement was serving as ADDIG in Sukkur, categorically denied the presence of paranormal entities. "During 35 years of service I served at different places and performed duty during nights, but have never encountered any demons or jinns or ghosts," he said. However, he shared that some of his colleagues sometimes came up with such stories. "But they could never prove their claims."
Real estate investor Syed Hussain Ali Shah shared that he once purchased a four-storey residential plaza in Sukkur with eight residential units. "Two of its units on the top floor were lying vacant since long and when I asked the reason, the watchman informed me that both the units were haunted." Nonetheless, Shah visited the supposed haunted units and arranged for them to be cleaned. "Some relatives of mine are living in both units now and they have experience no trace of any ghosts, jinns or demons."