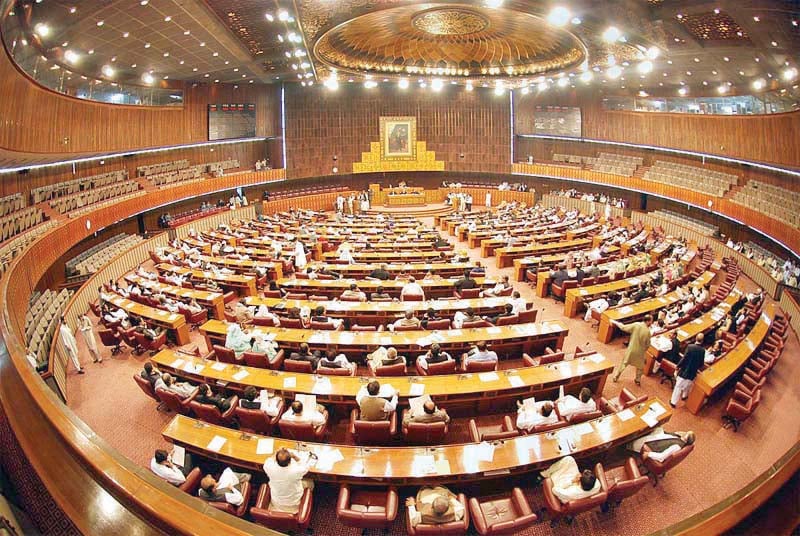 ---
ISLAMABAD:
The issue of salary of the members of the National Assembly (MNAs) cropped up again in a house standing committee on Thursday, with one member demanding the remunerations of lawmakers on a par with the judges and the military generals.
State Minister for Parliamentary Affairs Ali Muhammad Khan informed the committee that the country's legislators were an oppressed segment of society, who had to play humble to their voters, ministers and bureaucrats at the same time.
The NA committee on parliamentary affairs met here with its chairman Mujahid Ali in the chair. The meeting took up legislations in connection with the electoral reforms, including the use of electronic voting machine, reserved seats for women and other matters.
Chaudhry Bashir Mehmood Virk of the opposition Pakistan Muslim League-Nawaz (PML-N) told the committee that an MNA has written a letter to all the lawmakers, saying that it was not possible to make ends meet on this salary.
Virk said that the members of parliament fall into the same category, which includes judges and generals. He asked what were the salaries of judges and generals, and added that compare them with the salaries of the lawmakers.
Ali Muhammad Khan also said that MNAs are the most oppressed segment of this society. He stressed the need for empowering the lawmakers. "Our effort should be to empower elected representatives," the state minister said.
Electoral reforms
On a bill regarding election reforms, the state minister said that the bill regarding the EVM was under consideration in the relevant Senate standing committee. He added when the bill was passed by Senate committee and returned to the National Assembly, it could be discussed further.
Because of the disagreement among members, the committee postponed another bill tabled in the house by Riaz Fatyana regarding amendment to the Election Act to give equal representation to women from every division of any province.
Ali Muhammad Khan said that there were only a few women who take turns and return to the Assembly on the reserved seats. However, Shagufta Jamani replied that it was up to the parties to decide which person should get the reserved seat.
A bill proposed by Ali Gohar to remove the condition of opening a new bank account for the election expenses was postponed till the next meeting. Ali Gohar said that a candidate has to open a new bank account every time he or she contested the election.
Ali Muhammad Khan said that the purpose of this clause was to prevent the use of money in elections. He suggested that political parties should have party funds which should cover the election expenses of their candidates.
COMMENTS
Comments are moderated and generally will be posted if they are on-topic and not abusive.
For more information, please see our Comments FAQ