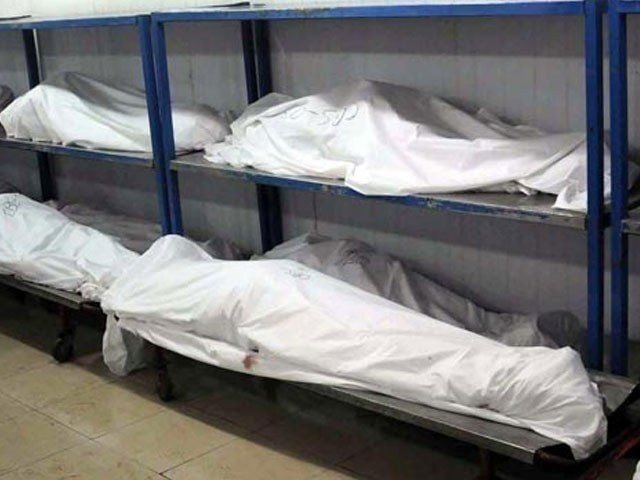 ---
PARACHINAR:
At least eight people were killed and 11 others sustained serious injuries when the residents of two villages clashed over a land dispute near Parachinar in the Kurram tribal district of Khyber-Pakhtunkhwa on Thursday.
Police said that the residents of two villages Sher Jan Kalay and Sago Kalay had a longstanding dispute over the ownership of shamilat land but on Thursday both of them took arms suddenly and started a gun fight in which at least eight people lost their lives. These unfortunate villagers have been identified as Maqat Hussain, Istiqlal Hussain, Syed Abid Hussain, Syed Imdad, Ali Hassan, Qaisar Hussain, Ali Nabi and Shaukat Hussain.
Police told The Express Tribune that the clash occurred when on Thursday morning some villagers from both sides started a verbal fight which first resulted in a scuffle and then firing.
They said the situation was tense in the area.
Dr Mumtaz Hussain of District Hospital Parachinar said that three of the 11 injured were critical in condition while the condition of the rest of them was out of danger now.
On the other hand civil society had demanded of the government to take notice of the situation in the area as land disputes are claiming lives at an alarming pace in Kurram tribal district without inviting much attention.
"The merger has left the local Jirga system completely dysfunctional which was very effective in checking such disputes in the past," they blamed.
A local civil society activist Mahmood Ali Jan said that police and district administration had been informed about the tense situation in the area but despite this no action was taken to ward off the unfortunate incident.
"The previous levi force has been merged into the police but still it is not an efficient one," he blamed, adding that in the past the district administration was effective and the infamous Frontier Crimes Regulations (FCR) and its collective responsibility clause was also very effective in keeping locals in checks.
"The situation is not out of control in Kurram only. People are being killed in all the tribal districts over land disputes. In the past they were haunted by terrorism and now they are the victims of land disputes," he said.
Published in The Express Tribune, August 27th, 2021.
COMMENTS
Comments are moderated and generally will be posted if they are on-topic and not abusive.
For more information, please see our Comments FAQ