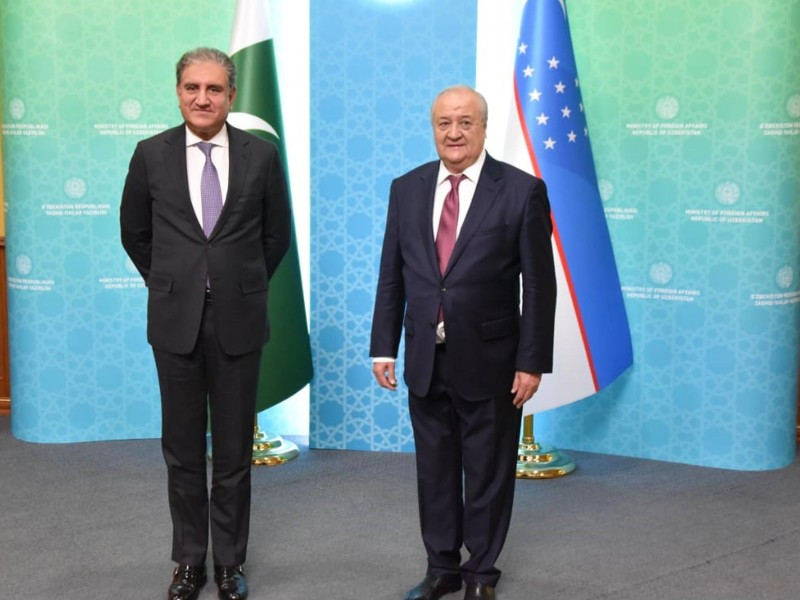 ---
ISLAMABAD:
Foreign Minister Shah Mahmood Qureshi held talks with his Tajik and Uzbek counterparts on Wednesday on the current situation in Afghanistan as part of Pakistan's consultation process with the regional countries.
Qureshi met Foreign Minister Abdulaziz Kamilov, immediately after flying in to the Uzbek capital from Dushanbe, Tajikistan, where he held talks with Foreign Minister Sirojiddin Muhriddin before a call-on meeting with President Emomali Rahmon.
Qureshi embarked on four-nation regional trip, which would also take him to Turkmenistan and Iran. officials had said on Tuesday that the purpose of the Pakistan's regional diplomatic initiative was to adopt a joint stance on the Afghan situation.
In his talks with Foreign Minister Kamilov in Tashkent, Qureshi underscored that the neighbours of Afghanistan should coordinate closely on the situation in Afghanistan, stressing peace in the war-torn country would bring stability to the region and promote trade.
Read more: FM Qureshi discusses Afghan situation with Tajik counterpart
The foreign minister emphasised that Pakistan supported an inclusive political setup in Afghanistan. Kamilov termed Qureshi's visit important and timely in terms of close coordinated approach on Afghanistan.
The two foreign ministers agreed to continue consultations to advance shared objectives of a peaceful, prosperous and connected region. They also agreed that in view of recent frequent high-level exchanges, bilateral relations had transformed into a strategic partnership.
Earlier in Dushanbe, Qureshi held a meeting with the Tajik Foreign Minister Sirojiddin Muhriddin. During the meeting, both sides reviewed the latest developments in Afghanistan and agreed to remain in close contact.
Qureshi apprised his Tajik counterpart of Pakistan's policy to support an inclusive political solution in Afghanistan and underscored the importance of continued international engagement as a shared responsibility. He expressed the hope that Afghan leaders would achieve a workable solution.
"Pleased to meet FM Sirojiddin Muhriddin in Tajikistan today", Qureshi later wrote on Twitter after the meeting. "Discussed developments in Afghanistan & shared support for inclusive political solution & hope for Afghan leaders to achieve this."
Also read: Some Afghans flee, some return to homeland in hope of peace
Later, talking to President Rahmon, the foreign minister said that both Pakistan and Tajikistan would benefit immensely from a peaceful and stable Afghanistan, particularly with regards to enhanced economic cooperation and connectivity.
Rahmon's office said in a statement that the president told the visiting foreign minister that Tajikistan would not recognise an Afghan government that was not inclusive and representative of all its ethnic groups.
"Tajikistan will not recognise any other government that would be established in that country through oppression and without taking into account the position of all the people of Afghanistan, especially all of its ethnic minorities," Rahmon said.
Rahmon accused the Taliban of failing to fulfil their promise of inclusivity. "Facts clearly show that the Taliban are reneging on their earlier promises to form an interim government with broad participation of the country's other political forces and are preparing to create an Islamic emirate."
(WITH INPUT FROM AGENCIES)
COMMENTS
Comments are moderated and generally will be posted if they are on-topic and not abusive.
For more information, please see our Comments FAQ