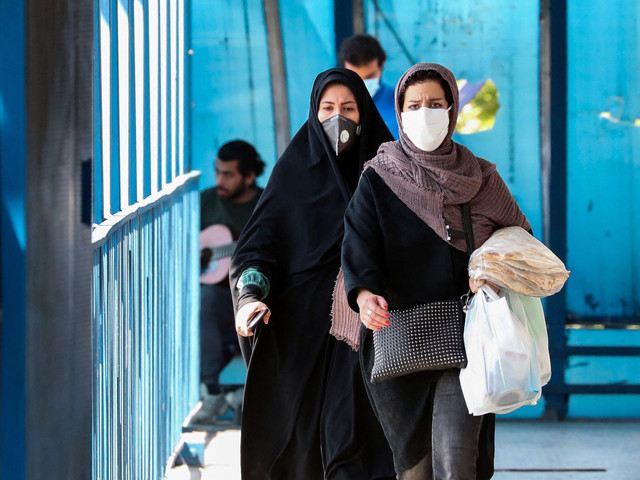 ---
Iran sees highest daily number of Covid-19 deaths to date
Death toll exceeds 102,000 with additional 684 virus-related fatalities in country
---
TEHRAN:
Iran on Sunday recorded its highest daily number of Covid-19 deaths since the beginning of the outbreak, with 684 fatalities.
The country's death toll rose to 102,038 with the latest additions, the Iranian Health Ministry reported.
As many as 36,419 new patients, with 5,007 of them taken to hospitals for medical care, were identified in the country, bringing the case tally to 4.67 million.
In the country, with a population of about 83 million people, over 16.71 million received the first dose and more than 5.83 million have been fully vaccinated.
Read more: Iran orders travel ban and shutdown amid Covid surge
A total of over 22.54 million vaccine shots have been administered so far, according to official figures.
In intensive care units of hospitals, 7,662 Covid-19 patients are currently under treatment.
Iran listed 359 cities in the "red" category with the highest infection risk, 59 of them in the "orange" with medium risk, and 30 cities in the "yellow" category with low risk.
Compliance with measures drops to 39%
Health officials noted that daily deaths will rise in the following weeks if the measures are not followed by all citizens.
Health Ministry spokesperson Sima Sadat Lari warned that in August, the rate of compliance with health measures in the country fell to 39%.
The previous record of daily virus-related fatalities in Iran was recorded on Aug. 16, when 655 people died.
Also read: Iran says one person dying of Covid-19 every two minutes
A travel ban was imposed on all cities in the country until Aug. 27, except in mandatory cases.
In his speech on Saturday, Iranian President Ibrahim Raisi said controlling the pandemic would be one of the first priorities of the new government.
Since December 2019, the pandemic has claimed over 4.42 million lives in 192 countries and regions, with more than 211.57 million cases reported worldwide, according to the US' Johns Hopkins University.