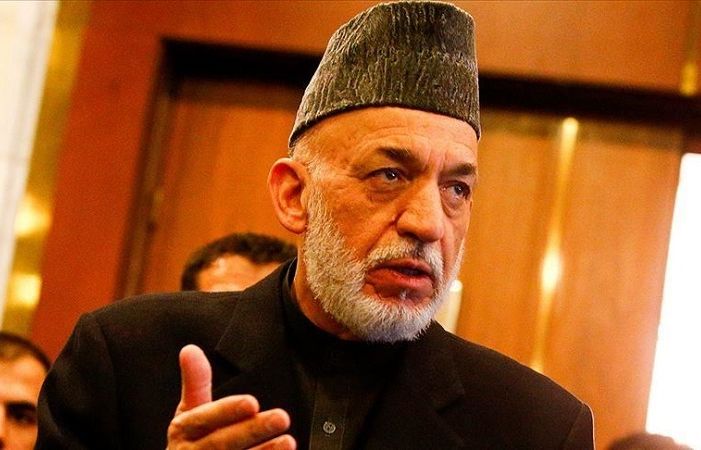 ---
KABUL:
Former Afghanistan president Hamid Karzai said on Friday that it was time for all Afghans to join hands for the betterment of war-torn Afghanistan, especially its educational and developmental progress.
The ex-president shared this message on his Twitter handle as he felicitated the Afghan people on the 102nd independence anniversary of Afghanistan.
گرانو هېوادوالو ته د خپلواکۍ د یو سل او دویمې کلیزې مبارکي وایم. هیله لرم چې ژر تر ژره مو په هېواد کی د سراسري او تل پاتې سولې په ټینگښت سره د جگړې لمن د تل لپاره ټوله شي.
لکه څنگه چې افغانانو د تاریخ په اوږدو کې په پوره اتحاد، یووالي او متحدې ملي ارادې د خپل ټاټوبي… pic.twitter.com/PGuKqidXQj

— Hamid Karzai (@KarzaiH) August 20, 2021
Karzai hoped that lasting peace will be established in Afghanistan after the end of the decades-long war.
He said that Afghans have fought for their homeland with full unity and solidarity through their history, adding that unparalleled sacrifices were made for the protection of territorial integrity and national independence.
Read 'Coordination council' to oversee peaceful transfer of power in Afghanistan: Karzai
It is time to bring lasting peace and prosperity to the people, Karzai said. "May the memory of all the martyrs and conquerors of Afghanistan's independence be alive," he prayed.
A day ago, people in Afghanistan came out on the streets carrying national flags as they marked their independence day in defiance of Taliban rule.
Meanwhile, the Taliban, who took over Kabul last week, celebrated independence day by declaring it has beaten the United States. At least two people were killed after the Taliban opened fire at a crowd celebrating independence day in Asadabad city in Kunar province.
In Jalalabad, Taliban fighters fired at people waving the Afghan flag during independence day celebrations, injuring a man and a teenage boy.
In some places, protesters tore down white Taliban flags, according to media. The media reported similar scenes in Asadabad and another eastern city, Khost, on Wednesday.
COMMENTS
Comments are moderated and generally will be posted if they are on-topic and not abusive.
For more information, please see our Comments FAQ