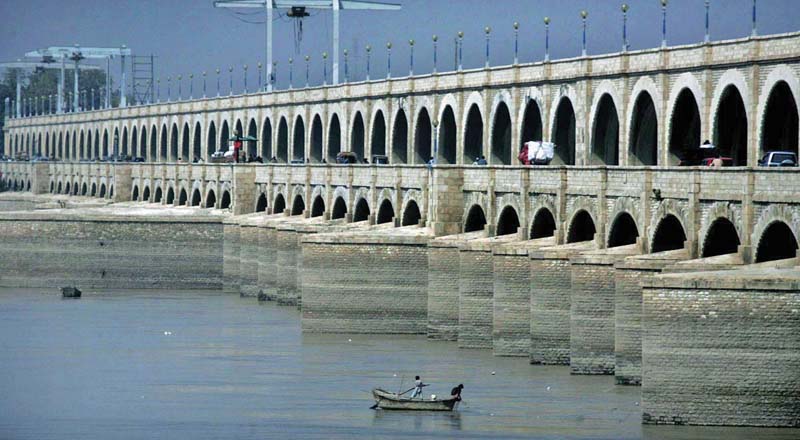 ---
HYDERABAD:
The Sindh government has yet again conveyed its resentment over the Indus River System Authority allowing Punjab to open its flood season canals while slashing Sindh's share of water.
Addressing a press conference at Hyderabad Press Club on Wednesday the provincial irrigation minister, Jam Khan Shoro, blamed the federal government for the imminent water shortage in Sindh, which is already developing.
"IRSA is supplying only 50% of Sindh's seasonal water requirement," lamented the minister.
He pointed out that more than 55,000 cusecs water is required at the Sukkur Barrage but the Guddu Barrage, which was in its upstream, is receiving only 37,000 cusecs which is resulting in around 50% shortage at the former.
Shoro predicted that the situation will also result in water scarcity in Karachi, which is supplied water from the KB Feeder canal that springs from Kotri Barrage.
As per the 1991 Water Appropriation Accord, the lower riparian province is supposed to receive 48 million acre-feet (MAF) water per annum. But currently only around half of that allocation is being provided to the province.
"According to the accord, 10 MAF water has to be released downstream of Kotri Barrage [in Jamshoro district] towards the sea. But, even that provision of the accord is being violated."
The minister expressed sadness that sea intrusion has so far consumed around 3.2 million acres of cultivable land in the coastal districts of Sindh because of the extremely low release of river water in the sea.
"If this practice, which is [in] violation of the accord, continues more land in the coastal cities will be devoured by the sea."
Shoro bemoaned that Sindh is turning into barren land and the people and farmers in Badin, Thatta, and Sujawal districts are especially hard-hit. He said 114 MAF water is available in the country but due to wrong policies of IRSA and unjust distribution, Sindh is becoming barren.
He announced that the Pakistan Peoples Party will launch a protest movement against unjust water distribution after Ashura.
Responding to a question about encroachment along the banks of the canals and river, the minister said before uprooting the unauthorised settlements, the government is trying to provide those squatters alternate land.
Published in The Express Tribune, August 19th, 2021.
COMMENTS
Comments are moderated and generally will be posted if they are on-topic and not abusive.
For more information, please see our Comments FAQ