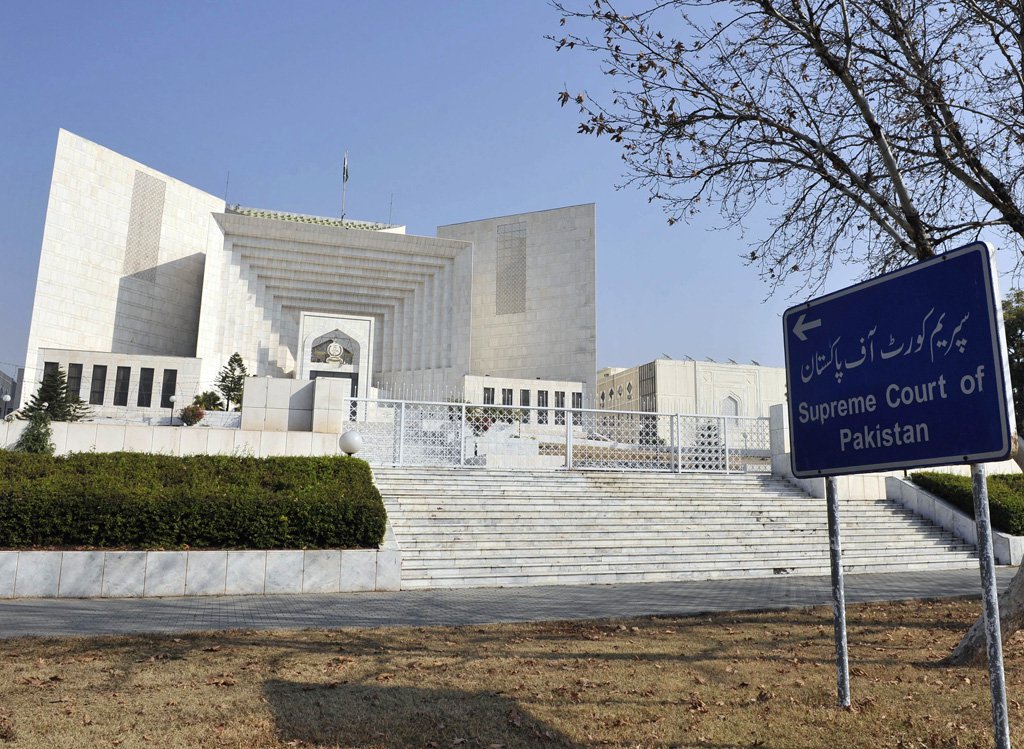 ---
ISLAMABAD:
The Supreme Court has held that the Election Commission of Pakistan (ECP) has no power to consider the qualification or disqualification of an election candidate or an assembly member.
"In our view there is no power or jurisdiction inherent in the Commission itself in terms of Article 218(3) to consider the qualification/disqualification of a candidate/member, whether as an independent, standalone issue or as part of an election dispute," said a majority judgment authored by Justice Munib Akhtar and endorsed by Justice Syed Mansoor Ali Shah.
A three-judge bench of the apex court led by Justice Mushir Alam heard an appeal of Punjab Assembly member Muhammad Salman who had defeated PTI Vice President Shah Mahmood Qureshi from PP-2017 (Multan) in last general elections.
Read More: ECP to seek ministries' help for new constituencies
Subsequently, the ECP had declared the election of the constituency void as the winning candidate, being under 25 years of age, was not eligible to contest the polls.
The court observed that during the entire process leading up to the day of the elections, the question of whether the candidate was qualified or not had already been scrutinised.
"This scrutiny, of the nomination papers, is done by the Returning Officers. However, they are not the only ones allowed by law to scrutinise the nomination papers. They are also open to objections by others. Under the 1976 Act this right was of a somewhat restricted nature: see s. 14(1). Under s. 62 of the 2017 Act the right has been extended to any voter of the constituency.
Also read: ECP forms body to review EVMs
"There is a right of appeal to an appellate forum comprising of High Court judges. Under the 1976 Act this right of appeal was restricted to candidates only, whereas the 2017 Act has expanded it to include the objector as well. After this appellate forum there can be (though not of course as of right) constitutional petitions under Article 199 and even petitions to this Court under Article 185(3).
"In other words, the question of qualification/disqualification is thoroughly tested by a dedicated procedure before the day of the election. And of course, after the election a losing candidate can always file a petition before the election tribunal and again bring the question into issue. There is a direct appeal to this Court against the decision of the election tribunal. When such a framework is available,
it is difficult to see why any such jurisdiction should be impliedly read into s. 103AA and/or s. 9 so as to empower the Commission.
"In our view, if at all Parliament has the legislative competence to confer such a jurisdiction on the Commission in terms of a law made under Article 222 (an assumption we make for purposes of this judgment, without deciding), then it must be done explicitly and by express conferment and the use of clear language. The provision of s 103 AA and s 9 fall far short of this," said the judgment.
The court also observed that in so far as the question of qualification or disqualification, arising as part of an election dispute and being considered by the commission directly in terms of Article 218(3), is concerned, the provisions of Article 225 need to be kept in mind.
This provides as follows: "No election to a House or a Provincial Assembly shall be called in question except by an election petition presented to such tribunal and in such manner as may be determined by Act of Majlis-e-Shoora (Parliament)."
"To hold that there is an independent power inhering in the Commission in terms of Article 218(3) would trench upon this constitutional provision which, it is to be noted, is cast in strongly negative terms. This indicates that those election disputes as properly come within the scope of Article 225 are to be considered by an election tribunal and not elsewhere and before some other forum such as, e.g., the Commission purporting to exercise a jurisdiction said to inhere in it under Article 218(3)."
The court also said that it is no doubt for this reason that both in terms of s. 103AA and s. 9, the Commission was, and continues to be, "deemed to be an Election Tribunal to which an election petition has been presented".
"Even here, interestingly, the jurisdiction conferred on the Commission came, and comes, with a sunset provision: it must decide the matter within the stipulated 60 days, else "the election of the returned candidate shall be deemed to have become final," subject to a petition (if any) before the election tribunal constituted in terms of s. 57 of the 1976 Act and now s. 140 of the 2017 Act. (The question, whether a law can at all deem the Commission to be an election tribunal is one that, though interesting, need not trouble us here.)"
COMMENTS
Comments are moderated and generally will be posted if they are on-topic and not abusive.
For more information, please see our Comments FAQ