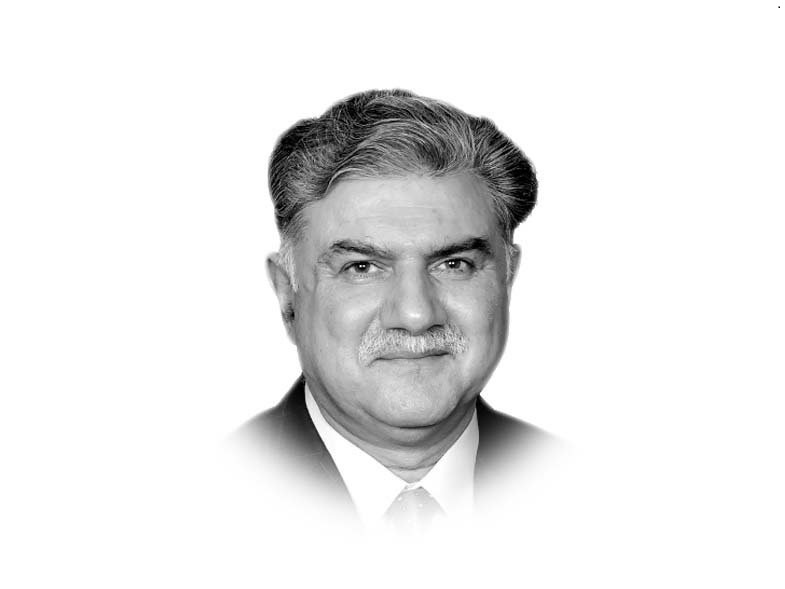 ---
August 15 would be remembered as a momentous day, being the third Independence Day for Afghanistan in modern times, and for its closeness to Pakistan's 14th August. On this day, after a heroic war of independence, the rag-tag Taliban forced a military defeat on the occupation forces of Afghanistan. Afghans ten-year-long war against the erstwhile USSR broke the once mighty communist empire into pieces. Their present victory after twenty years of jihad against over 50 mighty nations of planet earth, led by the sole superpower, is another epoch-defining event. Its reverberations would be felt far and wide, and in most uncertain ways for years to come.
The mighty and the powerful were check-mated by the poor and the humble in a stunning contest that was never on equal footing. This has redefined insurgency putting a premium on the power of faith, the will to fight and the supremacy of cause as the most significant 'force multipliers'. This tectonic event has sullied the analysts and media pundits like never before; once again putting their projections, forecasts and hubris to the dustbin of history and absurdity. Only a handful among the media army had the pulse and the courage to express it in clear terms.
A day before the stunning victory of the rag-tag, I posted the following analysis in one of my Whatsapp groups.
"Correct reading of situation in this uncertain time is very important. All that most of these drawing room intellectuals say about Afghan reality is divorced from the ground situation… a) America has run for dear life, throwing Ashraf Ghani (AG) government under the Taliban truck...period. b) The US is now asking Islamic Emirate of Afghanistan (IEA) to protect their embassy. Two marine and one regular infantry battalions are being deployed for the protection of the Kabul's Hamid Karzai airport strictly for evacuation of the US personnel. Striker Brigade would be on standby in Kuwait...in case. c) Europe is scared to death about the IEA/TTA deluge. d) IEA might be offered financial inducements for good behaviour, as overrunning Kabul is a forlorn conclusion by the US/Europeans. e) IEA will not take Kabul by force due to diplomatic presence. f) Taliban would wait for the international community to pull the plug on AG. g) Interim government with Taliban at the lead will be cobbled to be followed by a Loya Jirga. h) Civil war is a cherished dream by those with vested interests, that will remain unfulfilled. i) No refugee deluge for Pakistan, and it is in our interest to help IEA consolidate its hold quickly for the same very purpose, being the only force that can keep Afghanistan stable, united and orderly... j) Pakistan should stop harping on the ANA (and ANSF including Afghan Air Force and Police) to stand and fight. k) Stability through Taliban is the only option left; we need to go for it without seen to be dictating the Taliban. l) In the next 48 hours, the world would be getting ready to brace for a new Afghan reality. Avoid wasting too much time reading western analyses. US/West were wrong and stand check-mated."
We will discuss the Taliban strategy, the ensuing military victory and the unravelling of ANA next time; this write-up discusses implications of the Western media's continued demonization of Taliban.
It is ironic to see the mushrooming of Taliban and Afghan experts who — sitting thousands of miles away — fill the TV screens ubiquitously. They may not speak a word of Pashto or Darri; may not have a clue of the Afghan culture and history; and may never have visited Afghanistan and/or interacted with the common Afghans; but if they have access to the TV channels…they are good to go. Most of these so-called experts regurgitate stated positions and stale facts with hardly any real analysis. They repeat the US/Western talking points, succumb to falsehoods and shoddy journalistic practices.
Read More: Taliban should walk the talk
Despite their tolerance, subdued manners, general amnesty, Taliban are still dubbed as unreliable savages, who can never be trusted, irrespective of their demonstrated performance, restrained mannerism and perseverance on the streets of Kabul and elsewhere. The dominant media has for so long harped on such themes that even urbanite Afghans believe in their contorted narratives. This pervasive media manipulation has led to a totally unwarranted human crisis where many innocent, mainly poor and gullible Afghans have left their homes for refugee life in urban centers like Kabul. And this human tragedy is nurtured totally by anti-Taliban powers despite Taliban's peace overtures, reference to Afghan/Islamic amity and insistence on avoiding unnecessary bloodshed.
Mainstream media is hardly remaining objective despite tall claims. One main media outlet, while telecasting the handover of Presidential Palace in Kabul on 15 August, intentionally muted the audio feed as Taliban representatives were reciting from the Holy Quran. Most reporters are interviewing US 'interpreters' about situation in Kabul for whom it is understandably catastrophic. The reporter of one major media outlet, with a visible stubble, would come out of the hotel room to telecast what he felt and go back to his room. Most reporters were room-based and venting their long-held scary views, totally unaware of the calm on the streets of Kabul and the orderly manner in which the Taliban fighters took over, controlled the city and potential looting — ensuring normalcy of life. Taliban videos show similar ambiance in almost all cities captured by them.
The Kabul airport deluge of those leaving the country is the result of years of persistent demonisation of Taliban. Although a sizeable number of those desperate to leave include Afghans with tainted past and heavy anti-Taliban credentials. But, most especially the womenfolk are gullible Afghans made to fear the fear. Occupation does produce beneficiaries, spies, informants, and turncoats. And they would never trust the repeated soothing pronouncements from the Taliban leadership.
Most, like those clinging to a taxiing US C-130 cargo plane on 16th August, were just young men seizing an opportunity to flee for greener pastures, as there was a rumour doing rounds about US admitting even those without papers. This would cause a deluge anywhere in the world. Sadly, the current quantum of evacuations is attributable to consistently manipulated reporting on Taliban …that must end, in Afghan and the world's interest.
Published in The Express Tribune, August 19th, 2021.
Like Opinion & Editorial on Facebook, follow @ETOpEd on Twitter to receive all updates on all our daily pieces.
COMMENTS
Comments are moderated and generally will be posted if they are on-topic and not abusive.
For more information, please see our Comments FAQ