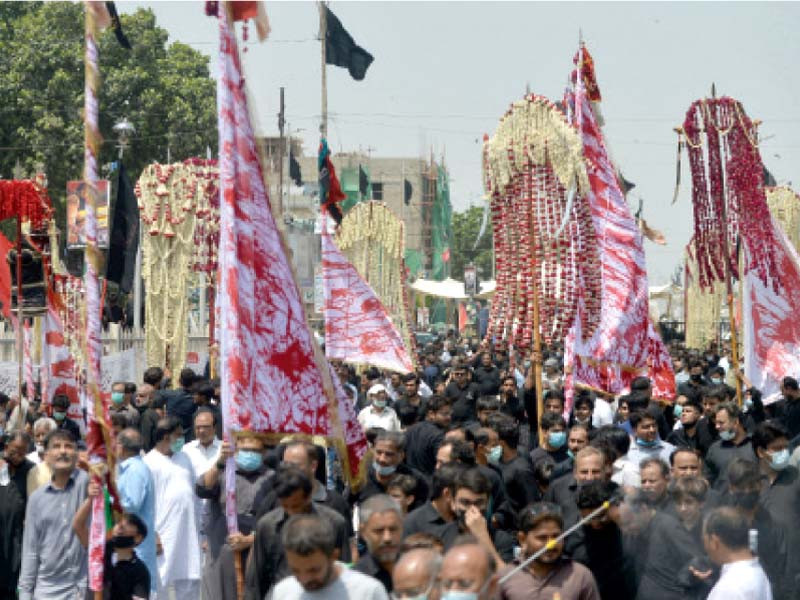 ---
KARACHI:
Paying homage to the martyrs of Karbala, the central mourning procession headed from Nishtar Park on Tuesday, Muharram 8 and passed through its traditional route, culminating peacefully at the Hussainian Iranian Imambargah in Kharadar area.
Strict security measures, including suspension of mobile services in some areas, were in place along the procession routes. Smaller processions taken out from Ancholi in Federal B Area, Pehlwan Goth in Gulistan-e-Jauhar, Jafar-e-Tayyar Society in Malir, Old Rizvia Society, New Rizvia Society, Qasba Colony, Abbas Town and Soldier Bazaar and other areas joined the main procession at Nishtar Park. From there, the mourners went through the traditional route for the most part.
At the Majlis-e-Aza noted Shia scholars spoke about the unmatched sacrifice of Hazrat Imam Hussain (RA) and highlighted the unique and revolutionary nature of his mission. Imam Hussain's (RA) sacrifices are remembered across the Muslim world and in following his footsteps we can revive the spirit of Karbala, said the scholar.
Read More: Sindh govt assures foolproof arrangements for Muharram
As many as 30,000 mourners participated in the procession and all roads and streets along its route were blocked with barricades and containers.
The Karachi Police has issued the security and traffic management plan for the processions today (Wednesday) and tomorrow (Thursday). According to a police spokesperson, some 2,938 police personnel were deployed for the security of the 8th Muharram procession. Personnel of other law enforcement agencies were also deputed along the procession route besides at the venues of different Majalis. A command and control centre set up at the Central Police Office and at the Civic Centre monitored the procession through security cameras.
The city authorities and provincial health department have declared an emergency at all public hospitals in the city and in other areas of the province.
Published in The Express Tribune, August 18th, 2021.
COMMENTS
Comments are moderated and generally will be posted if they are on-topic and not abusive.
For more information, please see our Comments FAQ