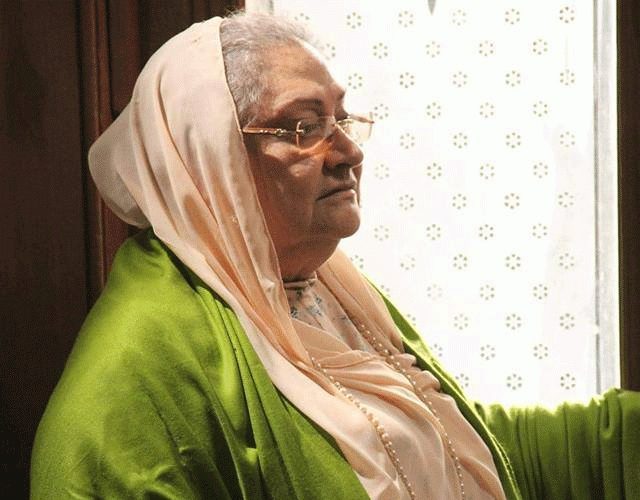 ---
KARACHI:
The passing of Durdana Butt earlier this week was met with an outpour of grief from the film and television fraternity who remembered their beloved Dodi Apa with a fondness few people manage to cultivate in others. Several tributes, especially those from members of the industry who knew her well, were coloured by the remembrance of her sharp and clever wit, along with her unfailing empathy towards others.
The veteran actor cemented her place in the industry with stellar performances in classics such as Aangan Terha and Tanhaiyaan, continuing to work for over four decades, up until her cancer diagnosis. 'Dodi Apa' was adored by fans and was like family to those in the industry whose lives she touched with her kindness. The Express Tribune reached out to her nearest and dearest among the industry to capture a glimpse of who Durdana Butt was when the cameras weren't rolling.
Actor Khaled Anam remembers always having known of Dodi Apa, due mainly to the fact that both their families knew each other. "The first time I remember seeing her on television was when she was part of a theatre play that was performed and telecast in the 1970s. We remember shouting in excitement because we had seen Dodi, we knew of her. There was a commotion in the house."
The actor, who later got to work with Butt, explained that the two had a great friendship. "Outwardly speaking, Dodi was like the characters she played. She had a marvellous sense of humour and she would quote writers and have an arsenal of anecdotes at her disposal that she would use to make us laugh, but inwardly, she was deeply spiritual," he shared.
On Durdana Butt the educationist, Anam reflected, "She was very modern, yet traditional. She would touch individual students, paying attention to each and every one. The students would form a bond with her. She was a guru and a humanist. A mother/father-like figure we could all confide in."
He elaborated, "She believed in humanity more than anything. I would say she was a human rights activist. She would have made a wonderful politician. Not the conniving kind. If I had the choice, I would have definitely given her the authority to make the desired changes."
The actor spoke of Butt's bravery in the face of debilitating illness and her ability to live life to the fullest. "She taught me how to laugh at my own misfortunes, teaching me that this too shall pass." He continued, "She had a wonderful sense of humour, she would laugh at her own misery, her illness. The first person she'd laugh at was herself."
On the question of Butt's work ethic, Anam explained that the late actor was "professional to the core", always on time, a quality present, according to him, in most "old-timers". "She never lost her temper, would eat what everyone else was eating, would sit where everyone else was sitting. She would be a part of the gang," he shared while speaking of Butt's low-maintenance personality.
Actor Sania Saeed, who met the late icon when she was just a child, also recalls always having an awareness of who Durdana Butt was. "As soon as I opened my eyes as a child, I saw her on television. It was our only source of entertainment. When you met the actors who were part of this older generation, you felt as though you knew them already."
Speaking about Butt's warmth and her ability to put those around her at ease, Saeed shared, "She always behaved as if she knew you. She was warm and would meet a stranger with so much affection. I think this kind of attitude was unique to people of this age group. They were very down to earth and humble people which, generally speaking, we have lost. This was what was special about our seniors."
She continued, "When they would meet younger people, like Dodi Apa in my case, they'd meet you with such familial energy that you'd settle into that environment immediately and feel safe and okay. You would feel that it was your space and your people."
Actor Simi Raheel recalls working with Butt for the first time in 1975. "Everybody knew Durdana Butt and Khurrum Butt. The brother and sister duo was the heart and soul of every party. Happy, wild, crazy, and fun. We did a play together. I remember rehearsal day, Dodi walked into the director's room and we were sitting and chatting. She was laughing, being her usual buoyant self. On that set, Dodi and I played friends. She taught me quietly, without pushing me, without making it obvious, how to go through the process of rehearsal and the performances."
Raheel explained that Butt was a unique woman, going against societal norms in order to live a full and happy life. "She was the only woman we knew who went around Lahore on a 50 CC Honda motorbike. In those days, she dressed in khaddar." She added further, "She lived life to the fullest and on her terms. She wasn't a rich woman, but she was a comfortable woman. She earned everything she owned. She loved to travel, and I don't think there were a lot of places she hadn't seen."
Speaking about the late actor's iconic roles, Raheel shared, "She would take on characters and create something out of them that was so very much Durdana Butt. They weren't written exactly like that, but when she came on stage or television and delivered them, they became tangible characters you remembered and people you identified with."
"She was an incredible artist because she was so humble. Dodi Apa could negate her ego so easily, that personifying somebody else while in character came easily to her. That's who she was as an actor," shared Raheel.
On Butt's status as an icon of Pakistani television, Raheel shared, "In our fraternity, there are many people that come and go. Some walk away from it, some live through it, some die without anybody noticing. And then there is Durdana Butt, who challenged every stereotype and stood up against monotony. Who decided that life was to be lived. Life was to be celebrated. She was fierce, independent, enlightened and simple. And I loved her for who she was. She will always be remembered."
COMMENTS
Comments are moderated and generally will be posted if they are on-topic and not abusive.
For more information, please see our Comments FAQ