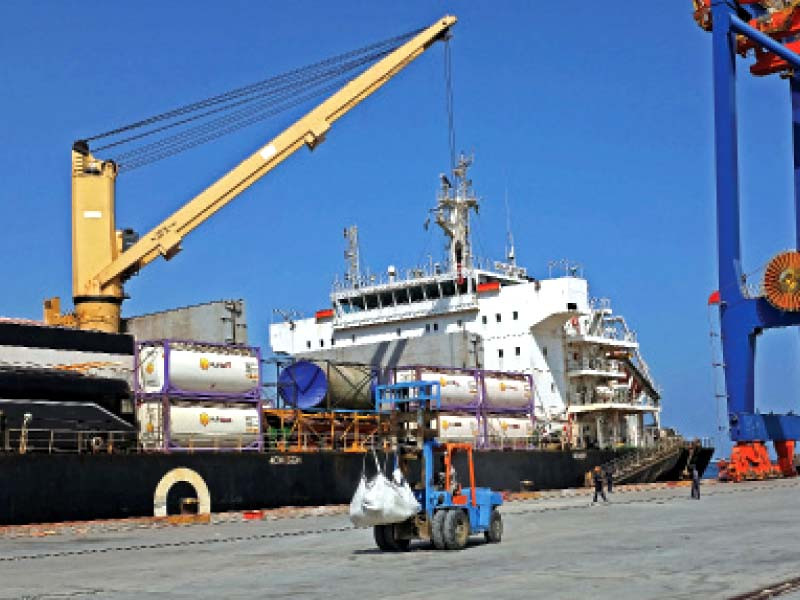 ---
ISLAMABAD:
Pakistan can utilise Gwadar port as a transit hub in the short-term, as the country needs another five years to make it an international standard seaport that also has an industrial complex, says Japanese envoy to Islamabad, Matsuda Kuninori.
Countries like Pakistan need second and third trade ports and for that matter it is very wise for Pakistan to build a second port like Gwadar because Karachi is very congested, said Matsuda told The Express Tribune on Thursday. "But Gwadar at this time does not have any industrial complex or commercial hinterland," said the ambassador, saying there were second and third stage projects that will take longer time to be completed.
"I am always a positive thinking person and I will give it five years for make Gwadar an international standard port", said Matsuda.
"We are closely following how fast and to what extent second and third stage projects will be prepared so that Gwadar can become a trade hub in a true sense."
The ambassador's remarks are in line with the ground realities. This week, the Cabinet Committee on China-Pakistan Economic Corridor rejected the marketing plan for the Gwadar port prepared by the Chinese operators. But the port operators blame the government for its inability to provide the logistics to make Gwadar a hub of economic and commercial activities.
"Gwadar has a future but for that matter there has to be good planning of the second and the third stage including building an industrial complex and some kind of logistic support area and inland road networks which connects Gwadar with inland cities," said Matsuda.
He said that Gwadar has a great future in the medium and long term but for a short period of time Gwadar can be utilised as a place where people can use it as a transit station. If the Gwadar port area is designated as an international tax free storage area then you bring goods to store in Gwadar and then send to neighbouring Gulf countries, he added. Gwadar can be used as a support port for Karachi port. Pakistan has given Gwadar port to China on lease but both the countries have not yet been able to present it as the most viable port in the region despite declaring it the crown jewel of CPEC.
He said that the prioritised Special Economic Zones (SEZs) being set up under CPEC were also not located at places where Japanese automobile investors can set up factories.
"If Pakistan would like to get new investment in the automobile industry that will have to be in the vicinity of Karachi and Lahore where the automobile factories are located," said the ambassador.
He said that CPEC SEZs, Dhabeji in Sindh and Faisalabad's industrial zones, are not in the vicinity of these two cities therefore, it will be difficult for Japanese investors to set up factories in these cities. Faisalabad would make sense only for textile related investment.
"The SEZ is a magic word but it cannot come out of the blue and you have to build water, gas, and electricity and waste management facilities," said the ambassador. Sometimes, we hear so much about the SEZ but not necessarily enough facilities are provided in these zones, he added.
To build a successful SEZ the key to success is selection of land, it is usually successful if it is related to export, which means it should be located close to the trade port or border area with trade partners.
In case of Pakistan, for short-term SEZ should be built closer to Karachi area for mid-term it could be built in other parts of the coastal areas and in the long-term border area might be considered, advised the ambassador.
The ambassador also briefly spoke about Pakistan's fiscal conditions. He said that Japan was no longer providing loans to Pakistan.
"We are concerned about a worsening financial position and I understand that the prime minister himself does not like receiving loans, instead he prefers to get investment and trade," said the ambassador.
In terms of Pakistan's financial structure and ongoing negotiations with the IMF, the Pakistani government does not like to receive new loans which are going to add into the debt of Pakistan. We intentionally avoid giving new loans.
If in the future the financial position improves and there is really a needy project of Pakistan's socio economic development, we will be happy to provide softer loans as Japan gives much softer loans than those given by many countries including China, he added.
He maintained that China was not a reason for not giving loans to Pakistan.
Automobile policy
The ambassador said that he was in favour of the new automobile policy that the government has prepared for a five-year period. The Pakistani car market has been dominated by Japanese cars for the past three decades.
"I am personally satisfied with the new automobile policy that will ensure Pakistan's transfer from combustion engine technology to hybrid and then to electric vehicles."
"Right now, Pakistan's automobile industry is practically assembling units." Pakistan's automobile market is mature enough to move from assembling stage to full-scale manufacturing base, he added.
In light of local conditions including the electricity generation capacity, it is a bit difficult to jump from combustion to EV stage. Pakistan needs to take a step by step approach.
The ambassador said that during the past 25 years, Japanese carmakers have done a lot for localisation and "I know the speed of localisation is unsatisfactory in view of local buyers and we also have received some complaints".
He said that there are some areas where the quality of local supplies is not high. There are some components that still have to be imported from Japanese suppliers.
Localisation also means new investment by Japanese suppliers and setting up factories in Pakistan. Japanese automakers are struggling to set up factories in Pakistan, he added. The Pakistan government could help us to give some incentives in taxation and some other benefits.
Japanese manufacturers can set up plants if incentives are given in the shape of tax and tariff reduction on import of necessary machinery, he added.
Published in The Express Tribune, August 15th, 2021.
Like Business on Facebook, follow @TribuneBiz on Twitter to stay informed and join in the conversation.
COMMENTS
Comments are moderated and generally will be posted if they are on-topic and not abusive.
For more information, please see our Comments FAQ