 ---
KARACHI:
Like everything else, the display spirit, passion and fervor that marked celebrations of our national days has been affected by the novel coronavirus pandemic.
But while most of us still keep up that spirit and celebrate in a more scaled down manner, it is perhaps those whose livelihood depended upon festivities that have been worst impacted.
Amid the closing down of educational institutes and the fear of contracting Covid-19, the sellers of national flags, ornaments, badges and bangles are trying to make ends meet while facing a significant slump in sales.
As the Independence Day approached, they expressed worries that the footfall of customers was nowhere near what it once used to be.
"Our sales this year are not even half of what they used to be before coronavirus," said Shahzad who sets up stalls in the paper market every year since last ten years.
"Most of our customers back in the day were young students, on their way home from schools and colleges. They were the ones who bought most of the flags and badges.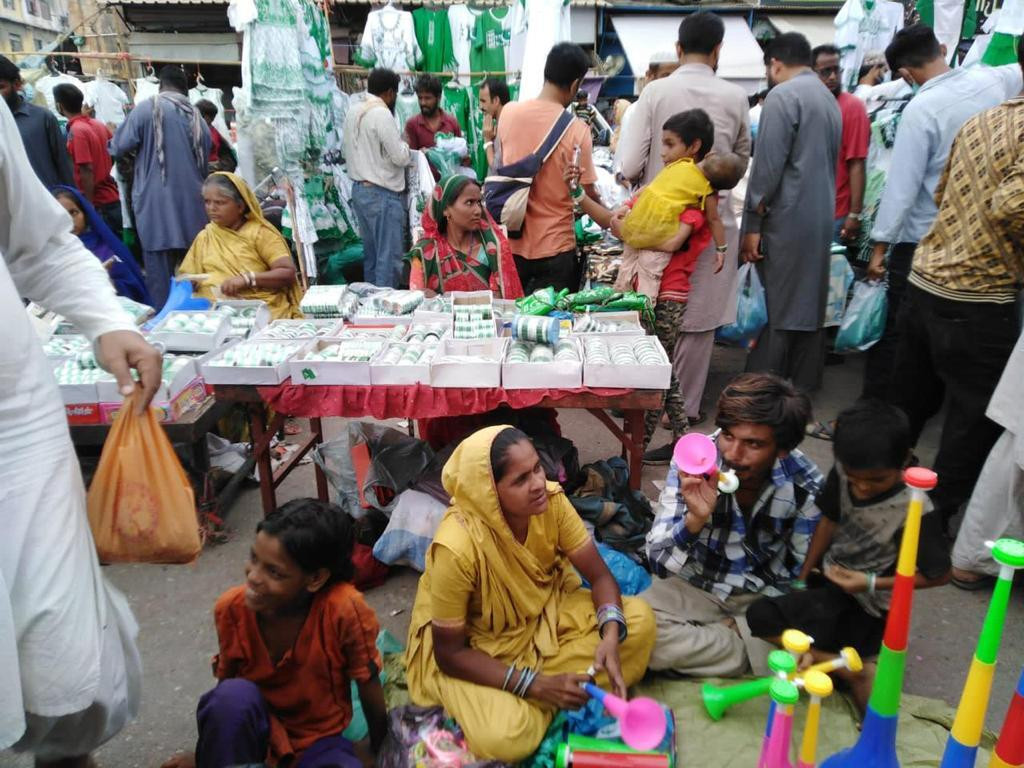 PHOTO: EXPRESS
But last year and this year, we have only been able to sell to the occasional passerby here and there, due to lockdowns and school and college closures."
The market which is famous for its wholesale variety of items including decoration, boxes, paper, and what not hosts one of the most numbers stalls in the city from mid-July till August 14 selling items for kids to help them decorate their houses with flags and flags buntings.
Drumming up business
Draped in colorful sarees, wearing sindoor, attired with bangles up till elbows, sitting on the roadside are Hindu females who also set up stalls just beside the shops on the footpath. Most of these women belong to the Lighthouse area and Bheempura and sell dry fruits outside Empress Market throughout the year.
Come August and the run up to Independence Day, and they find selling different types of bangles with a patriotic twist to young girls a better opportunity to earn good money.
"I set this stall every year now either by lending some money from a relative or investing my savings. Every year, it turns out to be fruitful for me," said Babita who had her stall full of green and white bangles with different qualities and designs, the buyer ratio has gone down but still the stall owners can earn 300 to 500 rupees a day. "Due to lockdown, sales have gone down immensely but the customers who come to us expect the rates to be the lowest because we are sitting in a wholesale market.
This is the reason why they come to paper market instead of buying from the nearby stalls set in their areas," she said.
Asked what plans she had for any extra sales she made, Babita said she wanted to save up to buy a motorcycle for her son.
Stalls which have usually been set up by the mid-July were set up late this year due to lockdown in Karachi which was lifted on August 8 and after that only one week was left for the business.
The market hosts around 15 to 20 stalls each year that are solely run by Hindu women who cannot afford to rent a proper shop, even for such a small duration.
"With time we have also adapted and have started to stock up on horns, wrist bands, badges, paints, etc. When we began, our idea was just to sell the bangles because the men were selling everything else," shared Karishma Kumari who started setting up the stall with her mother.
The street which is open for one-way traffic gets blocked mostly because of people roaming around and buying things for their kids.
"I live in Saddar and this is our go-to place for Independence Day themed decorative items. Every year we try to buy flag buntings and put them up on our window grill. I also buy badges and small plastic flags for my kids," said a buyer Arsalan Amir.
"Patriotism seems to be fading away in this country and I try to keep it alive in my kids so they at least know that August 14 is much more to us than just a holiday".
Paper market is situated just across the street from the Karachi Metropolitan Corporation building at the main MA Jinnah road which is already a very busy road of the city and setting up stalls in a street which conjoins the road creates traffic jams.
Such activities, which draw people from all around the city, also create a bigger hurdle for the traffic police as well. "We try too hard to keep the traffic moving but the main issue here is the parking of the vehicles which come to shop from the paper market.
When we try to remove these makeshift stalls then they protest and block the roads," a traffic police officer on duty standing along with the food stalls at the corner of the street told The Express Tribune.
Independence Day back in the day
For most of those who grew up before the 2000s, Independence Day meant preparing for skits and performances of national songs at least 20 days before August 14 at school.
It also meant decorating the whole school and home with flag buntings, even using them to make novel designs, and preparing white and green dresses for August 14 functions.
Kids would also collect money from each house in their street to decorate their entire neighbourhood with patriotic ornaments.
For those who remember such festivities fondly, technology in the shape of gadgets and the exodus of friends and relatives to greener pastures abroad have taken off some shine from Independence Day celebrations.
"I still remember we used to spend the whole day at school preparing for the August 14 function and the rest of the day at home decorating our house and street without even worrying for food or anything.
Read More: Independence Day sales fetch Rs25 billion
Now I have to push my kids to watch national songs on YouTube as they don't live here and that one time in a year when they visit Pakistan, they don't feel connected at all," shared Rabia Khan who is visiting Pakistan to meet her parents.
Similarly, Usman Khan was trying to build a connection to Independence Day for his nieces and nephews when he took them shopping for badges, flags, hairs bands, t-shirts, and wrist bands.
"If the Covid situation has schools shut down and they can't learn this from school functions then we should step in and try to make them enjoy August 14 as we used to do when we were kids," he said.
"Nowadays, children don't go out to play with friends or for cycling, and are stuck to screens all the day. But they should understand that this is the 'birthday' of our country.
All these memories of decorating and celebrating will remain with them even if they don't understand the true meaning of independence."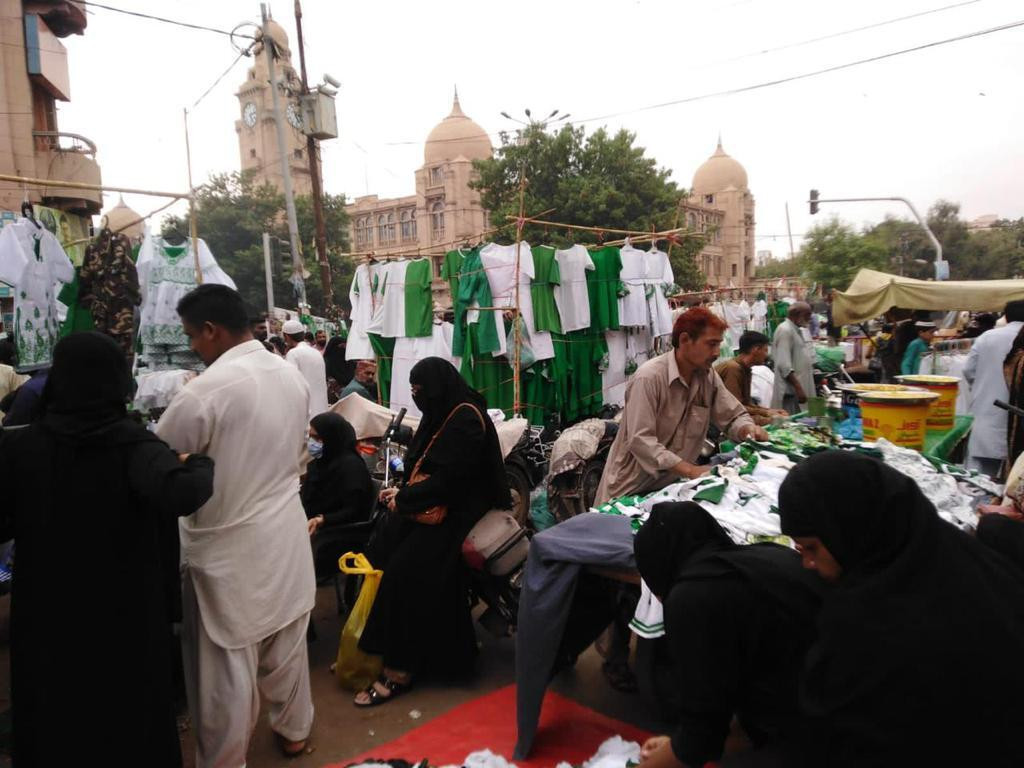 PHOTO: EXPRESS
Loosing touch
Over recent years, Pakistan has gone through many changes. Rapid proliferation of consumer technology and for some time, a heavily deteriorated security situation, were some of the issues that dampened traditional Independence Day celebrations in most households.
"Today's kids have not seen the struggle and neither have their parents. Which is why they do not connect to the day and why it is celebrated," said Meharunnisa who was six years old when Pakistan came into being. She and her father migrated from Allahabad and settled in Karachi.
"I and my parents saw the bloodshed and my father used to narrate the stories of how it was difficult to study and work under the British and Hindu domination in India. I have shared these stories with my children and while they understood, my grandchildren no longer do," she said.
She added that most of her grandchildren have shifted out of Pakistan for better education and living conditions so their four to five year old children can't be blamed for not feeling the enthusiasm to celebrate the Independence Day of Pakistan.
Increasing inflation and businesses closing down due to Covid is not just affecting the living conditions but also the purchasing power of people, "Rates of everything have shot up.
The businesses are trying to earn as much as they can as most of them have faced a lot in the last year and a half," said Muhammad Amjad who was buying a flag and a badge for her daughter. "Until a few years back we used to buy flags, horns, badges, buntings, hair clips, etc for 500 to 600 rupees but today buying all of this needs a minimum of Rs1,500.
Someone like me who earns just Rs25,000 a month cannot spend that just for one day so we have cut down to a flag and a badge only," he explained, adding that even to celebrate one needs money. "With the current situation after the pandemic people are struggling with trying to make their ends meet," he said.
COMMENTS
Comments are moderated and generally will be posted if they are on-topic and not abusive.
For more information, please see our Comments FAQ