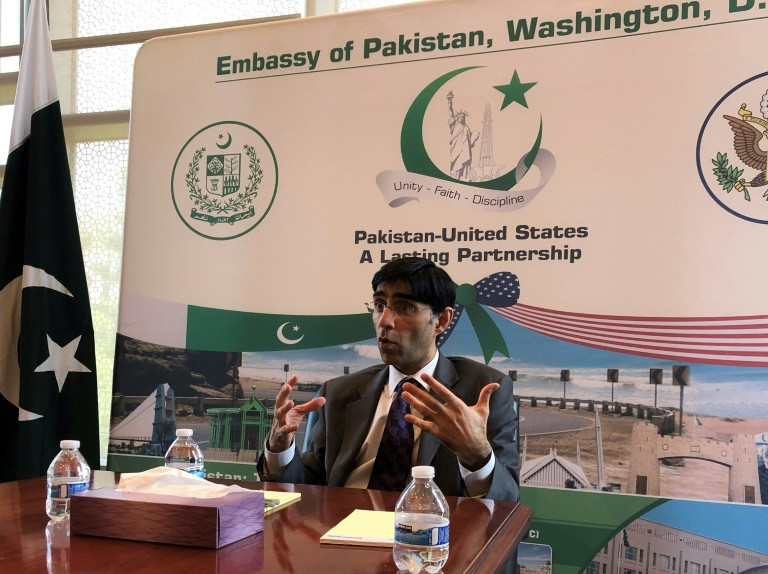 ---
ISLAMABAD:
The Afghan leadership lacked sincere intention to contain the use of its soil against Pakistan that damaged peace and security of the region, National Security Adviser (NSA) Dr Moeed Yusuf said on Friday.
In a statement, Yusuf emphasised that Pakistan only stood for peace and that was why the country fenced its entire border with Afghanistan. He added that the Afghan government was urged to place a biometric system for controlled mobility between the two countries but it had refused.
Read more: FO extends olive branch to 'friend' US after PM's critical remarks
Earlier, in a British Broadcasting Corporation (BBC) programme the anchor questioned Pakistan's role in Afghan peace process after allegations were made by the Awami National Party (ANP) leader Afrasiab Khattak, blaming the Pakistani government for chaos in Afghanistan.
Dr Moeed did not respond directly to Khattak's accusations, flagged by the BBC anchor. "If you are to level an allegation then it should be logical one. The regions falling to Taliban are on the other side of Afghanistan, so how Pakistan can assist that debacle," he asked.
Also read: Umar warns against scapegoating Pakistan for Afghan failure
Dr Moeed Yusuf noted that there were "serious questions about the intentions of the other side [the so-called political leadership in Afghanistan] that needed to be looked into for a clear review" of the situation.
"…We have seen Twitter hashtags blaming Pakistan and asking to sanction the country and accusing it [of being] responsible for chaos in Afghanistan. We minutely observe it and have found that 65% BOT [robot generated tweets] activity was mostly operated from Afghan and Indian accounts."
The NSA said Pakistan was urging Afghan leaders to try to quickly reach a politically negotiated settlement with the Taliban to avoid further violence in Afghanistan.
The adviser made the appeal while speaking to reporters in Islamabad. He stressed that the fall of city-after-city in neighbouring Afghanistan underscores the need to expedite the peace process.
Also read: Will not allow any foreign bases in Pakistan, reiterates PM Imran
"Trust me, if they sit down, they will be able to come out with some sort of settlement and we will respect whatever Afghans decide," Yusuf said.
He added: "History will judge us very badly and poorly if we don't put all efforts behind [this] for a political settlement" on the Afghan crisis.
Yusuf also defended Pakistan, saying it has done its best to facilitate the Afghan peace process in the past.
At the stage, "we can give only one message: Pakistan cannot be a guarantor for peace, we can only facilitate. We will facilitate whatever we can," he said.
"Everybody needs to respect what Afghans decide politically," Yusuf said.
(With additional input from News Desk)
COMMENTS
Comments are moderated and generally will be posted if they are on-topic and not abusive.
For more information, please see our Comments FAQ