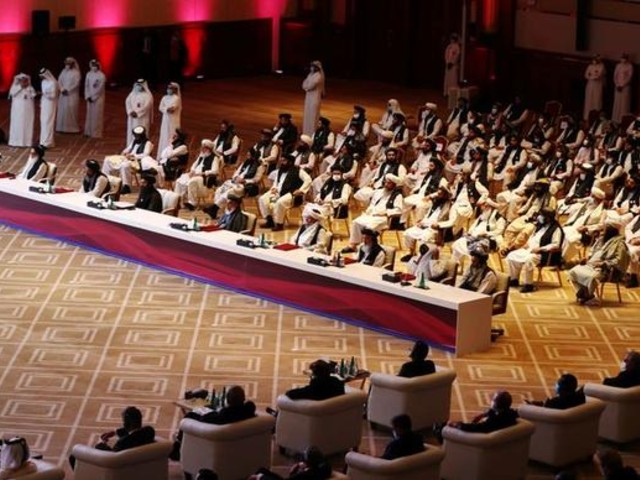 ---
ISLAMABAD:
Pakistan's special envoy for Afghanistan Muhammad Sadiq left for Qatar on Tuesday to participate in the regional conference and meeting of "Troika Plus" as part of efforts to prevent Afghanistan from slipping into another civil war.
Ambassador Sadiq is visiting Doha to attend the Regional Conference on Afghanistan and a meeting of Troika Plus on August 10-11 on the invitation of Qatari Special Envoy for Counter Terrorism and Mediation in Conflict Resolution Dr Mutlaq Al Qahtani, the foreign office said in a statement.
Pakistan's Ambassador to Afghanistan Mansoor Ahmed Khan is also accompanying the special representative, it added.
Amb. Muhammad Sadiq, Special Representative for Afghanistan is visiting Doha to participate in Regional Conference on Afghanistan and meeting of Troika Plus on 10-11 August. Pakistan hopes that the meetings in Doha would help facilitate resumption of Intra-Afghan Negotiations.

— Spokesperson 🇵🇰 MoFA (@ForeignOfficePk) August 10, 2021
Pakistan attaches high importance to the Troika Plus mechanism, involving Pakistan, US, Russia and China.
This meeting of Troika Plus in the Qatar's capital is taking place at an important time when the security situation in Afghanistan is continuously deteriorating particularly as the withdrawal of US and NATO troops from the country continues, read the communiqué.
Also read: 'Troika Plus' to discuss Afghan crisis on Aug 11
Pakistan hopes that the meetings in Doha would help facilitate resumption of intra-Afghan negotiations with a view to achieve a political solution for a peaceful, stable and prosperous Afghanistan, at peace with itself and with its neighbours, it added.
The special representatives of these four key players last met in April in Doha, Qatar, and previously also held unannounced sessions in what appeared to be an effort to develop regional consensus on the Afghan endgame.
Although the US has serious differences with China and Russia on many issues, Washington is now keen to take Beijing and Moscow onboard on the current Afghan situation.
Both Russia and China have criticised the US for "hasty withdrawal" and declared that Washington has failed to bring about peace in the war-torn country.
Pakistan also expressed similar views as Prime Minister Imran Khan recently blamed the US for leaving behind a mess in Afghanistan. Pakistan, Russia and China are increasingly worried that the renewed unrest in Afghanistan will be destabilising for these three countries.
COMMENTS
Comments are moderated and generally will be posted if they are on-topic and not abusive.
For more information, please see our Comments FAQ