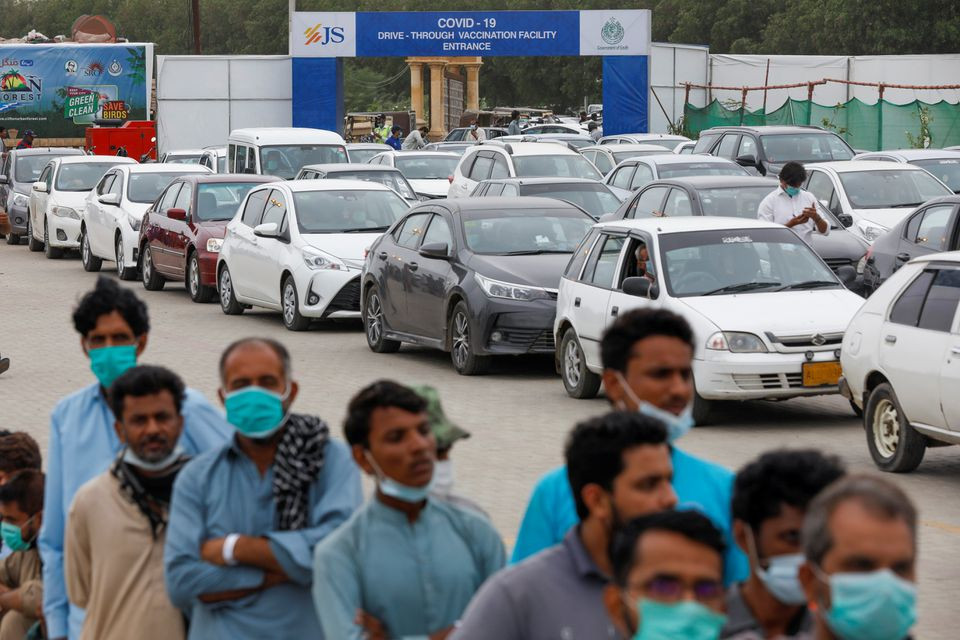 ---
Vaccine a must for train travel from Oct 1
From October 1 only vaccinated individuals would be allowed to travel by rail
---
ISLAMABAD:
The government announced on Monday further measures to contain the spread of the fourth wave of coronavirus, while more international aid continued to pour in, as the number of active cases hit the highest level since the first week of May.
The NCOC, which serves as the synchronised national effort against the pandemic, considered measures to be taken in view of the arrival of Muharram. It decided that from October 1 only vaccinated individuals would be allowed to travel by rail. In a meeting chaired by Planning Minister Asad Umar, the forum expressed concern over the growing spread of Covid-19 in Rawalpindi and Peshawar districts and issued instructions to the districts to implement the safety protocols and standard operating procedures (SOPs).
READ Economic lessons taught by Covid-19 pandemic
The forum expressed satisfaction with the vaccination process, and called for steps to be taken to administer the second dose in a timely manner. Meanwhile, Pakistan received a consignment of 1 million Covid-19 antigen rapid diagnostic tests (RDTs), donated by the United States through the US Agency for International Development (USAID), to help in efficient diagnosis of the infectious disease.
The donation was formally received by Special Assistant to the Prime Minister on Health Dr Faisal Sultan during a ceremony here. Dr Sultan thanked the USAID for donating the test kits. He said that the donation was a reflection of the warm relations between the two countries. On the occasion, USAID Mission Director Julie Koenen said the RDTs would serve Pakistan's needs for quick surveillance, diagnosis and keeping the spread of Covid19 to the lowest levels.
Also on Monday, the NCOC said in its daily update that the national tally of active Covid-19 cases reached 83,298, the highest since May 6, as 4,040 more people tested positive for the virus while 2,765 people recovered from the disease during the last 24 hours. Among the active cases, the forum said, 4,276 patients were admitted to various Covid-dedicated healthcare facilities of the country.
READ 40% of population to get jabs by 14th
Among them, 3,805 patients were in critical condition, including 440 on ventilators. The daily NCOC bulletin added that 53 corona patients, 50 of whom were under treatment in hospitals, including 25 on ventilators died during the past 24 hours, raising the nationwide death toll to 23,918. The national caseload of the disease, since the start of the pandemic in February 2020, rose to of 1,071,620. Among them 946,404 people have recovered so far.
The national positivity ration on Monday was recorded at 7.54%, the NCOC said. During the fourth wave Sindh is the worst effected province. On Monday, the provincial tally of Covid cases topped 400,000, according to the NCOC data. However, the highest death toll, 11,201, has been recorded in Punjab, compared with 6,215 fatalities in Sindh. (WITH INPUT FROM APP)