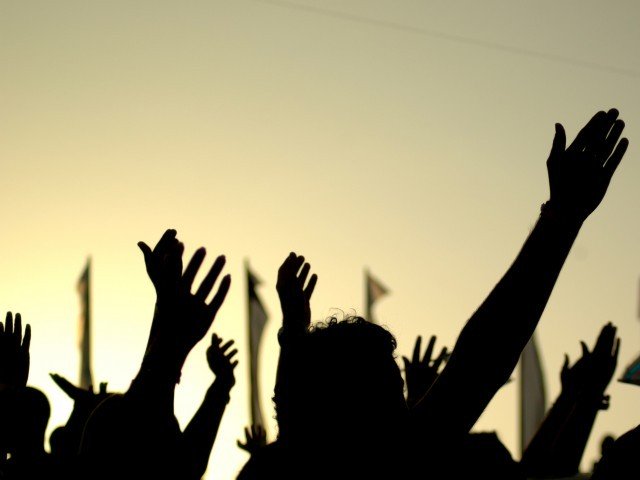 ---
KARACHI:
The Hindu community of Ghotki protested on Friday the attack on a Hindu temple by a mob in Bhong village in Rahim Yar Khan, Punjab.
The protestors demanded that the government devise a strict policy to curb such incidents.
Amid anger and grief over consecutive attacks on Hindu worship places, three isolated protests have been reported in Ghotki's three towns, including Ghotki city, Daharki and Mirpur Mathelo.
"There is a fear amongst the Hindus of Sindh," commented Sukhdev Hemnani, a Ghotki-based political activist. "People are not satisfied with the action taken by the state government," he added.
Speaking to The Express Tribune, Hemnani said that reports of such incidents occurring at different places were frequent. "No one should harm interfaith harmony. It is not our culture to attack any worship place of any religion." Several Hindu elders and activists visited Bhong village, where the Shree Ganesh temple was stormed by a charged mob on Wednesday. Hundreds of people vandalised the temple and blocked the Sukkur-Multan Motorway (M-5) after a nine-year-old Hindu boy, who allegedly urinated in a local seminary, was granted bail by a local court.
Hemnani told The Express Tribune that no one has been displaced as yet from the village as law enforcement agencies have been deployed following the notice taken by the Supreme Court of Pakistan, Prime Minister Imran Khan and other political leaders.
"Hindus living in that area come from poor families and they cannot afford to shift to any other safer place," he said. "Whenever such unfortunate events happen, the first and foremost thing that is needed to contain the intensity of the matter is political ownership."
However, it was highly regrettable that in the case of the attack in Bhong, a response from the Pakistan Tehreek-e-Insaf-led provincial government and administration could not be seen, he said. The police also abandoned the scene instead of taking action over the violence that continued for hours.
Condemning the incident, Hemnani remarked that Federal Human Rights Minister Shireen Mazari, who is vocal on human rights violations across the world, is silent when such incidents occur under her party's government.
"In comparison, when any such heinous attacks on religious harmony occur in Sindh [they] are not only immediately contained but the provincial government ensures its presence on ground and exercises its writ in holding the perpetrators accountable."
Meanwhile, Pakistan Muslim League-Nawaz (PML-N) MNA Kheeal Das Kohistani said his party "Condemns such attacks on our worship places."
"This is not the first time," Kohistani pointed out, saying no action was taken when a similar incident took place in Karak, Khyber-Pakhtunkhwa.
"This creates a sense of deprivation among minorities of Pakistan." He added that such incidents help the Indian government in tarnishing Pakistan's image before the international community.
Kohistani noted that not a single arrest has been made thus far. He claimed that over 100 families have been displaced from different areas of the district.
"There is anger amongst the Hindu community," commented Mukesh Meghwar, a Hindu activist. "But there is also fear among them that any protest could lead to another untoward incident," he added.
Read More: Restoration of Sikh, Hindu temples resumes
Speaking to The Express Tribune, Meghawar noted that reports of attacks on Hindu women, men and places of worship are frequent. "The political leadership condemns and some people are arrested but no befitting punishment is awarded to perpetrators to set an example," he regretted.
Similarly, Partab Shivani, a Hindu educationist asked, "Where is Quaid-I-Azam's Pakistan?"
He recalled that such instances have increased in the past two years. "These incidents incite Hindus to leave Pakistan," he said, adding that roughly 75,000 Hindus have migrated to India and other parts of the world in the past five to seven years. "This is because of insecurity."
Shivani was of the view that a school of thought was emerging in Pakistan where minorities have no space. "People involved in such attacks should not only be arrested but be given exemplary punishment. This is the only solution to curtail such attacks."
Published in The Express Tribune, August 7th, 2021.
COMMENTS
Comments are moderated and generally will be posted if they are on-topic and not abusive.
For more information, please see our Comments FAQ