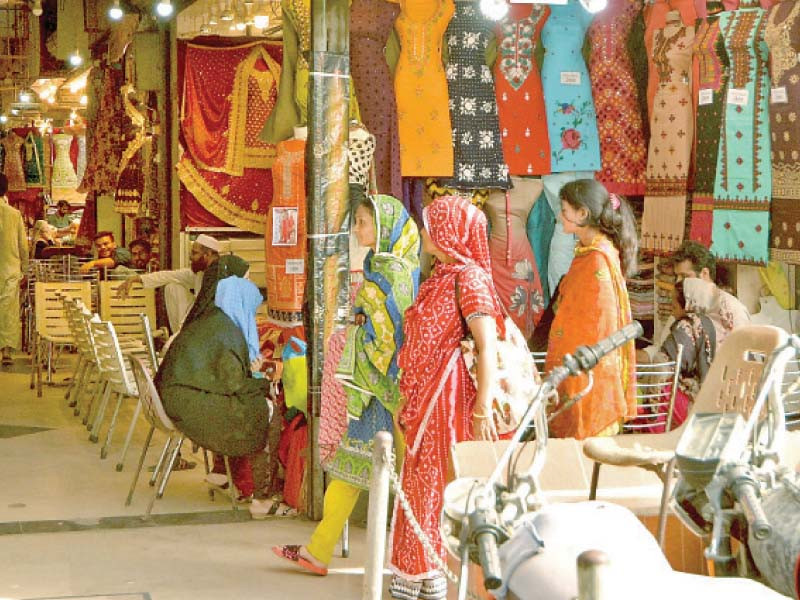 ---
No commercial activity on Saturday, Sunday
Punjab issues new SOPs to combat Covid's fourth wave
---
RAWALPINDI/ISLAMABAD:
In a bid to curtail the spread of coronavirus in the wake of the fourth wave of the pandemic, the Punjab Primary and Secondary Health Care Commission on Tuesday issued new standard operating procedures (SOPs) for bazaars and public places in four cities of the province, including Rawalpindi.
According to the notification shared by the commissioner's office, it will remain in force until August 31.
As per the new SOPs, all business centres will close by 8 pm while no business will be allowed to operate on Saturdays and Sundays. Medical services, pharmacies, vaccination centres, collection points and laboratories will remain open round the clock seven days a week.
Similarly, grocery and general stores, flour, dairy shops, fruit and vegetable shops, tandoors and petrol pumps will remain unaffected. The new schedule will not apply to tyre puncture shops, filling plants, workshops, spare-part shops and shops selling agricultural equipment and machinery.
Indoor gatherings, contact sports banned in ICT
The Islamabad Capital Territory (ICT) administration on Tuesday issued non-pharmaceutical interventions (NPIs) as coronavirus cases surged in the federal capital.
According to the notification, all business activities/markets in Islamabad's capital territory would remain open till 8 pm. There would be a complete ban on all types of indoor gatherings, including cultural, musical, religious and other events.
Read: PM advises Sindh to opt for smart lockdown
Amusement parks, swimming pools and water sports are closed while public parks will remain open under strict SOPs.
Moreover, normal office working hours for public and private offices will continue with 50% staff. Indoor weddings would be banned from August 8 while outdoor weddings would be allowed with a maximum of 400 guests till 10 pm under strict protocols.
Indoor dining will be strictly prohibited at cafes and restaurants while outdoor dining would be allowed till 10 pm under strict SOPs with only takeaways to be allowed.
The new SOPs state that shrines and cinema halls will remain completely shut while there would be a complete ban on contact sports, including karate, water polo, kabaddi, and wrestling. Rail service will continue to operate with 70% occupancy while the occupancy level of public transport has been reduced from 70% to 50%.
Published in The Express Tribune, August 4th, 2021.