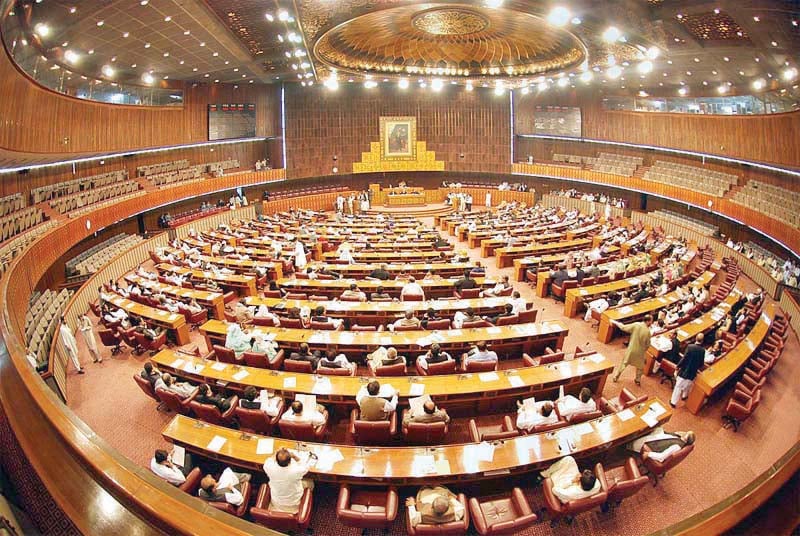 ---
ISLAMABAD:
In a surprising development, the National Assembly witnessed chaotic scenes on Tuesday after the ruling Pakistan Tehreek-e-Insaf (PTI) parliamentarians engaged in a verbal spat over out of turn speeches.
Special Assistant to the Prime Minister (SAPM) Ali Nawaz Awan and PTI's MNA Abdul Shakoor came close to a fistfight after indulging in a war of words over out of turn speeches by PTI Karachi MNAs.
Awan complained that the PTI lawmakers from Karachi were allowed to address the lower house of parliament's session in a row whereas he was not being given time to deliver a speech.
Responding to Awan, MNA Shakoor said lawmakers belonging to Karachi regularly attend the NA session. "Do not bully us, otherwise I will get rid of your [Awan] intimidating behaviour," Shakoor said in rage.
Also read: Seven lawmakers face music over NA brawl
The SAPM left the house instead of responding to Shakoor's tirade.
In June, National Assembly Speaker Asad Qaiser barred seven lawmakers from both sides of the aisle for creating ruckus and behaving in an "unparliamentary" and "inappropriate manner"
The decision to ban legislators came after the house turned into a fish market as the parliamentarians from both the treasury and opposition squabbled with each other using foul language and threw budget copies during the speech by Shehbaz Sharif, the PML-N president.
The names of the parliamentarians whose entry in the house has been banned are Faheem Khan (PTI), Abdul Majeed Khan (PTI), Ali Nawaz Awan (PTI), Ali Gohar Khan (PML-N), Chaudhary Hamid Hameed (PML-N), Sheikh Rohale Asghar (PML-N) and Syed Agha Rafiullah (PPP).
COMMENTS
Comments are moderated and generally will be posted if they are on-topic and not abusive.
For more information, please see our Comments FAQ