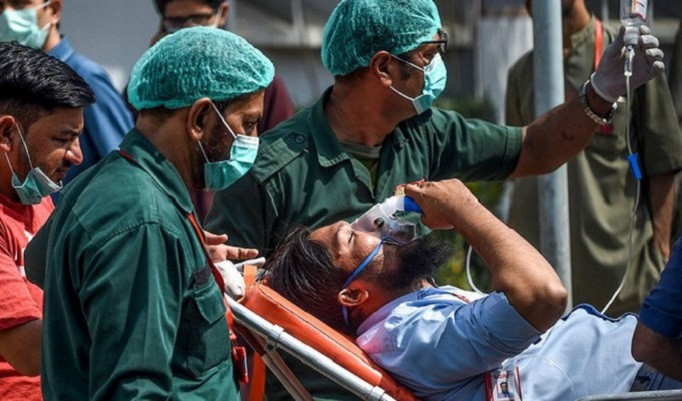 ---
Alarming increase in cases of Delta strain
Outdoor vaccination drive in five districts soon
---
PESHAWAR:
After Karachi and Islamabad, Khyber-Pakhtunkhwa (K-P) is also experiencing a surge in the number of cases of the highly dangerous Delta Variant as the positivity ratio has reached an all-time high.
Director General Health Services Dr Muhammad Niaz told The Express Tribune that the cases of the Delta mutation has been increasing by the day and the government has already directed all the departments to take concrete steps and ensure that Covid19 related standard operating procedures (SOPs) are strictly followed.
"We lack the up to date lab facilities to detect Delta variant in K-P that could give us a realistic picture but we send samples collected locally to National Institute of Health Sciences (NIH) where the facility is available and from these tests it is evident that there is an alarming surge in the cases of Delta strain," Dr Niaz added.
He said that K-P made progress in the vaccination as they had set a target of vaccinating 86,000 people per day but around 134,000 are being vaccinated on a daily basis, adding that at the end of September they will be able to vaccinate around 10.1 million people in the province.
Read Centre to ramp up critical care capacity in Karachi as Delta spreads
Niaz said that the government and health department will soon start an aggressive outdoor vaccination drive in the five most affected districts of K-P and youngsters and even 18-year-old will also be vaccinated during the campaign there.
According to the K-P Health Department report issued on Sunday, another six people succumbed to Covid-19 while 584 new cases also surfaced.
The report added that so far a total of 4,468 people had died from Covid-19 in the province while 136,270 people have recovered.
The health department report says that in the last 24 hours 235 cases of Covid were reported from district Peshawar, 57 from Chitral Upper, 38 from Chitral Lower, 32 Haripur, 42 Kohat, 18 D.I. Khan and 26 cases from Mardan in the last 24 hours.
According to the Spokesperson of Leady Reading Hospital Peshawar the Covid patients were increasing with each passing day at the hospital as 107 patients admitted to the hospital while eight patients were in the Intensive Care Unit (ICU) of the Hospital. The patients in Khyber Teaching Hospital (KTH) were also increasing.