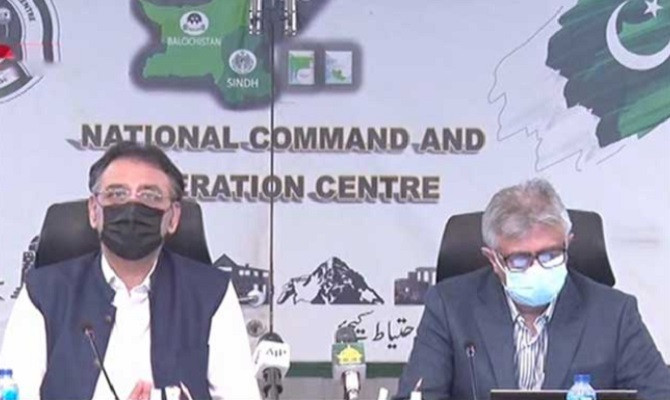 ---
Umar hints at increased Covid restrictions in 'some major cities'
SAPM Dr Faisal says positivity ratio stands at 8.8%, urges public to get vaccinated
---
ISLAMABAD:
National Command and Operation Centre (NCOC) Chairman Asad Umar hinted at increased Covid restrictions in some major cities on Sunday, saying recommendations in this regard will be submitted to PM Imran Khan tomorrow.
"The platform of NCOC does not have anything to do with politics; we enforce restrictions in a targeted way to ensure that people aren't troubled by them," Umar said while addressing a presser in Islamabad this afternoon.
Special Assistant to Prime Minister (SAPM) on Health Dr Faisal Sultan was also present on the occasion.
"We succeeded in curbing the spread of Covid every time," he said. "We will present our recommendations to the premier tomorrow, following which there's a possibility of increased restrictions in some major cities," the federal minister stated.
Citing the examples of neighbouring Iran and Indonesia, Umar observed that the situation in the region with regard to Covid was worsening. "We haven't seen such a situation in Pakistan," he maintained.
He reiterated that the fourth wave in the country was linked to the Delta variant, saying it spreads faster than the UK variant.
Read Pakistan crosses 30 million vaccinations mark, says Umar
In a bid to have people take the threat of the virus seriously, the NCOC chief warned that a pandemic does not recognise territorial boundaries. "People should act on doctors' recommendations, wear face-masks and adhere to social distancing."
He further stated that the success that Pakistan achieved could not be achieved by major countries. "Jabs worth billions of rupees were imported to the country and vaccination centres were set up at various places," he said.
"The first 10 million vaccinations took 113 days, while five million people were vaccinated during the past six days. More than 30 million people have been administered the jabs so far," he added.
Umar advised unvaccinated individuals to, "Get vaccinated as soon as possible."
'Positivity ratio at 8.8%'
Speaking on the occasion, SAPM Dr Faisal said that 2,000 to 2,500 cases were reported in the country last week, but more than 5,000 cases have been reported in the past 24 hours.
The current Covid positivity ratio in the country stands at 8.8 per cent, he informed. "The pressure on hospitals due to the fourth wave is increasing. Only by vaccination can we escape the fourth wave," Dr Faisal added.
Pakistan's tally for confirmed cases soared to 1,034,837 on Saturday after 5,026 more cases were recorded in the country overnight.
Another 62 fatalities were also reported, taking the death toll to 23,422. The number of active cases now stands at 69,756 with total recoveries recorded to have reached 941,659.