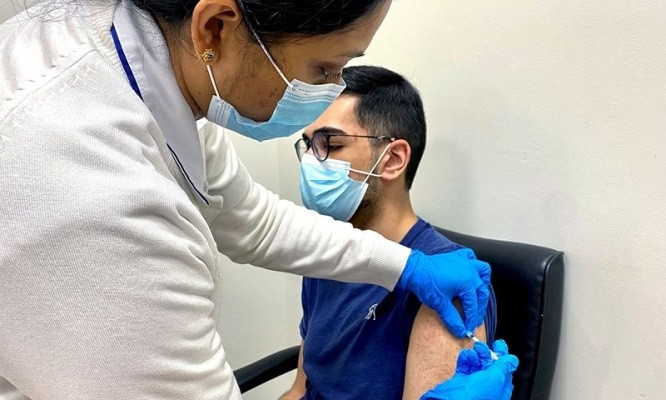 ---
Desperate crowd storms vaccination centres after warning
Reports glass doors were smashed after which security personnel sustained injuries.
---
KARACHI:
Karachi's Expo Centre on Saturday witnessed chaos after people rushed to get themselves vaccinated against coronavirus following the warnings issued by the Sindh government and the National Command and Operation Centre (NCOC) that salaries of the government employees resisting inoculation would be blocked.
Desperate to get vaccinated after a long wait in an endless queue outside the centre, the enraged crowd broke into the building and began vandalising the property. Reports said glass doors were smashed after which security personnel sustained injuries.
Sindh Chief Minister Murad Ali Shah had directed the finance ministry to stop the salaries from July of government employees who refuse to get themselves vaccinated against the novel coronavirus.
Presiding over a meeting of the provincial task force on Covid-19, the chief minister said: "Government employees who do not get themselves vaccinated will have their salaries stopped from July."
Promptly reacting to the warnings, long queues began snaking down the road outside several vaccination centres on Saturday, which soon spiralled into a riot after "slow and disrupted" administrative procedures. The traffic also remained jammed as more people flooded out of their homes to visit centres.
Meanwhile, a similar eruption of disorder was reported in Clifton's vaccination centre where people said they were made to wait for several hours and had to struggle through extremely congested road traffics to reach.
Read No treatment for unvaccinated patients
Citizens tried to get ahead of each other in queues, and the administration and police failed to bring the situation under control, witnesses said.
'Slow and disrupted process'
The police said vaccination staff stationed in hall no 3 at the Expo Centre went on a protest for two hours after they were not given salaries which resulted in a long halt in the inoculation process.
Similarly, the vaccination process was also sluggish in hall no 4 as coronavirus vaccine cartridges were finished.
"The vaccination process stopped for several hours which led to citizens getting enraged."
Dr Rubina Bashir, head of Sindh Services Hospital, explained that the hospital was overwhelmed by the large crowds thronging to the facility in unexpected numbers, compelling the management to urgently call the police and Ranger personnel.
Dr Saeed Khan, professor at Dow University, said what pushed the situations beyond management's control was the urgent and immediate nature of the provincial government's warnings. The fear, he said, fuelled the anxiety.
Prof Saeed Khan told the Express Tribune that the fourth wave would reach its peak in August and it would be a peak of the virus. He appealed to the people not to go out unnecessarily.