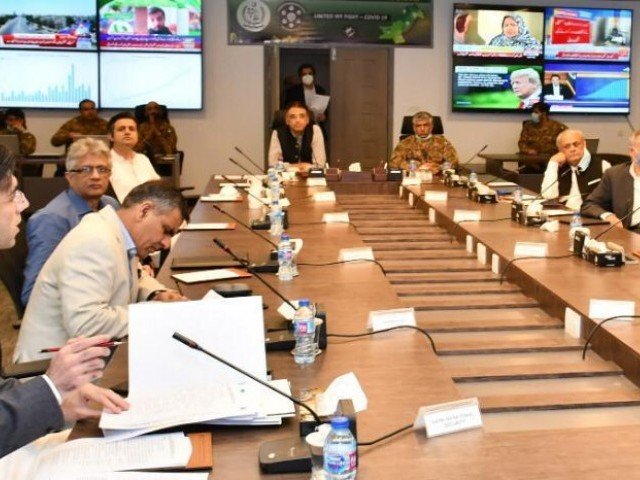 ---
Sindh lockdown doesn't apply to sectors in Centre's domain: NCOC
Joint strategy will be devised to protect lives and livelihood of people of the province, says planning minister
---
As the coronavirus-induced lockdown came into effect in Sindh on Saturday, the National Command and Operation Centre (NCOC) has announced that the federally-administered sectors will continue to operate in line with Covid-19 SOPs in the province.
"In addition to the exemption given to some sectors in the notification issued by the Sindh government, the following federally administered sectors will also continue to operate in accordance with the Covid-19 SOPs," read a statement issued by the NCOC on Saturday.
A day earlier, Sindh Chief Minister Murad Ali Shah had announced the imposition of a lockdown in the province till August 8 as cases spike in the province, especially in the port city of Karachi – fuelled by the highly transmissible Delta variant of the pandemic.
NCOC said air operations and railways will continue to function as usual as per the coronavirus protocols. Railways can run passenger trains with 70 per cent occupancy, the statement added.
Also read: Won't allow complete lockdown: Fawad
The NCOC said instructions have been issued to the federal government's offices in Sindh to work with a minimum number of workers while ensuring Covid-19 SOPs.
The Pakistan Stock Exchange (PSX) and related services will also continue to operate as usual, it added.
Meanwhile, Planning Minister Asad Umar hoped that the Sindh government will consult in detail about the lockdown measures in tomorrow's NCOC meeting.
Umar, who also heads NCOC, said in a tweet that by mutual consultation all the pillars of the state will devise a strategy to protect the health and livelihood of the people of Sindh.
امید ہے کے کل کے NCOC کے اجلاس میں سندھ حکومت ان تمام معاملات پر مزید تفصیل میں مشاورت کرے گی، اور مشاورت سے ایک ایسی حکمت عملی وضع ہو گی جس میں ریاست کے سب ستون مل کر سندھ کے عوام کی صحت اور روزگار دونوں کا دفاع کریں.

— Asad Umar (@Asad_Umar) July 31, 2021
The Sindh government, earlier in the day, announced relaxing some restrictions imposed a day earlier to contain the surge in the infections.
Addressing the media in Karachi, PPP leader Murtaza Wahab said the provincial government was lifting the ban imposed on pillion riding and public transport so that citizens can easily visit the vaccine centres.