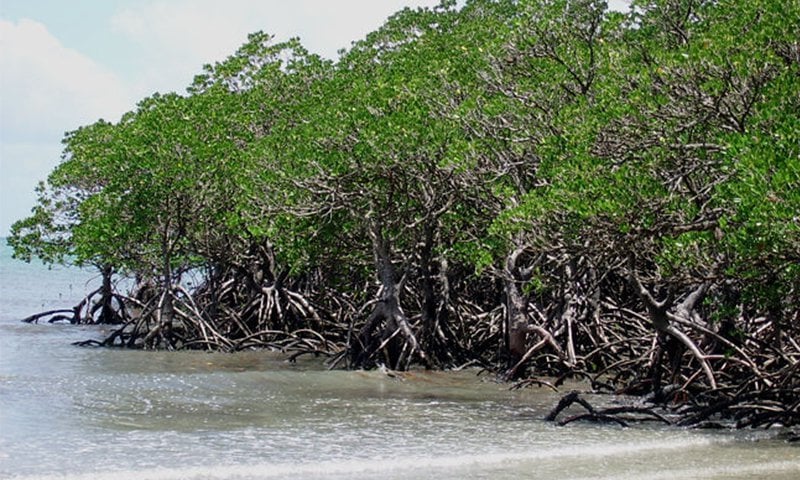 ---
KARACHI:
As a result of joint efforts of government departments, non-profit organisations and corporations, mangrove forest cover in the Indus Delta has increased from 86,000 hectares in 2005 to over 130,000 hectares in 2021.
This was claimed by the World Wildlife Fund-Pakistan in a statement issued on Monday to mark World Mangrove Day.
"These forests are the lifeline of the Indus Delta and play a critical role in climate change adaptation and protecting the local population against sea-storms as well as cyclones," the statement read.
It added that they also act as highly effective carbon storage sites. The organisation maintained that despite challenges of reduced water flow, climate change, and water pollution, the Sindh forest department, with the support of WWF-Pakistan, the International Union for Conservation of Nature (IUCN) Pakistan and local communities, has contributed significantly to improve mangrove cover in the deltaic region.
According to WWF-Pakistan, mangrove forests are one of the most productive ecosystems and around 500,000 people directly rely on the mangroves services in the Indus Delta.
The statement mentioned that Pakistan used to be home to eight species of mangroves but only four species can be found now due to multiple threats, primarily the inadequate freshwater flow downstream Kotri Barrage, affecting their ecosystem. "However, with improvement in the forest cover, local mangrove species such as aegiceras corniculatum and ceriops tagal are being revived in the Indus delta," it stated.
WWF-Pakistan Director General Hammad Naqi Khan said that these forests support a healthy and productive ecosystem that benefits not only people, but biodiversity as well. He added that mangroves are the first line of defence against cyclones, strong surges, tsunamis, and other natural calamities impacting the coast and the deltaic region.
He stressed that the required flow of fresh water should be released into the Indus Delta so that mangroves could be fully restored.
The director general said that with mangrove rehabilitation, fish stocks are reviving, and the livelihood of local people is improving.
"To enhance the resilience of local communities on climate change and promote sustainable management of mangroves in Indus Delta, WWF-Pakistan, with the financial support of the German Federal Ministry for Economic Cooperation and Development (BMZ) and WWF-Germany, have initiated a three-year project," he said.
"Through this project, more than 3,000 hectares of mangroves have been restored and over the last decade or so, nearly 14,000 hectares have been rehabilitated through various projects. Moreover, local women have been engaged in plantations and have set up mangrove nurseries which provide alternative income generation opportunities to them"
Khan continued that pressure on the mangroves, due to exploitative activities by humans, can have negative impacts on mangrove forests, particularly the disappearance of mangrove species and the degradation of their habitat.
In its statement, WWF-Pakistan appealed to the public to help revive the Indus Delta's natural landscape and protect these mangroves biomes.
Published in The Express Tribune, July 28th, 2021.
COMMENTS
Comments are moderated and generally will be posted if they are on-topic and not abusive.
For more information, please see our Comments FAQ