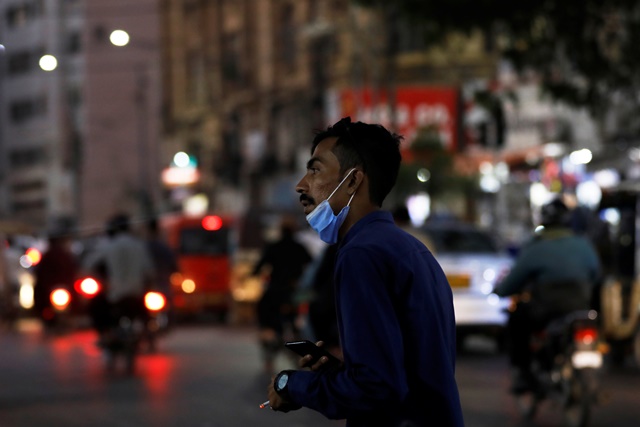 ---
KMC hospitals yet to shoulder pandemic burden
Health dept sanatoriums at full capacity as coronavirus cases surge in the megacity
---
KARACHI:
The National Command and Operation Centre had been issuing alerts cautioning the residents of Karachi of a Covid-19 outbreak of devastating proportions. Unlike past spells, the fourth wave was projected to paralyse the local healthcare system with the Delta variant, which is known to be highly transmissible and is the dominating variant in several countries across the world. Warning of its highly communicable and more threatening nature, experts had urged citizens to stay at home and observe strict caution during Eidul Azha season to curb the threat. In Karachi, the fears came to life with the positivity ratio surging to 26.3 per cent on Tuesday. By this time, a new lockdown was already in place and the city's government hospitals were beginning to run out of capacity amid an influx of patients.
On the same day, the Sindh Chief Minister Murad Ali Shah, expressing his disappointment, directed hospitals under the Karachi Metropolitan Corporation (KMC) to shoulder some of the weight of Covid-19 patients in the city. "So far, hospitals under the health department of Sindh had been exclusively handling most of the coronavirus cases, but now KMC's support has become imperative to dealing with the fourth wave," said a health department official on conditions of anonymity.
However, according to Karachi Metropolitan Corporation Director Health Services Hameed Jamani, KMC currently lacks the funds, resources and manpower required to effectively shoulder the pandemic's weight. Out of the 13 KMC hospitals, only Abbasi Shaheed could be equipped to handle Covid-19 patients on directives of the Sindh government. While nine of the hospitals have remained limited to administering vaccines, with no facility for virus treatment.
Jamani, who was posted as the director of health services some six months ago maintained that KMC has not been provided a single penny to facilitate healthcare during his tenure. "The first quarter of the new fiscal year's budget was also not received and now 13 of our hospitals have run out of medicines and food rations," he claimed, justifying KMC's limited scope in the fight against Covid-19.
It is worth noting that a majority of KMC hospitals are located in densely populated areas of the city, which are at a higher risk of turning into viral hotbeds if left unattended. Which is why health experts, including Indus Hospital head Dr Abdul Bari, believe it is imperative to increase Karachi vaccination rate and the city's capacity of tending to the fresh onslaught of Covid-19 patients.
In this regard, the Sindh cabinet recently approved four KMC hospitals to be transferred to the provincial health department. Moreover, City Administrator Laeeq Ahmed on Monday, announced one-month additional salary and Covid-19 allowance for doctors and paramedical staff rendering services at Abbasi Shaheed Hospital's newly operational Covid-19 ward. "The step is taken to moralise the frontline practitioner so that they can perform their duties with further courage," said the administrator at a high-level meeting.
Conditions at govt hospitals
As for hospitals under the Sindh government health department, most are reportedly brimming with patients and on the verge of falling out of capacity after taking a lion's share of fourth-wave affectees in the city.
On Tuesday, the Dr Ruth Pfau Civil Hospital had to close five of its blocks, including Dental and ENT OPDs and departments of Skin, Surgery and Orthopedics, in a bid to redirect resources and manpower to its overburdened Covid-19 wing.
According to the hospital's Medical Superintendent (MS) Dr Noor Mohammad Soomro, out of the 202 beds allocated for coronavirus patients, 185 are already occupied. "The Sindh government in response, has procured 200 BIPAP machines, out of which some have been granted to the Civil Hospital, in addition to an increased supply of oxygen being given to district hospitals," he told.
Similarly, the Sindh Infectious Diseases Hospital at Nipa Chowrangi, run by Dow University, which has a total of 153 beds in its Covid-19 HDU and ICUs, all of which are now occupied with no space for more patients.
As cases continue to balloon at an unprecedented rate, it is also feared that resulting oxygen shortages may paralyse public healthcare, even if enough beds are somehow arranged. In this regard, the Sindh Health Department, acknowledging the gravity of matters, has installed oxygen tanks in five Karachi hospitals, including Sindh government hospital in Korangi, Liaquatabad government hospital and Sindh Government Services Hospital.
Addressing the public, Jinnah Postgraduate Medical Centre Executive Director Dr Seemin Jamali urged citizens to get vaccinated as soon as possible, to avoid the possibility of coronavirus-related complications and hospitalisation, which will also help curb the burden on public healthcare.
The claim has also been verified by World Health Organisation (WHO) Chief Scientist Dr Soumya Swaminathan, who maintained that all WHO emergency-use listed vaccines can provide considerable protection against severe viral reactions, despite the high transmutability of the new delta-variant. "People who are fully vaccinated are much less likely to end up in a hospital [due to Covid-19 delta variant]," she told during an interview with WHO's Science in Five.
Published in The Express Tribune, July 28th, 2021.