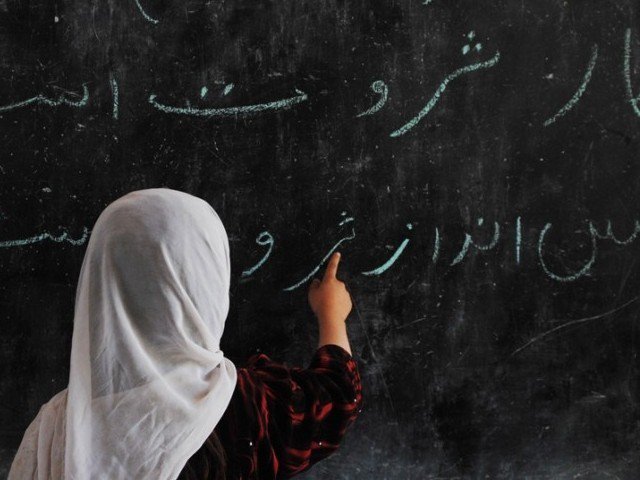 ---
PESHAWAR:
For Misihullah of Bajaur, the journey to school is a four kilometre walk from his small village of Samsai Daman Shah in Tehsil Khar.
The trek, which takes the primary schooler past rocky terrain and dirt roads can take around 45 to 50 minutes to make, often leaving the youth huffing and puffing by the time he reaches school.
This experience resonates with all school-going children in the 100 families that live in Samsai Daman Shah, which to this day lacks access to the most basic amenities including access to education. Islam Gut, another village located on the outskirts of Bajaur faces a similar problem where its people have no nearby schools to induct their children.
"Our elders have been asking the education department to set up schools in our villages so that we don't have to go to remote areas in quest of education, but all our pleas seem to have fallen on deaf years," told Misihullah.
Read More: State of higher education
Article 25A of the Constitution affirms that it is the state's duty to provide free and compulsory education to all children between the ages of five and sixteen. In the case of Bajaur, where schools are a novel idea, it however appears the state has rather forsaken its duty; depriving hundreds of children of access to education.
A temporary school was set up in the area sometime ago with local aid. On face value, although the structure of the school still exists and it is considered to be operational in the records, owing to inconsistent funding it often shuts down for several months on end.
Local charities have resurrected the school time and again, but there has been no permanent solution offered to what is practically the only educational institution in the region, responsible for over 150 children up to grade five.
As per the Bajaur Education Department, there are over 89,000 out-of-school children across the district, including 55,000 girls and 34,000 boys between the ages of four and 14. The primary reason for the obstruction of education in these 89,000 cases is mostly linked to lack of physical access to schools, poverty and tribal customs, where the latter mostly affects girls.
Other than that, lack of faculty and rationalisation policy at existing schools is another reason deterring hundreds of parents from sending their children to school. In this regard, the Bajaur Education Department has allegedly sent a proposal for recruitment of 1,361 primary level teachers to the Finance Department for implementation of rationalisation policy.
According to Bajaur District Education Officer (DEO) Arbab Sherin Zada, there are 265 villages in Bajaur district which still do not have any primary schools for either girls or boys, or both. The education department, per Sherin Zada, only considers areas with a population of more than 800 as feasible for schools. "Apart from the 265 villages, there are also other smaller villages but we have not sent any recommendations for building schools as their small population doesn't justify education department policy," he told.
Addressing the lack of schools in regions like Samsai Daman Shah and Islam Gut, the DEO however said that he will have to visit the areas to survey on-ground realities before forwarding a recommendation to the government.
Moreover, construction of new schools in the merged districts was banned from 2007 to 2020. It was only after the merger of the tribal regions that the Pakistan Tehreek-e-Insaf (PTI) government lifted its sanctions and KP chief minister approved construction of 100 primary schools in the newly merged districts.
Out of these 100 schools, 12 were marked for different areas of district Bajaur and their PC-I was also sent to the government for approval. "The areas have been selected at the behest of the elected representatives and three schools have been placed in NA-41, three in PK-100, three in PK-101 and three in PK-102," Sherin Zada told The Express Tribune.
Published in The Express Tribune, July 26th, 2021.
COMMENTS
Comments are moderated and generally will be posted if they are on-topic and not abusive.
For more information, please see our Comments FAQ