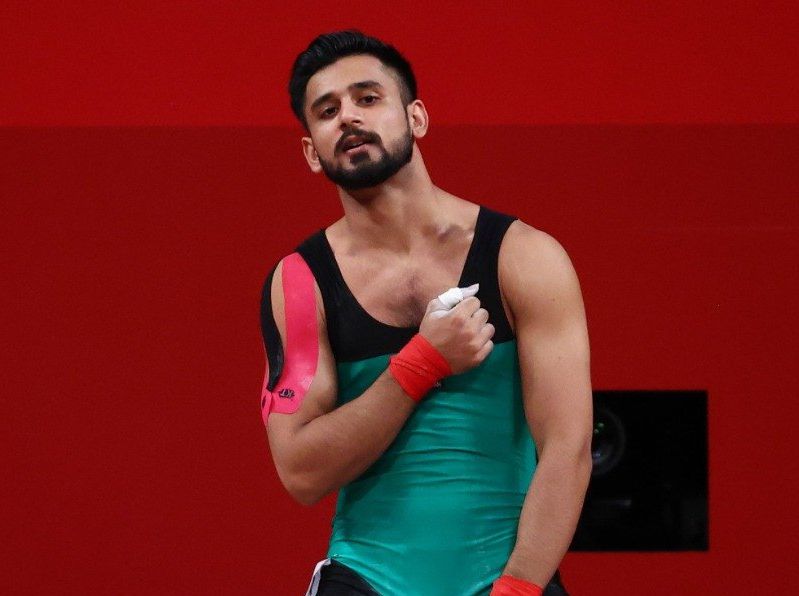 ---
Pakistani weighlifter Talha Talib fell just two kilograms short of history at the 2020 Tokyo Olympics as he lifted a total of 320 kilograms on Sunday.
Talha was representing Pakistan in weighlifitng's 67kg event at the pandemic-postponed Games, where he lifted 150 kilograms in snatch and 170 kilograms in clean and jerk to accumulate a total of 320 kilograms.
The fourth-placed participant from South Korea lifted 321 kilograms, while the Marko Zanni of Italy bagged bronze with a total lift of 322 kilograms -- 145 in snatch and 177 in clean and jerk.
Colombian Luis Javier Mosquera won silver with with a total lifted weight of 331 kilograms, while Chinese Chen Lijun won gold with a total lifted weight of 332 kilograms.
Earlier, Talha had told The Express Tribune that he wanted to win a medal on his Olympic debut. "I am setting my mind to win, whether I am lifting this weight at the Olympics or in an empty room during quarantine, I know I need to be perfect. I'm looking at it as practically as possible, I'm not taking any pressure," Talha Talib explained as he left for Tokyo in the wee hours of July 21.
Talha has been a wonder kid throughout his journey to the Olympics as the youngster had to face multiple obstacles that would have broken any ordinary soul.
He first missed out on the Asian Junior Championship in Korea. Then the South Asian Games weightlifting event was stripped from the Olympic qualification event. And lastly, Talha had to miss on international competitions due to the lack of resources.
He won the gold medals at the 2020 International Solidarity Weightlifting Championship aggregating 304kg, and that was his last international event before the pandemic hit the world.
The Pakistan Olympic Association had announced in June that the Commonwealth Games bronze-medallist will be representing the country on an invitational place, which is often given to the athletes who have shown improvement in their category and have been deserving of a chance.
Overcoming the odds
The training Talha did at his home town in Gujranwala was nothing short of labour of love and miracle. He was training at the vicinity of a local school where he, and his friends and family made a make-shift gym. He said he spent at least six hours in training each day, without taking much rest.
The result of his training showed greatly with his comeback at the international stage in April as he lifted 315kg, also taking the bronze medal for the best snitch of 148kg in Tashkent, Uzbekistan at the Asian Championship.
Talha, even after taking the medal, felt he should have won the championship more convincingly. He returned home but also found a notice from the local school that he needs to vacate the premises after July, as the school was going into loss financially and was struggling to keep afloat.
Talha has been preparing for the Olympics without standard equipment too, but he is not giving up on his dream of an Olympic medal.
Talha saw the toughest competition from the Chinese weightlifters at the Asian Championships, but he sees the four-time world champion Chen Lijun as his hero too.
"I see Lijun and he seems to be a very inspiring athlete to me. He is definitely one of my heroes. He is very good on social media too, giving tips, being a thorough champion. I really respect him and feel great to be competing with him," Talha had said.
COMMENTS
Comments are moderated and generally will be posted if they are on-topic and not abusive.
For more information, please see our Comments FAQ