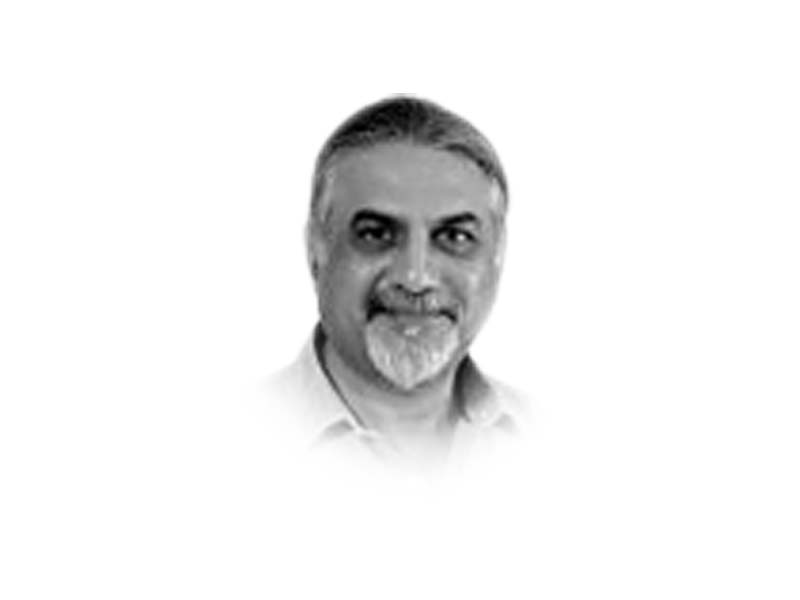 ---
The vital Indian interest in Afghanistan today is to prepare and equip Afghanistan as a counterweight to Pakistan. Afghanistan is our neighbour and brotherly Islamic country but the brother has chosen a clear side and it has shook hands with our enemy. We are being attacked and we are at war; and the sudden surge in terrorist attacks in Pakistan are most likely sponsored by Indian, and aided and abetted by Afghanistan which has an anti-Pakistan and pro-Indian ruling elite whose President and vice President waste no opportunity to spit venom against us.
Short of putting its boots on ground, India is doing everything within its power to influence and support the (puppet) government of President Ashraf Ghani. This Indo-Afghan transition of relationship has a history and I don't want to get into that but had it not been for the US and how India acts as its offshore balancer in the region, Afghanistan would not have chosen to take a clear side. It's not just the Indian brother, but the American big brothers hand on Indian shoulder, that excites and draws the current Afghan political elite's response – away from us and towards the Indians. For everybody when it comes to making a choice, it is all about being on the winning side. So why should Afghanistan be an exception, but have the Americans not left Afghanistan after losing and not winning the war? Hasn't Afghanistan had enough of failed outside interference? Is it not the right and responsibility of Afghan people alone now to decide about their future? Hasn't Afghanistan had enough staying under the influence of imported ideologies like communism, radical Islam and democracy for almost half a century? The one lesson that Afghanistan has learnt from its history is that it has learnt no lesson.
So, is it a coincidence and a matter of surprise that Afghan Army Chief Gen Wali Mohammad Ahmadzai and US Secretary of State Antony Blinken are visiting India on the same dates next week? The same old power play and the same old great game by the major actors is being replayed. These major actors have hardly ever looked at Afghanistan as an independent and a sovereign state, but at best as a 'buffer zone' through which transnational security threats may generate. The US, after withdrawing its forces from Afghanistan, is now maintaining an 'over the horizon capability' to maintain its military influence and control – what if the boots left, the sky can still be filled with military machines and a taste of that we recently had when the American air strikes knocked out some of the military equipment that Taliban had captured from the Afghan forces. Today, the Indo-US duo makes one set of major actor with similar strategic alignment about Afghanistan's future but what about the rest? What about the other major actors in the region and what about their worries, their concerns and their apprehensions?
Russia has announced that it will hold military drills and exercises near the Afghan border in Tajikistan and Uzbekistan. Central Asian states and their security is a Russian worry as they are under Russian sphere of influence and many people from these states seek legal or illegal jobs in Russia. The past Soviet infrastructure was designed with regional cooperation and open borders in mind but with the Soviet Union's dismemberment, the Central Asian States' border with Afghanistan as well as Russia have become a deep Russian worry. The closing of this Russian border with these states becomes an economic problem not only for Russia but also for these states.
Currently three Central Asian States make the top ten list of most remittance-dependent countries in the world. By share of its GDP, Tajikistan heads the list and is the most remittance-dependent country in the world. Kyrgyzstan is second and Uzbekistan remains in the top ten list. When compared to the demographic projections of Russia which suggest that by 2050, Russia's population may still decrease by 20% or more, the Russians know that they will continue to have to rely on the working hands of migrant workers from the Central Asian States for foreseeable future. Therefore, Russia cannot afford Talibanisation or any kind of radicalisation to infiltrate mainland Russia through these states and contribute to its destabilisation.
China refuses to and will not militarily involve itself in Afghanistan. That is a clear Chinese policy. But what when Chinese investigators themselves find clear evidence to prove that Indian RAW, together with Afghanistan's NDS, is targeting and killing Chinese workers and engineers employed on CPEC projects in Pakistan? China can become the most stable partner of these Central Asian Republics. It has already overtaken Moscow in becoming their largest trading partner with these states in its strategic backyard by executing trade with them totaling over $40 billion. And then there is this vital aspect of construction of new pipelines that run through Central Asia and which can supply up to half of China's gas needs in the coming years. Would such an arrangement be acceptable to Americans and their offshore balancer, India?
When the MEA of India, the Army Chief of Afghanistan, and the US Secretary of State meet in India next week, they might have disagreements on many issues but they will have no differences on a given reality about India's role in Afghanistan and that is that India by itself cannot play a major role in the developing security situation in Afghanistan. Unless India has an active support of a country with a land connectivity with Afghanistan, it can never maximise its role in Afghanistan's military and political capacity building. In the past India had been relying on Iran and on the routes from there to Afghanistan through which military supplies were made to Northern Alliance. This was made possible due to an active support of the Iranians but will the Iranians offer similar support this time around?
By and large the world is united in its opinion on what should happen in Afghanistan but it is clearly divided on how, when and by whom. It's a flawed Indo-US premise that Pakistan can be dominated and subjugated by the use of both soft as well as hard power(proxy and coercive in nature) and give up on its ambitions.
This is because Pakistan's ambitions are no more being read correctly. It is no more to have strategic depth in Afghanistan but to continue to have brotherly relations with the state of Afghanistan and its people – this despite attempts by outside forces and some of the people in Afghanistan's ruling elite who don't want this and are bent upon creating differences between the people and governments of the two countries by making foul speeches and initiating irresponsible tweets.
Published in The Express Tribune, July 25th, 2021.
Like Opinion & Editorial on Facebook, follow @ETOpEd on Twitter to receive all updates on all our daily pieces.
COMMENTS
Comments are moderated and generally will be posted if they are on-topic and not abusive.
For more information, please see our Comments FAQ